In what appears to be an extension of its ongoing weekly bull run, PEPE, the frog-themed meme coin, has soared by another 8% as its price is now pegged at $0.000001642. Owing to the current price action, PEPE has effectively extended its weekly growth rate by a massive 74.9% in what appears to be one of its magical bursts of momentum thus far this week.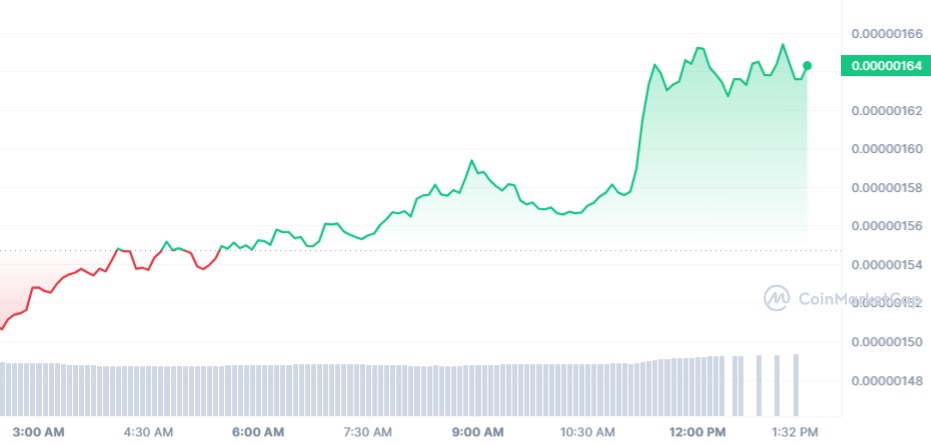 PEPE community bonding
PEPE is currently living out its true potential as a meme coin that thrives on hype. Since the inception and launch of the token back in April, its growth has been fueled radically by market whales and sustained optimism from retail investors.
The rally PEPE picked up in its early days has led to strong bonding with members of its community. At a time when investors were skeptical about the survivability of the PEPE token, the meme coin wriggled out of its bearish dormancy to chart a path of new growth trends.
Thus far this month, PEPE has maintained a very positive outlook as a result of consistent bullish runs over the past few days. For June, PEPE has pared off its losses and is up by 11%.
Something lacking
While PEPE has gotten started very well compared to other meme coins that have made their debuts this year, it does not have such an ambitious roadmap to outcompete the likes of Shiba Inu (SHIB) and Dogecoin (DOGE) in the long term.
Unlike its two rivals, there is no visible utility attributable to PEPE, and beyond the hype, long-term relevance may require the integration of the meme coin on payment platforms, among other real world use cases. Shiba Inu is the meme coin to watch in this regard, as it has developed and launched its much anticipated Shibarium Layer 2 protocol on the testnet.