It has been a very eclectic week for the digital currency ecosystem, with volatility unsettling most digital currencies, including popular meme coin Shiba Inu (SHIB). Shiba Inu has seen a gradual but steady offset in terms of its burn rate as a total of 26,706,224 SHIB are currently sent to dead wallets at the time of writing to complement the millions that have been burnt thus far this week.
The impact of the massive burning has been reflected in the price upsurge of Shiba Inu in one of the rare expressions of impact in a long time. At the time of writing, Shiba Inu is changing hands at a price of $0.000008416, up by 0.28% in the past 24 hours and by more than 7% in the trailing seven-day period.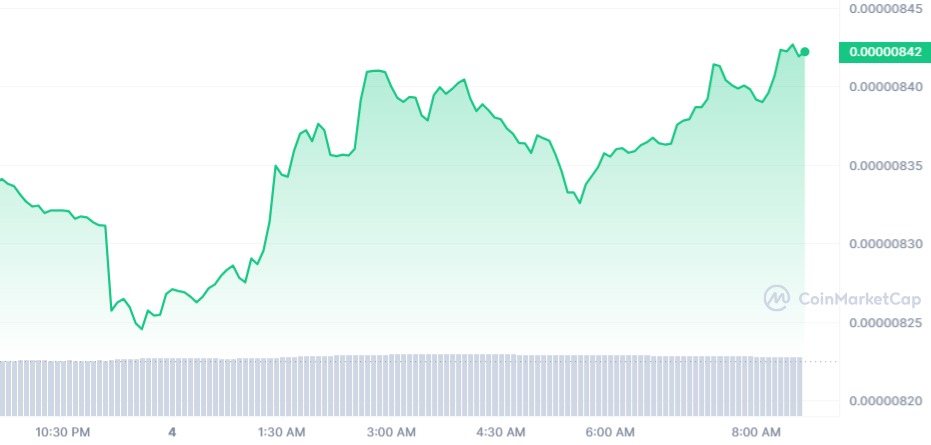 Per the SHIB price outlook, the positivity fueling the price growth notably has more of an undertone than just the effect of the tokens being burnt. Shibarium is coming to the mainnet this month, and community members appear ecstatic that the hype will likely result in pushing the price of SHIB to new highs in both the short and long term.
Shibarium is billed to be launched at the Blockchain Futurist Conference and is expected to mark a significant milestone that will usher in a new era for the meme coin ecosystem.
Shiba Inu token jumps in tandem
While Shiba Inu has been on a steady uptrend all week long, other tokens in the meme coin's ecosystem are also recording impressive growth milestones across the board.
Bone ShibaSwap (BONE), for instance, has maintained more consecutive positive days this week and is currently changing hands for $1.63, up by more than 24% in the week-to-date (WTD) period. In addition, Doge Killer (LEASH) has managed to print 16.49% growth in the trailing seven-day period to peg its price at $482.16.