The Shiba Inu (SHIB) ecosystem has continued to print additional milestones with just a few days left for the launch of Shibarium on the mainnet. According to an update shared earlier by the official Twitter handle of the protocol, as backed by data from crypto analytics platform IntoTheBlock (ITB), the total number of wallet addresses resident on the Shiba Inu network has hit a new all-time high (ATH).
Per the data, there are now a total of 3.51 million addresses on Shiba Inu, a figure that has been on a constant uptrend since the protocol was introduced about three years ago. Per the data, there are a total of 2.27 million addresses with zero balances on the network, while addresses with domiciled funds in them are pegged at 1.24 million.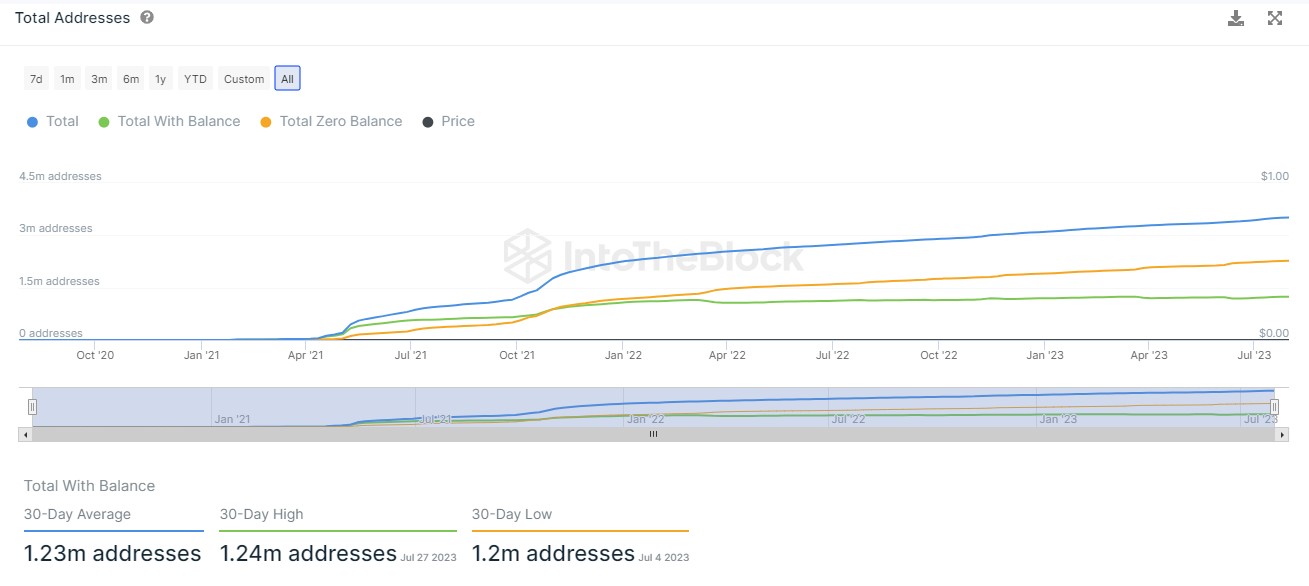 The growth in the number of wallet addresses did not come as a surprise in any way, seeing as the meme coin has been growing in popularity in recent times. The launch of Shibarium on testnet has undoubtedly solidified interest in the Shiba Inu ecosystem, as it introduces a whole new utility that users in the broader decentralized ecosystem can relate to.
Shibarium boost
As noted, Shibarium has served as a major catalyst to the growth of the total addresses on Shiba Inu as preceded by momentous records in the Puppynet testnet. After the broad success of Puppynet, the community is now gearing up for the mainnet launch, slated to go live at the forthcoming Blockchain Futurist Conference in a few days.
Many people are backing Shiba Inu in a bid to be among the first beneficiaries of whatever perks might be reserved for early supporters of the Shibarium protocol. The positive sentiment around Shibarium has notably accounted for the record milestone being celebrated today.