It would be wrong to call the cryptocurrency bear market over – the same low-performing market that has lasted well over a year now – however, there certainly is a change in the air. Bitcoin is over $4,000 and other altcoins have flexed their muscles, but none more so than Litecoin.
Litecoin, the fourth-biggest coin, which is currently trading at $60.52, has doubled its value in the first quarter of 2019, having started the year at $30.29. This coin, dubbed the silver to Bitcoin's gold, has made some significant strides heading into the cryptocurrency spring.
The cryptocurrency spring, which is seeing prices in the market slowly come right and rally again, may have well been helped get off the ground thanks to Litecoin's good performance through these first three months.
Many have dubbed this crypto spring as the beginning of altcoin season, and with that, there have been some big boosts from the top 20 altcoins that have aided in bringing positive sentiment to the market – none more so than Litecoin.
Reasons for the boom
Litecoin has always been in the shadow of Bitcoin, but it was created to be something different, much more of a cash system. It is this direction that is starting to be evident with Litecoin's movement as the coin looks to forge ahead.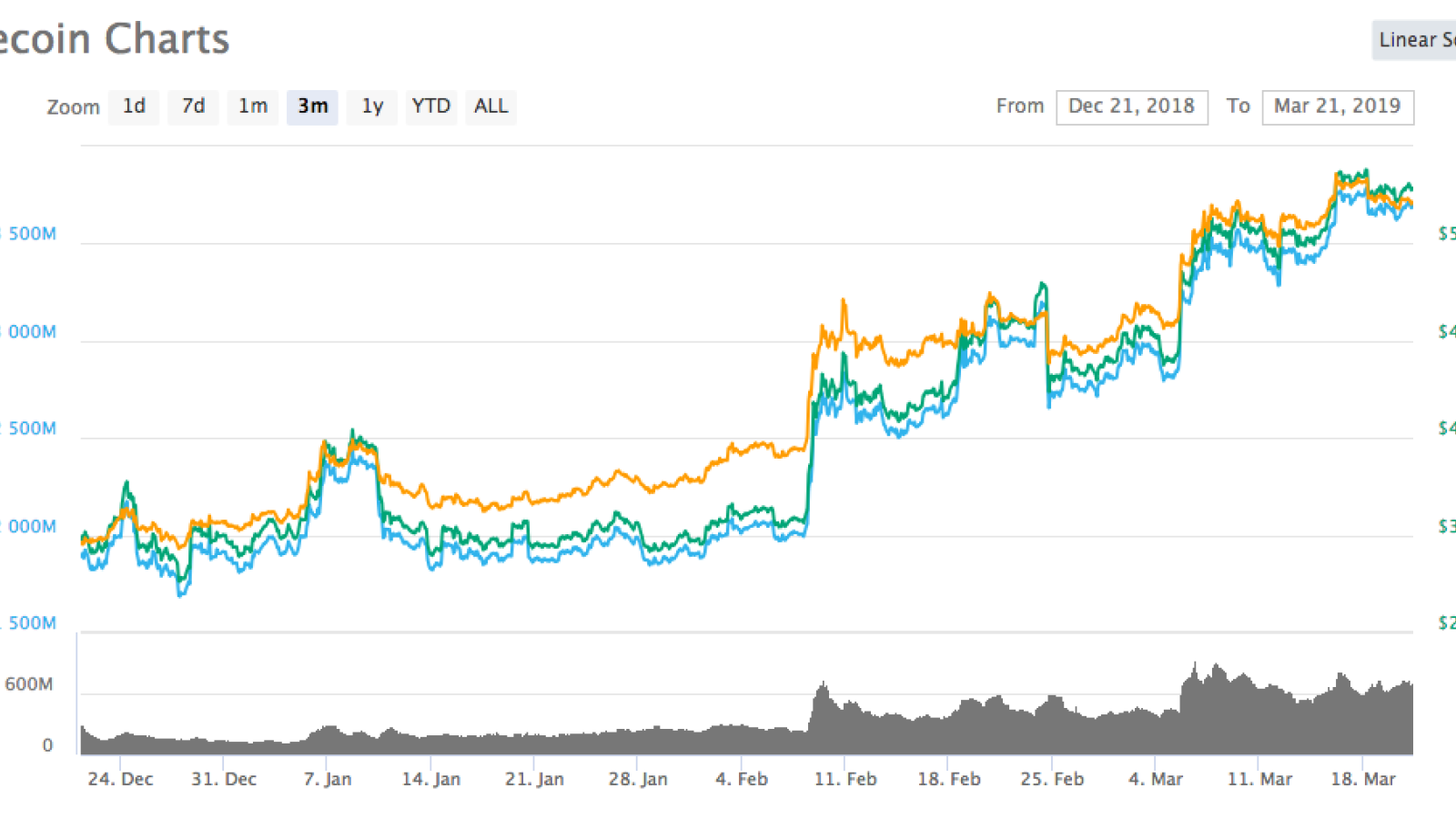 One big boost for Litecoin has been its mainstream adoption that has picked up significantly with the goal of the coin's team to get the cryptocurrency into payment systems. For example, Bob Moore Auto Group has signed on with Aliant Payment to accept Litecoin at their dealerships, starting with an Oklahoma City location. This means customers can buy a Subaru with LTC.
Additionally, Litecoin has always been about having fast transaction times as well as low fees in order for it to be usable as a digital cash, and the way things are going currently, it is hitting those attractive targets.
For instance, a November 2018 transaction worth $62 million only cost the sender $0.50 in fees on the Litecoin network. And with these low fees teamed up with the scaling layer of the Lightning Network, there is not much slowing Litecoin down.
Litecoin is also looking to boost user privacy as the team believes it is something that is missing from both LTC and Bitcoin. The Litecoin Foundation announced last month a collaboration with privacy coin Beam to potentially integrate the Mimblewimble protocol, which would add scale and privacy to the cryptocurrency.
Finally, the Litecoin halving is due soon, and historically, this kind of event has always been a catalyst for further growth and rallies in the cryptocurrency. The last one in August 2015 saw a serious downturn be broken, and even in the run up to this halvening, there looks to be a break in the downturn already.