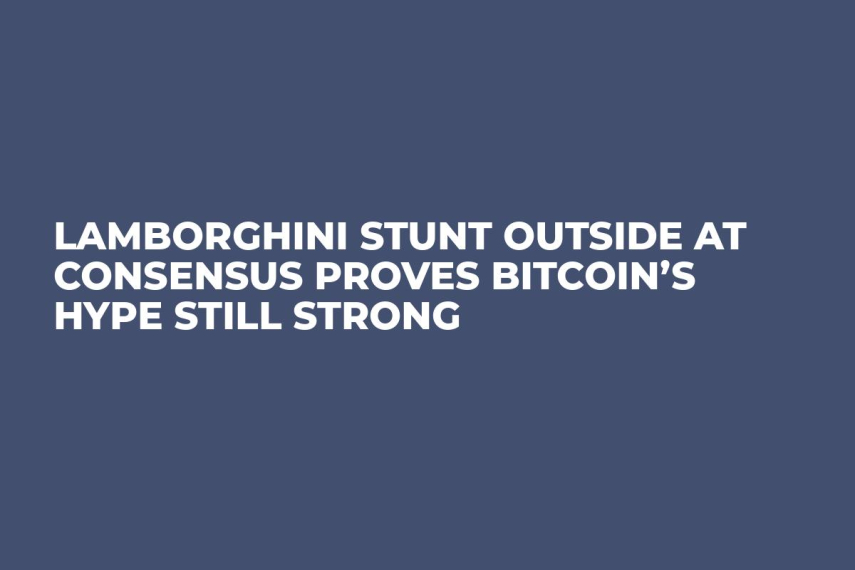 Cover image via U.Today
Among the major business that is happening in New York at the Consensus conference, there are a few side shows that prove the Bitcoin community is alive and kicking and still has a sense of humor despite the gut-wrenching highs and lows of cryptocurrency.
Lamborghinis have been spotted roaring through the streets of New York near the conference; the luxury car having always been associated with Bitcoin and conspicuous spending for new, overnight, millionaires made by the digital currency boom.
There was also a comical stunt from an upstart mining company called Genesis Mining. The firm hired actors to portray aggrieved bankers who will lose their financial services jobs when Blockchain takes over the industry.
Buying the Lambo
In the past, when Bitcoin had been skyrocketing, constant stories were emerging of early investors who were swapping their mom's basement for Lamborghini's as their mining stocks suddenly grew by thousands of percent.
This icon of Bitcoin wealth and prosperity has now been taken to the biggest cryptocurrency conference as BitMEX, a cryptocurrency exchange, decided to put on a bit of a show renting a number of the luxury cars for the day to parade outside the conference.
While not true Bitcoin-bought beasts, the showing still shows that the Bitcoin community and its affiliates have their sense of humor intact and are trying to promote Bitcoin growth in a time when the markets are still a long way off from their all-time highs.
Booting the bankers
The Lambo PR stunt was not the only one witnessed on the streets of New York as Genesis Mining unleashed a troop of actors bearing signs of protest against Bitcoin and Blockchain to indicate their dissatisfaction at the impending doom the new technology could cause their jobs.
Genesis said the protest was a "fun way" to show how crypto can upend banking "if they fail to adapt to the new world we live in," according to a blog post on its website.