IEO is just another form of fundraising. Startups seek financial support from the community to realize their ideas and improve the existing crypto ecosystem. In return, they generally provide contributors with their native tokens, which are then used for different purposes like interaction with products and platforms or traded for other cryptocurrencies.
Unlike securities, crypto tokens rarely give their owners' rights to equity in emmissioning companies. Hence, their value solely depends on the practical utility, community support, and related products' adoption.
Understanding this and evaluating the factors around IEO tokens will give you an investor's advantage over people, who invest by recommendation or just follow the pack. Today, we will give you an example and review Brave Sound Token, the first token to be sold in IEO format on Apollo, startup launchpad by DigiFinex.
Why does a startup issue a token on IEO?
If you ever been on Kickstarter, you have seen that the majority of the projects that ask for funding offer their products as rewards for early participation. While the concept of tokens and crypto fundraising is similar, it has some distinctive features.
Compatibility
People receiving IEO tokens in exchange for their other cryptocurrencies should be able to store them somewhere and transfer with convenient tools whenever they need to do so. For this purpose, the majority of the tokens currently offered by startups, including BRST, are ERC20 standard. This allows people using Ethereum addresses to store and move their tokens.

Value
Why do you believe that $1 can buy you a can of Coke? Because the person selling you the Coke believes so too. Simple as that. An IEO token's value is the outcome of the community's belief. How can a startup influence that? The shortest route to increasing value is by arranging a token's utility in various cases along with keeping the supply low enough to maintain scarcity. BRST team plans to use its BRAVE SOUND platform to allow people to pay their favorite artists and incentivize the creation of new content. The more users will do so, while the token supply will remain low enough, the higher value BRST will have because of the scarcity or the tokens.

Liquidity
Like it or not, the crypto sphere is heavily connected to trading. People move from one service to another and they want to be able to quickly swap tokens for the ones they need. Having enough markets for a token is essential both for new users entering/exiting crypto products and tokens' value. BRST is supported by a large liquidity provider Digifinex to ensure that their tokens will be easily traded for other assets without huge volatility in price.
Looking at a new IEO you should also ask yourself whether you believe that all three of these factors are present. Otherwise, your investments may end up stuck on an obscure network with no mechanisms to incentivize its value and you may not be able to exit your position.
How to evaluate an IEO token?
Although DigiFinex backs BRST and provides its analysts' opinion about the startup, it's a good idea to go through the token metrics to estimate the total and the initial circulating supplies of the tokens, token sale rounds and prices (if available), and the individual investment brackets.
Well constructed token metrics are a crucial factor for ensuring the scarcity of tokens and their fair pricing for all of the buyers. Weak token metrics will drive the price down on listing either because some participants' getting a price advantage or because the initial circulating supply is too high compared to the demand.
You can also calculate the market cap of the project at the event of listing and compare it to the competition. If the market cap is too high, the price will most probably decline, if it's too low, the price will surge.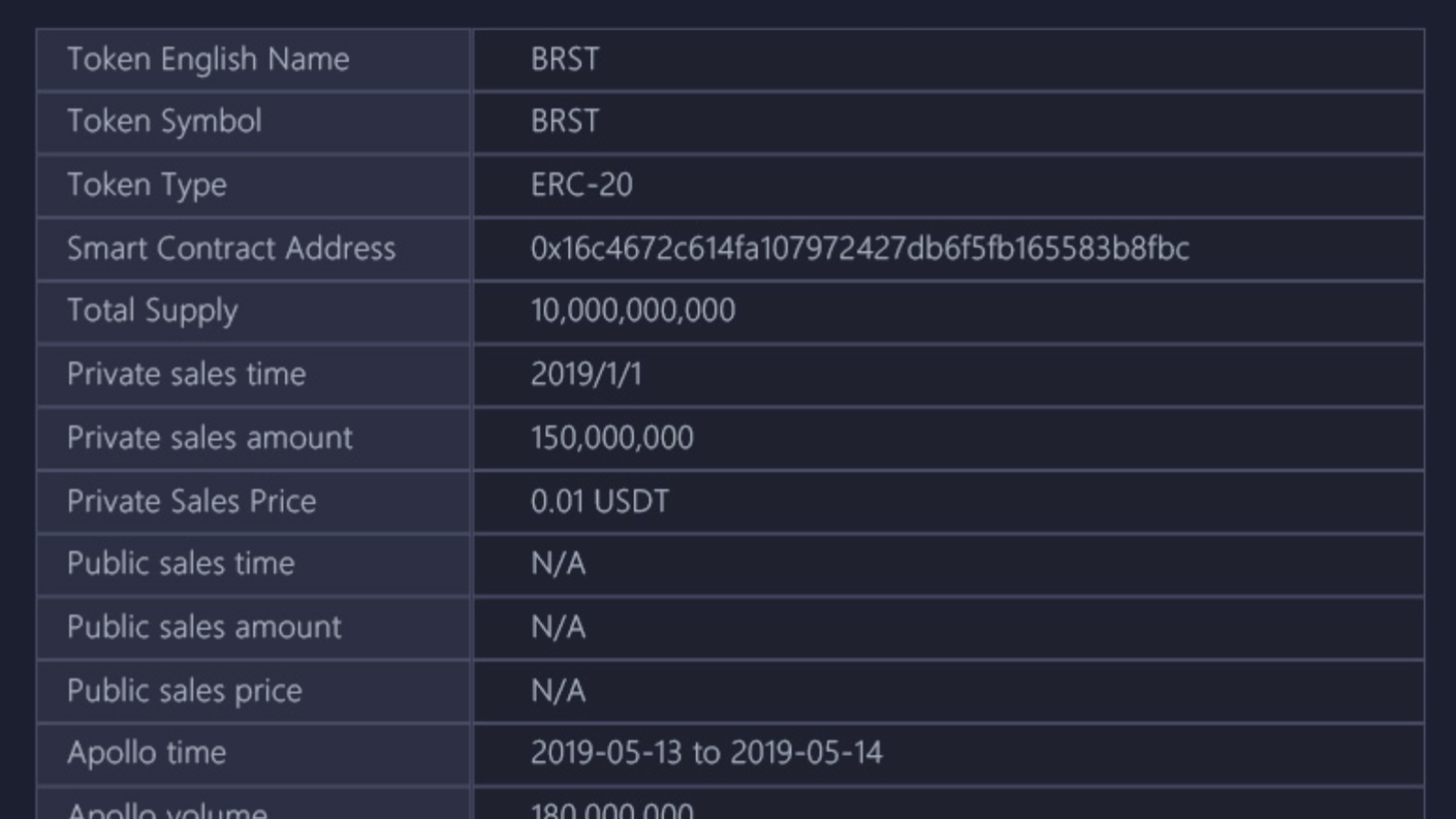 Scrolling the page down, you will find the project's introduction by DigiFinex team. Here you can read about the project's value proposition, the parent company of the startup, and its connections within the industry.
A project initiated by experienced professionals with a track record of successful ventures is more prone to avoid the so-called chasm for startups and increase in valuation due to its product's usage.
The value proposition is also important, as a product is only going to be widely adopted if there is a hair-on-fire problem that it is going to solve.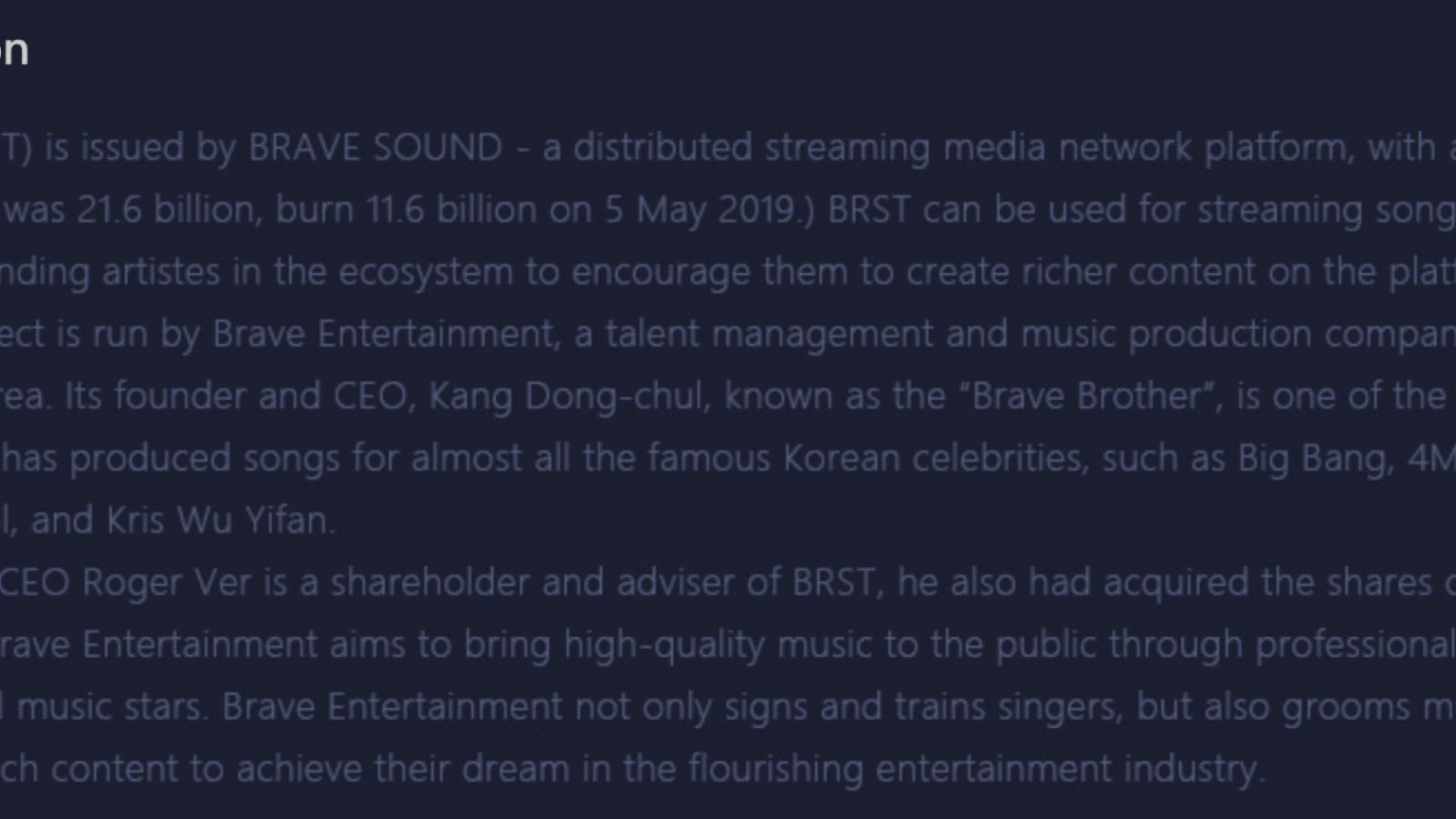 Going further, you will find the information about BRST team and advisors. As we just mentioned, a strong team plays an important role in any project's success. Advisory is also beneficial for a project's development because people with credibility and connections in a specific industry can help startups in avoiding common mistakes and provide them with necessary connections.
In the case of Brave Sound Token project, it has the support from Roger Ver, a famous crypto entrepreneur and the CEO of Bitcoin.com.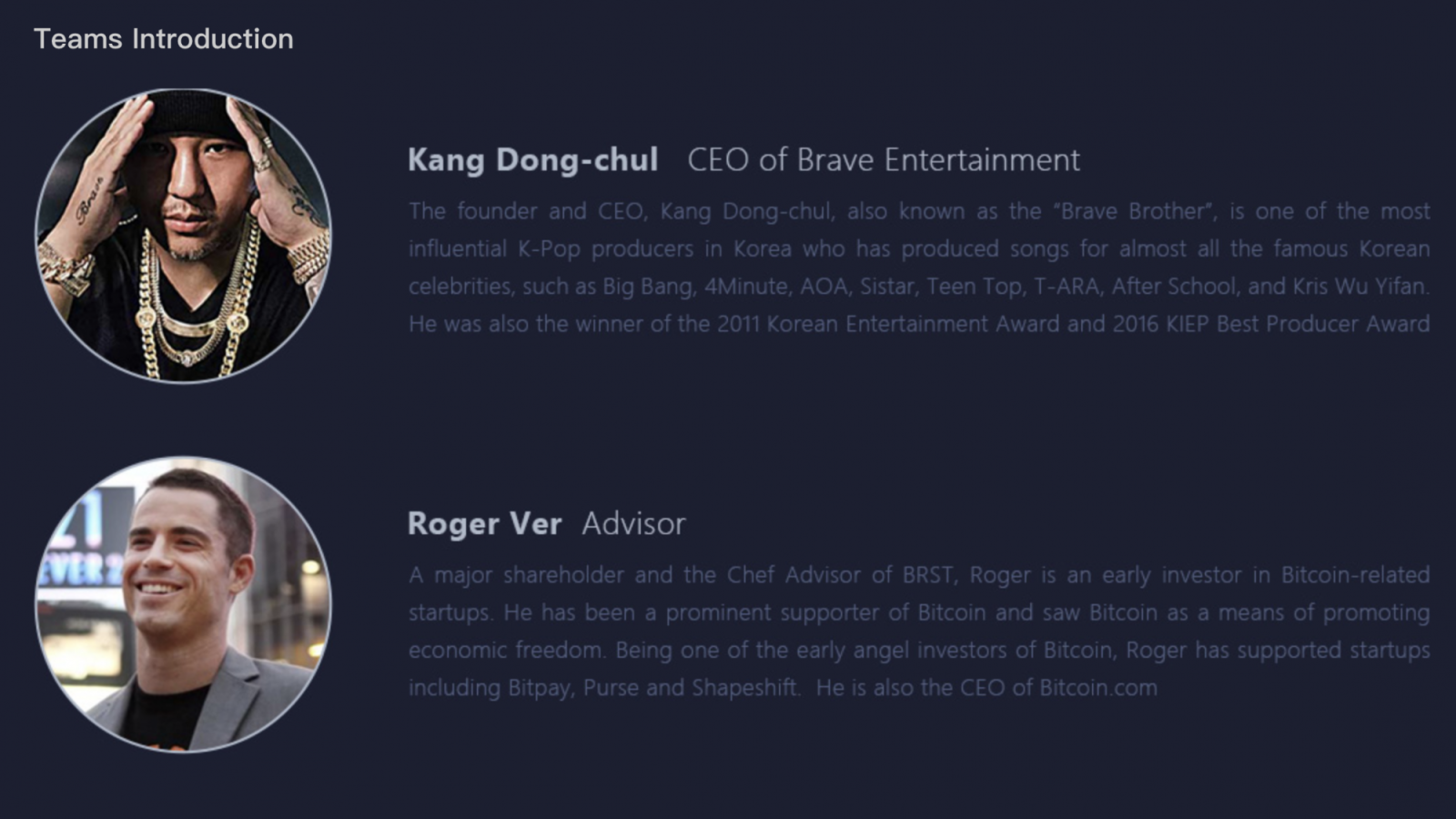 Beneath the team's description, you will find the tokens' allocation. This metric will help you understand who is going to get tokens, how much is it going to be for different groups or the participants in the different groups in its ecosystem.
Judging by the token allocation you will be able to define possible positive and negative factors for the price action, such as the existence of an airdrop, bounty, and lock-up & vesting periods. You will also understand the degree of decentralization, which is important for non-manipulative price discovery.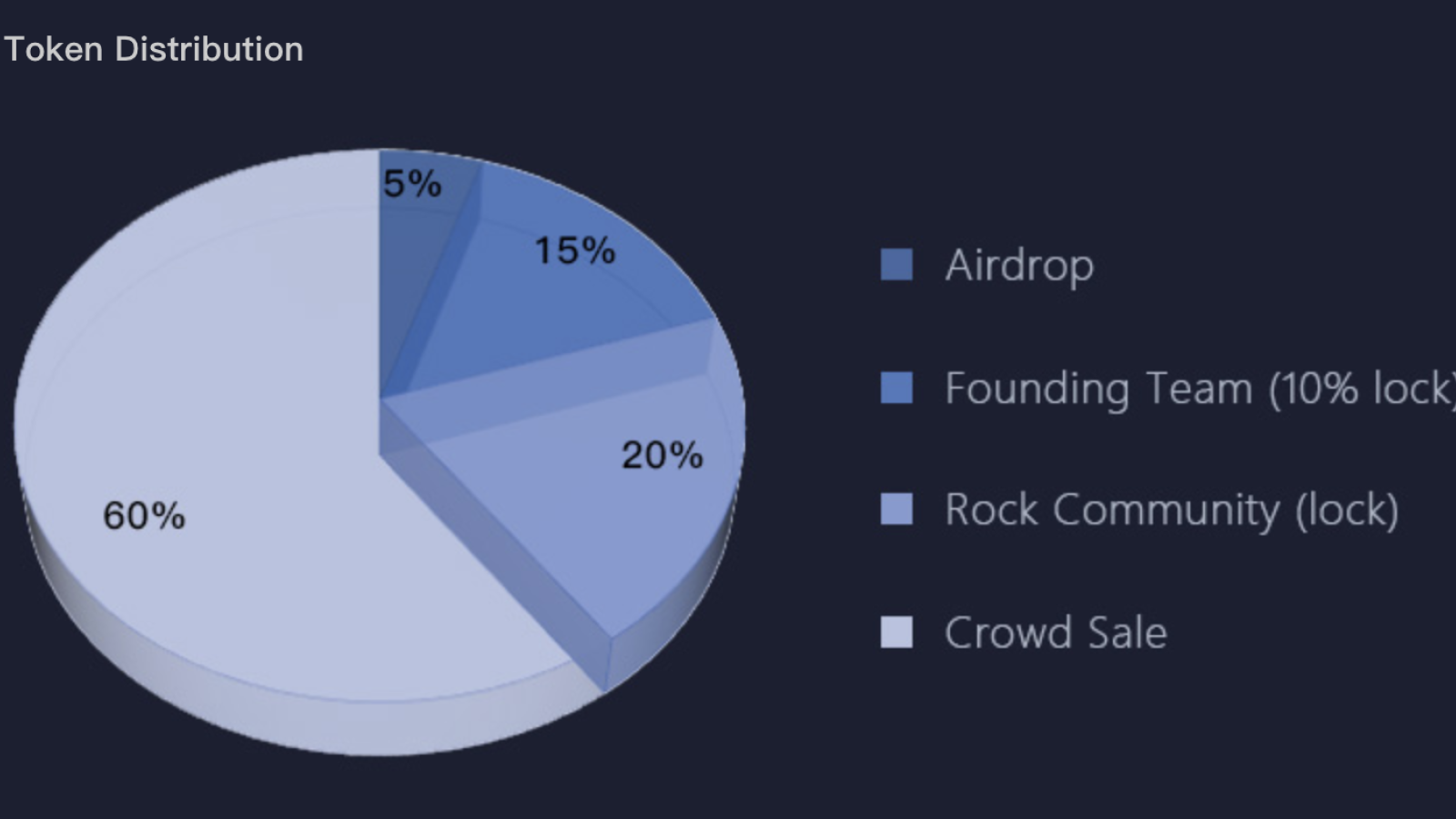 Next, there is information about the token economy and the project's goals. Here you can evaluate the future value of BRST tokens. If you believe that the team is aiming to fill an empty, but profitable niche on the market or conquer a well-established market by presenting competitive advantages, then the value of BRST may increase over time.
The team claims that its product will be successful because they have a pool of talented producers, experience in creating celebrities, and BRST token has various utility in terms of the vast 'fan economy'. The buyback program is supposed to help the initial liquidity.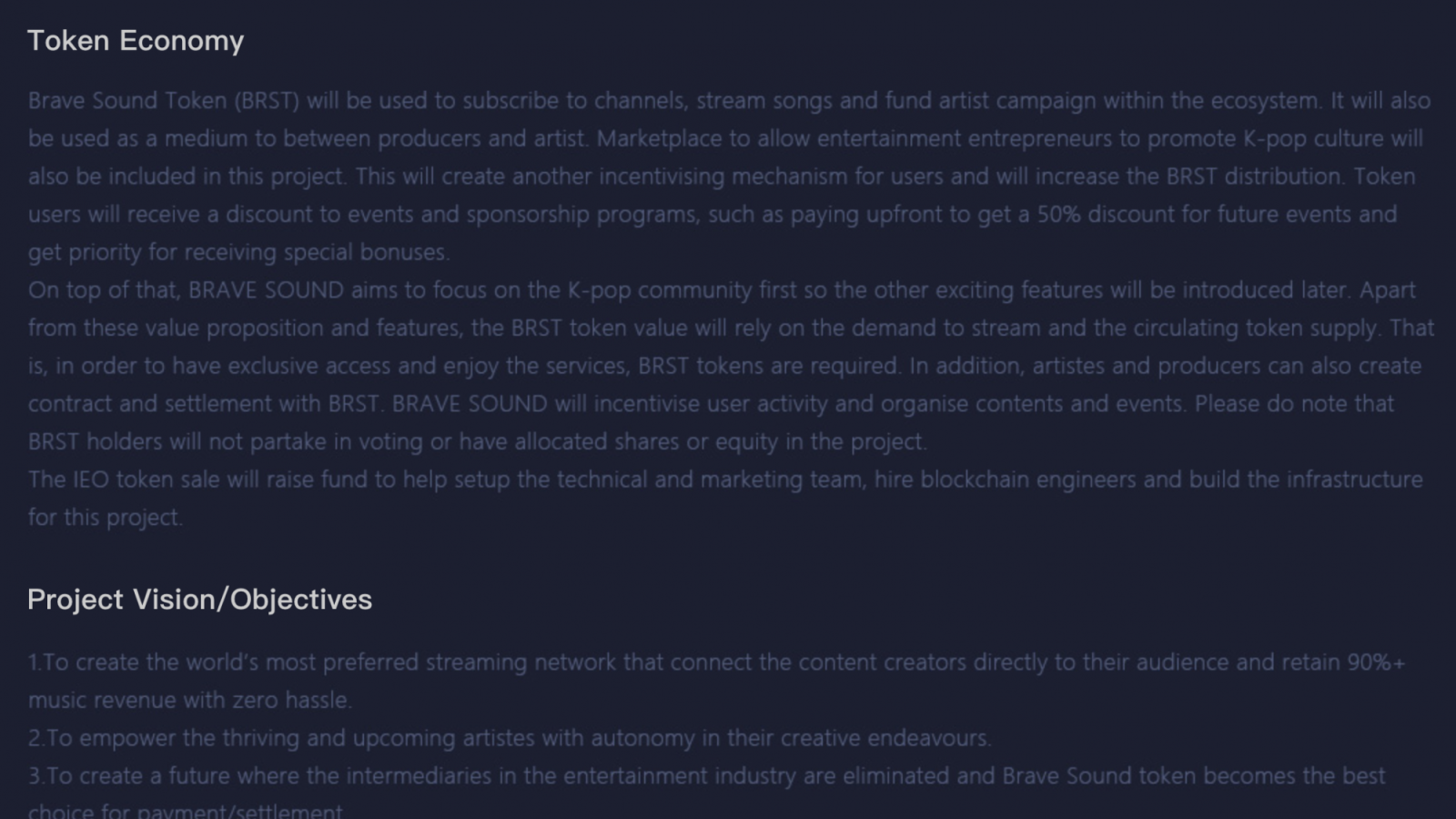 Finally, there is a roadmap section, where you can look at the project's milestones. At this stage, it's important that you understand when an MVP is coming, as this is the major factor influencing the utility and the price of a token.
If the MVP release date is too far from the token sale date, this can signal that the team hasn't worked on it yet, which increases risks, as the team might not be able to deliver the product at all.
Considering that we are in Q2, 2019, BRST team plans to launch their product by 2020 are relatively decent. However, many of the projects after 2018 already offer at least demos of their platforms.
The IEO page has many important links with the additional information and detailed outline of the project. Diving deep into these materials will help you in forming a well-rounded opinion of BRST future performance after listing. In addition, there are links to the social networks of the project. Aside from news and updates about BRST you can evaluate the size of the future ecosystem by looking at the number of subscribers. Finally, you can also download and try Brave Sound Token mobile wallet on your iPhone or Android device to test the UI and UX created by the team.
The bottom line
The blockchain will continue to be used as a means for entrepreneurs to receive money for the realization of their ideas. This is beneficial for both teams and their supporters as capable teams will launch popular products, growing the crypto ecosystem and the value of the tokens they issue.
The key here is to find good projects to invest in. It's easier now to do so because of support and due diligence done by the exchanges. However, the best practice is to always do your own research. We hope that our article will help you in your future reviews of IEO tokens and that it will make your decision-making process more advanced. Enjoy!