Since Mastercoin held the very first initial coin offering (ICO) back in July 2013, there have been countless Blockchain projects that held their own fundraising campaigns in such a way. However, ICOs have multiple bottlenecks, which prompted the appearance of other means of cryptocurrency fundraising, such as security token offerings (STOs) that combine the best from both worlds. As of recently, initial exchange offerings (IEOs) also started creating a lot of buzz in the crypto space, but what makes this medium of fundraising special?
What is an IEO?
With IEOs, a cryptocurrency exchange (not the project's developer himself) serves as the counterparty that helps facilitate the fundraising process. Developers behind a certain IEO are supposed to mint their tokens and send them directly to the exchange of their choice. Just like with an ICO, the two parties can agree on a set of conditions. For instance, the project wants its tokens to be sold at a fixed price while exchanges require that issuers set a cap limit.
Some might suggest that an IEO is simply the old wine in a bottle, which is not correct. While both of these fundraising models share the rationales of initial public offerings (IPOs), they are fundamentally different. Exchanges are required to perform a comprehensive assessment of the project in order to curb the biggest problems that ICOs faced – rampant scams. During the peak of the ICO craze, investors would blindly throw money at every ICO (even those who couldn't offer anything but a white paper).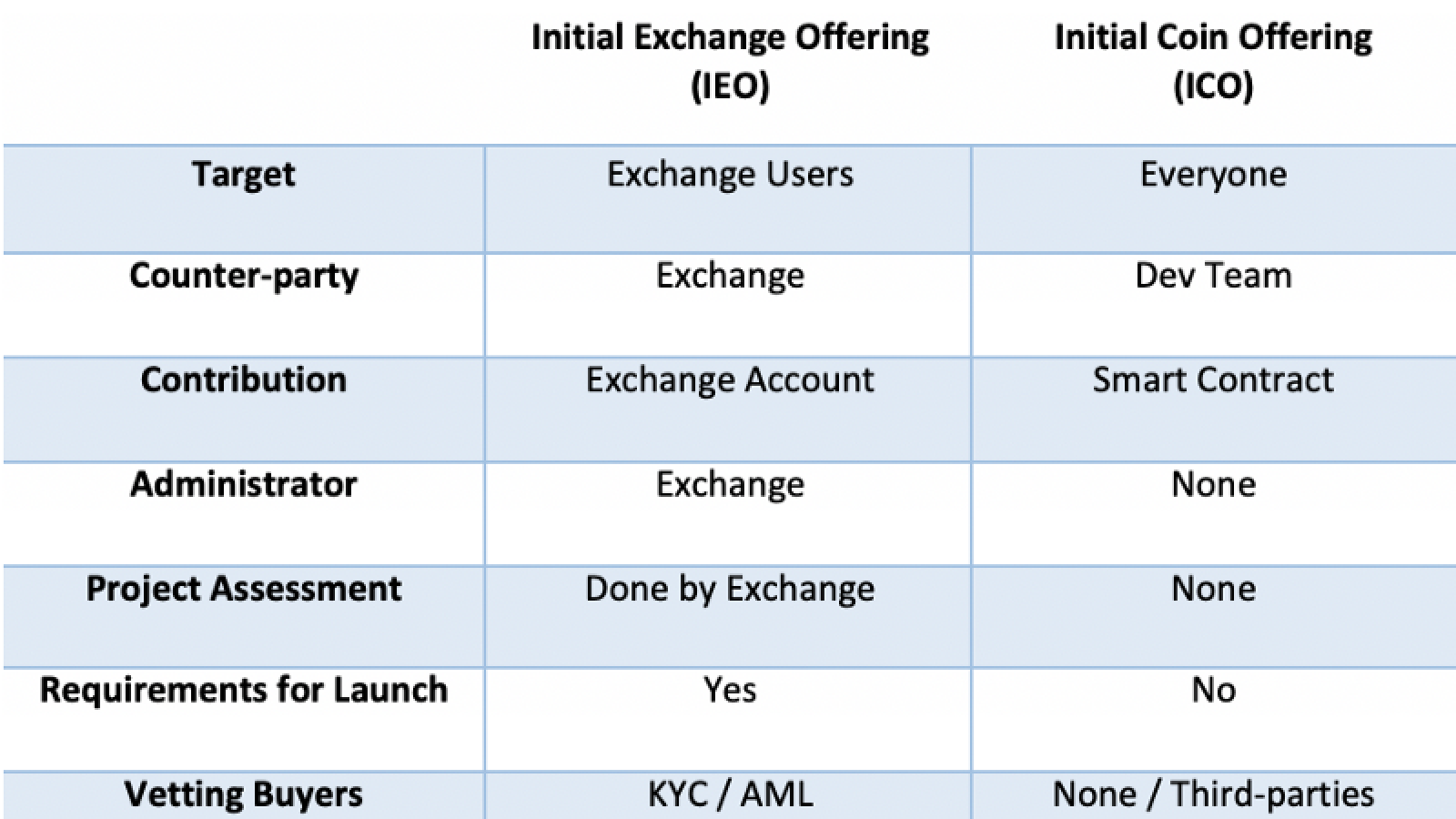 Major Advantages
For the team:
The obvious advantage of IEOs for projects that are raising funds is immediate access to vetted investors who are ready to spend their crypto. Just like companies that launch their initial public offerings and hear the bell ring on the Nasdaq exchange when you go live in front of shareholders, projects can piggyback off the existing user base.

According to Autonomous Research, ICO issuers have to fork out anywhere from $1 mln to $3 mln in order to list the token on their exchange. Moreover, there are additional costs that are associated with hiring advisors and running marketing campaigns. While exchanges still charge hefty fees for conducting an IEO, the team behind the token is able to shift its focus from marketing and fundraising to the development of their project.
For exchanges:
Exchanges also get joint marketing. Case in point: the Binance exchange that appeared in the spotlight during the launch of the BitTorrent token.

Of course, exchanges also earn a sizeable amount of money because of listing fees, which depend on how big the platform is.

Exchanges also benefit from onboarding new users who are interested in a particular IEO. After creating an account for the sake of participating in an IEO, these users might want to stick around longer, eventually becoming regular customers.
For investors:
Investors who take part in an IEO are subjected to less incurring risks. In lieu of dealing with different wallets on different Blockchains, they simply need to create an account with an exchange and purchase tokens. Such major exchanges as Binance do not want their reputation to be tainted after cooperating with a fraudulent project, which means that there is always a robust vetting process that results in a higher degree of trust.
What exchanges are interested?
IEOs so far didn't get as much recognition as ICOs, but many exchanges are already supporting them. Binance, the largest cryptocurrency exchange by daily trading volume, started the trend by rolling out its own IEO platform in December 2017. The exchange offering was initiated by an Ethereum-based dApp, Gifto, which raked in $3.4 mln with the help of Binance. Before this initiative, you would only need to create a flashy website and an Ethereum-based token. Recently, BitTorrent (BTT) was launched on Binance Launchpad before getting listed on the Binance exchange.
As reported by U.Today, Binance recently supported the BitTorrent IEO. All available tokens were sold in a few minutes with a total of $7.2 mln raised. That expectedly led to controversial allegations about Binance and Tron, which are cooperating together as of recently. Some examples of other exchanges and the project they supported include:
Coinis. The South Korean cryptocurrency exchange allowed the Blockchain-based remittance platform REMITT to raise at least $2.3 mln.

OKEx. On March 13, the Malta-based exchange made an announcement about the launch of OKJumpstart, its new platform for holding IEOs. OKEx's Andy Cheung claims that holding an IEO is a win-win situation for both exchanges and startups 'who raise funds to execute their ideas'.

Bittrex also joined the IEO party by announcing that it would host one for the RAID token. Unfortunately, the IEO, which was scheduled to happen on March 15, was eventually scrapped without clarifying the reason behind this decision. After that, Bittrex issued an official statement where the exchange claims that it presumably wasn't 'in the best interest' of their customers to hold an IEO.

Huobi, another major exchange that is based in Singapore, didn't want to lag behind its competitors and launched its own IEX platform. However, Huobi tries to distinguish its fundraising model by naming it 'a direct premium offering' (DPO), which allow users to purchase crypto below market prices.

KuCoin launched KuCoin Spotlight with an intent 'to reveal the hidden gem' in Blockchain.
How to take part in an IEO?
Make sure that an IEO is going to happen. While the popularity of ICOs has dwindled throughout 2018, they remain the main medium of fundraising for most of the cryptocurrency projects. Check the website of the development team in order to find out whether they will conduct an ICO or IEO.
Determine what exchanges will take part in an IEO. A token issuer might ink an agreement with only one exchange, so it will have no choice but to create an account on this platform. Of course, those who happen to already have an account on the exchange aren't supposed to go through the registration procedure again.
Complete your KYC/AML. After registering with a certain exchange, you will also have to go through a verification procedure to mitigate security risks. Don't postpone it to the day before the IEO since it may take the exchange several days to confirm your identity.
Find out the available crypto options. Bitcoin (BTC) and Ethereum (ETH) are the two most conventional options, but exchanges in the likes of Binance go with their own tokens.
Lastly, you have to wait for the day until your IEO starts. Be careful not to miss the token sale given that it may last literally for a couple of minutes (case in point: BitTorrent).
The cons of running an ICO
Since we've already reviewed all the advantages of launching an IEO, it is fair to pay attention to the cons of this fundraising model as well.
A limited number of trading platforms. Since IEOs are typically conducted on a single exchange, some potential investors might be shooed away by the prospect of creating a new account and going through the verification procedure that usually lasts for several days.

One more point of failure. While an exchange adds legitimacy to a certain project, it's still a double-edged sword since an exchange poses an additional point of failure.

Centralization. A handful of big investors could control the lion's share of all tokens, which can easily result in price manipulations.

Users do not own their tokens. Speaking of centralization, it is worth mentioning that centralized cryptocurrency exchanges are in full control of its users' private keys, which ironically means that you do not own tokens that you purchased. If a certain exchange gets hacked, all your tokens will be lost.

High risk of pump-and-dump schemes. If a certain fraudulent project does manage to get listed on a cryptocurrency exchange after going through a vetting process, it will be much easier for the team of developers to instantly dump the coins after the whole thing has been sold to investors.
Will regulators like it?
As mentioned above, ICOs were plagued with endless cryptocurrency scams, and they took a toll on the reputation of the cryptocurrency industry as a whole. ICOs remain banned in China, but it seems like the Beijing Internet Finance Industry Association is not happy about IEOs as well.
IEO/STO/IFO/IMO and other fundraising models that recently popped up on the crypto scenes are all deemed illegal by the Chinese government.

As for other regulators around the globe, it is too early to tell whether they will treat IEOs in a different way since they represent a very small niche of the crypto industry. However, the fact that they place more emphasis on vetting investors might play in their favor.
The bottom line
During the next few years, we can expect other exchanges to jump on the IEO bandwagon. The success of Binance Launchpad showed that this fundraising model could be quite successful. However, it doesn't mean that you should invest in IEOs by proxy. While arising as a better alternative to scammy ICOs, exchange offerings still have multiple downsides.