A quick take
What is a masternode? Masternodes represent big servers that run on the decentralized network of the currency of your choice. Together with nodes, masternodes create a two-tier system. The modus operandi of masternodes is similar to that of Bitcoin full nodes, but they come with additional features that make them more powerful. Masternode cryptocurrencies represent a good way to earn a passive income while you sleep, but there are caveats.
A history throwback: getting started with Dash
Initially, there were no masternodes in the Blockchain consensus mechanism. Darkcoin, which was later rebranded to Dash, became the very first cryptocurrency that adopted the masternode model. The full masternode implementation took place in May 2015, resulting in a big price spike. With Dash, masternodes started being utilized for such features as DirectSend and InstaSend.
Generally, masternodes fulfill two functions: they help to accelerate the transaction verification and also help to vote on a certain project. Masternodes essentially help tackle on the problem that has been plaguing the Bitcoin network ever since it dipped its toes into the mainstream. Masternodes with higher hardware requirements are able to process more transactions, and it prompted the appearance of the aforementioned InstaSend feature. Bitcoin naysayers are quick to shred the flagship currencies because of its slow transactions (compared to VISA and other established decentralized payment services).
At the same time, the fact that you have to own a sizeable amount of coins proves that you have skin in the game (thus, you are able to have a say in the development of a certain project). That by no means results in a greater centralization - Dash, for instance, has a huge masternode ecosystem (more than 5,000). Subsequently, all these masternodes are able to vote on important matters. However, after cryptocurrencies started gaining popularity, it became much harder for newbies to get involved in that ecosystem.
Lastly, another advantage of masternode coins consists in their ability to be sent anonymously. This pertains to Dash with its 'PrivateSent' feature that uses coin mixing. There is a common belief that masternodes are typical coins that are based on the Proof-of-Stake consensus algorithm, but there are also mineable coins.

Going back to Bitcoin's early days
Crypto influencer Brian Colwell, who was behind the #MasternodeMeBro18 tournament, claims than running a masternode is reminiscent of Bitcoin's pre-peak days when individuals would still be able to profit off Bitcoin mining without being displaced by monopolistic mining companies.
"I feel like it gives me more control on a daily basis to decide what I want to do with my coins."
How much does it cost to obtain a masternode?
There is a widespread misconception that masternodes tend to be pricey. It's true for such major coins as Dash. At the time of writing this article, you have to pay $95,890 in order to obtain a Dash masternode. Moreover, the annual return on investment (ROI) is sitting at 6.94 percent, which is definitely underwhelming. The price of one Dash masternode stands at 1,000 DASH, which means that it would set you back more than $1 mln at the peak of the cryptocurrency space (Dash masternode payouts, however, would still be huge). If you had invested in one particular masternode that was worth around $20,000 back in January 2017, you would get a six-figure yearly income.
Obviously, running your own masternode can be extremely profitable if you choose the right coin. Many coins offer a higher return with significantly less expensive nodes. Take a look at the 5 biggest coins by annual ROI. Numus (NMS) is in first place with an eye-popping 13,101 percent increase!
| | |
| --- | --- |
| Coin | Annual ROI |
| NUMUS (NMS) | 13,101.91% |
| ZIJACOIN (ZIJA) | 7,231.46% |
| MAGNET (MAG) | 4,820.43% |
| KICKSOCCER COIN (KSOC) | 3,805.29% |
| BEACON (BECN) | 1,743.81% |
| GOLD POKER (GPKR) | 1,660.11% |
Pay attention to the fact that the numbers that are shown on masternode.pro are not necessarily indicative of what coin deserves your investment. You have to perform an in-depth analysis of the whole project in order (the team behind it, its price history, etc.). If the price chart of a given coin reminds a roller coaster, you might not want to invest in this particular coin since even a 100 percent ROI won't cover the losses. As a rule of thumb, new coins from the bottom of the barrel tend to have a much higher ROI but it will be dwarfed when the price goes up and the risk that is associated with a certain coin goes down – it's very risky to invest in a coin that started less than a year ago. Other growing pains connected to the number of supported coins include tiny communities and poor technical support.
card

What to do if you can't afford a masternode? Despite the crypto rout, not every beginner-level investor is able to shell out $95k for a Dash masternode. Hence, you can purchase masternode shares but it comes with a big downside: you have to give your coins to a third party.

A brief overview of popular masternode coins
| | | | |
| --- | --- | --- | --- |
| Name of coin | CMC rank | Price (at press time) | Number of coins required for running a masternode |
| DASH (DASH) | 14 | $90.26 | 1000 |
| NEUTRON (NTRN) | 911 | $0.01 | 25,000 |
| PIVX (PIVX) | 91 | $0.72 | 10,000 |
| VITAE (VITAE) | 198 | $1.26 | 20,000 |
| DIAMOND (DMD) | 427 | $1.34 | 10,000. |
Should you invest in masternode coins?
U.Today is not here to give you investment advice, but you should be extra cautious when pouring money into master nodes. The truth is, the lion's share of masternode coins are nothing more than Dash copycats with little to no utility (they are not being adopted in e-commerce, etc.).

Of course, these coins are not outright scams, and the concept of masternode remains promising, but they showed disastrous results during last year's crypto winter with even the third best-performing currency appearing in the bloodbath. On the flip side, you can still earn top-dollar regardless of what specific coin you chose in case Bitcoin price shoots up, and the whole market appears in the green. Also, different altcoins are pumping from time to time, and you could take advantage of this volatility. To remain profitable, your masternode has to cover the computation expenses and the inflation rate.

Generally, the yield from the masternode depends on the following factors:
the price of a specific coin when the exchange took place;

the frequency of payouts;

the cost of running a node (computational expenses and so on);

the cost of coins in the long run.
How to run a DASH masternode?
Disclaimer! These steps presuppose that you've already installed Dash Core wallet and bought the required amount of Dash on a cryptocurrency exchange.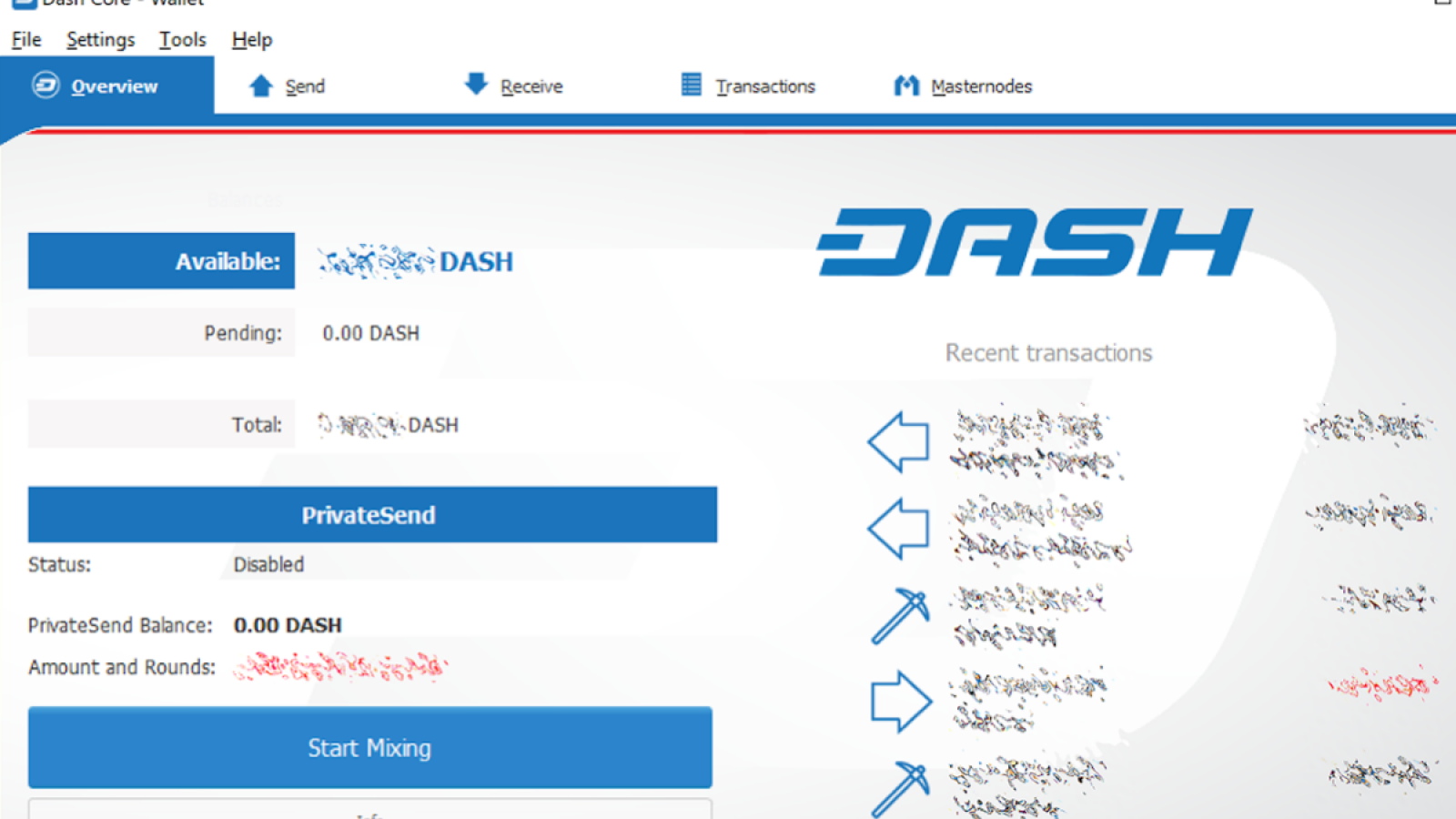 How to set up a masternode? The first thing that you have to do is to send exactly 1,000 DASH, subtracting the fee (such a hefty transaction may take up to a day in order to be confirmed, but you can speed up this process by using the InstaSend feature).

Once your transaction has been confirmed, you are to grab your public key in order to locate your collateral ID and index.
NB! Make sure to use the 'Coin Control' option that gives you the ability to choose what input you can choose as your output.

The most challenging thing about configuring your own masternode is getting it hosted. A masternode needs a server to process your transactions (having the required amount of DASH in your wallet is not enough). You can literally use your own server that will run 24/7 in your room, or you can set up a VPS, which requires time and some programming skills. Alternatively, you can use any service (for instance, Node40) for managing your own masternode, but it comes at a big price. For instance, Node40 has an annual fee of 3.3 Dash Digital Price is another service that will help you to set up a masternode in a snap.

When using Node40, all you have to do is to go through a quick registration process, and then you can use the Node40 setup wizard (it takes only several minutes in order to get your masternode running).
In case you deal with any other masternode coins (ION (ION), ChainCoin (CHC), etc.), the modus operandi will be pretty much the same if you do not want to get your hands dirty while setting up a server by yourself. Those who want to save money can install a VPS themselves. Here's a detailed guide on Ubuntu VPS Setup. Before that, you have to choose a VPS provider such as Vultr or Digital Ocean.
Pros and cons of running a cryptocurrency masternode
Pros:
The ability to earn passive income.

You get regular payouts (the number of payouts depends on the coin of your choice);

You improve the scalability of the network.

Masternodes able to have a say in the future development of the network.
So, you set up a server and get paid. Sounds like a nice concept, right? However, everything has its ups-and-downs.

Cons:
The sizeable amount of initial investment.

Setting up your own VPS server can be tricky.

Cryptocurrencies prices are rather volatile, and you may end up losing the majority of your investment.
What the future holds for cryptocurrency masternodes?
Not being deterred by the bear market, masternodes are gradually becoming a new trend in the cryptocurrency world.
It is quite possible that the current definition of masternodes will completely change by 2020. A startup called Eximchain has raised the bar for potential masternodes, requiring them to complete know-your-customer (KYC) and go through a voting process. Basically, this resembles full-fledged elections where members choose among eligible representatives.
Meanwhile, a new startup called Kalkulus actually lets users run a masternode without using computation power (Kalkulus will do the job by itself). Colwell explains that a bigger number of nodes translated into a bigger social following.