As per data from IntotheBlock analytics, Dogecoin has more medium-term investors than about a year ago. Dogecoin is approaching the $0.20 mark as the price steadily increases for the third consecutive day.
In December 2020, Dogecoin hodlers stood at 2.04 million addresses, or 74.35% of the total addresses, cruisers at 537,870 addresses or 19.6%, and traders at 165,860 addresses or 6.06%, according to historical data from IntoTheBlock analytics.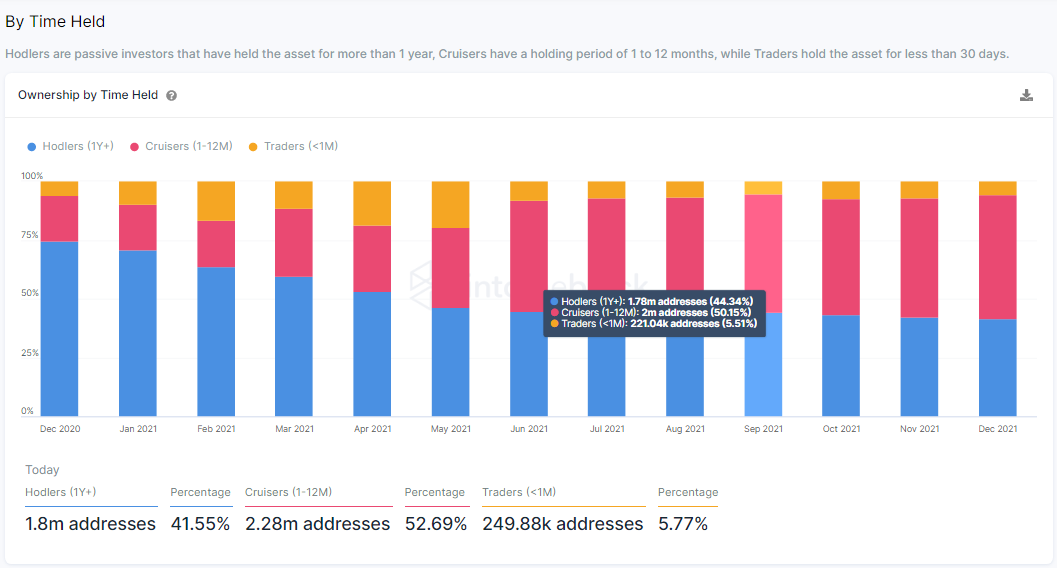 Hodlers, or long-term investors in this context, refer to passive investors who have held the asset for more than one year. Cruisers, or mid-term investors, have a holding period of 1 to 12 months, while traders who hold the asset for less than 30 days are short-term investors.
Fast forward to December 2021, and there seems to be a switch in this trend. At present, 41.55% (1.8 million addresses) are hodlers, 52.69% (2.28 million addresses) are cruisers and 5.77% (249,880 addresses) are traders as per metrics supplied by IntoTheBlock.
While the number of short-term traders has increased slightly in December 2021, there seems to be a larger number of medium-term investors, or ''cruisers,'' as long-term holders have capitulated.
Dogecoin price action
Dogecoin (DOGE) showed a steady rally around mid-December after Tesla CEO Elon Musk stated that Doge would be accepted for some transactions. Musk tweeted, "Tesla will make some merch buyable with Doge & see how it goes." The price of Dogecoin skyrocketed roughly 48% in response to the tweet, reaching highs of $0.220.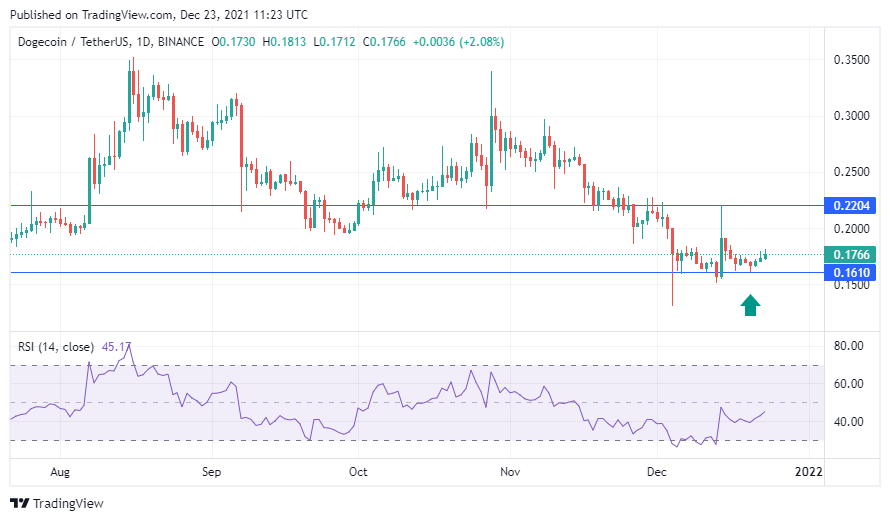 The dog-themed token retraced its surge below $0.20 to a near-term low of $0.161 where it has picked up momentum to approach $0.20. DOGE/USD sustains its run into the third day on Thursday, gaining above 3% in the last 24 hours while still down about 3% on a seven-day basis amid a recent retreat.
Dogecoin's current price is $0.176, with a trading volume of $1,123,773,873 in the last 24 hours. It is ranked #12 on CoinMarketCap, with a live market cap of $23,468,303,364. The maximum supply is not known; however, it has a circulating supply of 132,644,316,641 DOGE coins.