When the first Crypto Invest Summit was announced in the spring of 2018, the organizers did not mince words, positioning the conference as the biggest crypto and Blockchain event on the West Coast. As it came to pass, even they may have been surprised by the turnout of about 4500 attendees: a laudable feat that also manifested some organizational problems. Extremely long lines for registration, a pre-party that very few were able to get into, and the lack of capacity in the main stage hall prompted some attendees to quip about the "Blockchain scaling problem as demonstrated at Crypto Invest."
Valuable lessons were learned, and this year the organization was significantly improved, despite the number of participants rising to an astounding 6,100. If crypto conferences could be compared to colleges–some that specialize in one subject, some that offer a nice atmosphere or an incredible location, some that are known as party schools–then Crypto Invest Summit is surely a big university with a large variety of offerings, impressing with the sheer numbers. An expo floor with over 80 booths, 3 stages, 5 tracks, and thousands of attendees seem like solid evidence that Crypto Invest was able to defy the bear market.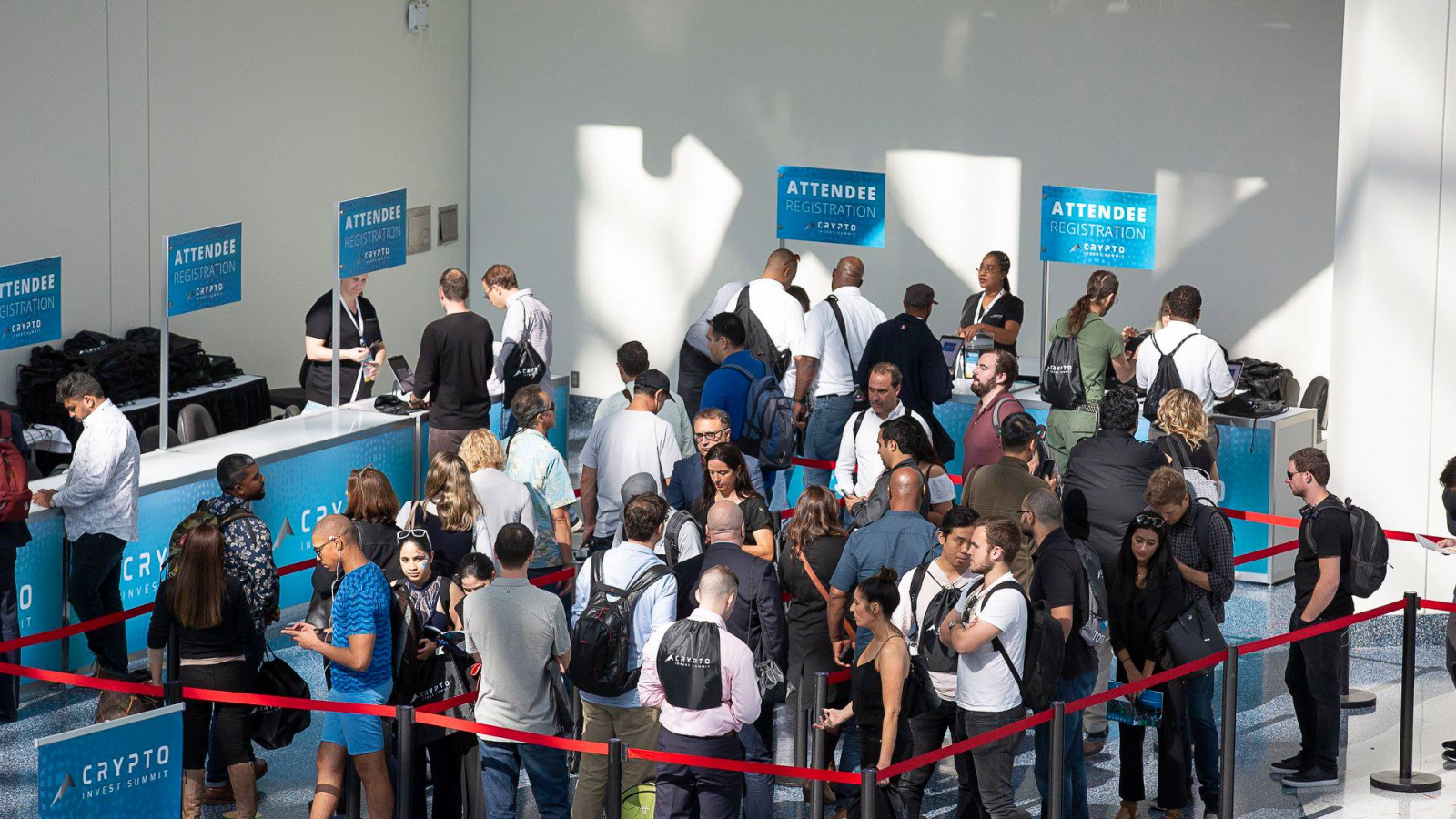 From ICOs to sustainable investment
In May, many panels addressed ICO investment and the differences between security and utility tokens. This time, in the aftermath of a dissipating ICO hype and a crashed market, the focus was on sustainable investment in Blockchain technologies. In the context of this summit, "sustainable" meant long term investment in real products that reduce friction in the token economy and give users an easy interface with transparent incentives.
A second stage featured 5 additional tracks, or sub-conferences, that discussed specific topics including: Women of Crypto, Security Tokens, Crypto Trading, the Builder Track, and Healthcare on the Blockchain. During these tracks, participants could delve into the specifics of their particular field of interest, be it understanding crypto market movements, redesigning healthcare, listing tokens on exchanges, or bootstrapping network effects. A pitch stage in the concourse hall gave companies an opportunity to present their project to media, potential partners, and investors.
Main attractions
One of the great attractions of the Crypto Invest Summit is the lineup of prominent speakers. Venture capitalists Tim Draper and Adam Draper, always favored by crypto enthusiasts eager for investment advice, returned to the summit, having also appeared at the May event. Adam Draper predicted a significant jump in adoption, stating that in one year everyone at the conference will have 3 applications on their phone that will use Blockchain and cryptocurrency without the user having to think about it.
Tim Draper, who calls fiat "political currency", reframed Bitcoin volatility for the audience: "1 Bitcoin is still 1 Bitcoin, it's all the other currencies that are very volatile against it as they disappear from our earth." He encouraged entrepreneurs to take risks with crypto and not give into the scaremongering of the incumbents of the global financial system. He also referred to institutions as "sheep" that are hesitant to enter the space, looking to other institutions for guidance. For Draper, it's "much better to be the wolf and go in first!"
While not necessarily an expert in the space, Steve Wozniak understandably drew a big crowd. He clarified his position on Bitcoin, saying that he invested at one point for the purposes of experimenting with it, and has since sold most of his crypto. Nevertheless, he is excited to see how this technology develops and has become a co-founder of a Blockchain-focused venture capital fund EQUI Global. Wozniak reminded everyone that the human is always more important than technology since the user experience trumps any other engineering considerations. When asked what he meant by calling Bitcoin a bubble, he explained:
"The Internet was a bubble, but the thinking behind it was correct, it ended up being integral to our lives. Maybe with Blockchain it will be the same: it is a bubble, but in 10-15 years its value will show."
The live taping of Ran Neu-Ner's CNBC Crypto Trader show was a big hit in the spring, and this summit's show turned out to be even more exciting. Besides featuring Steve Wozniak, the Drapers, and Dan Morehead of Pantera Capital, NeuNer created a sensation by hinting at the details of Coinbase's upcoming IPO, referencing a source close to the company. In a conversation with the CNBC host, Adam Draper revealed that despite Coinbase's $8 billion valuation, he believes that the company is still undervalued and will be "the largest company on the planet."
Save the date
While 2019 may become the year of the STO, most speakers seemed to agree that the bear market is the best time to get work done, i.e. start projects, build frameworks, and gather communities. The investors echoed this sentiment, encouraging entrepreneurs to focus on completing products that provide valuable solutions and reduce friction in Blockchain applications.
The Summit's after-party
At the conference, it was clear that the crypto community is coming to a realization: if we are to see widespread crypto and Blockchain adoption, the technology must be running invisibly in the background, leaving an easy and engaging experience for the user. When Crypto Invest Summit returns in April 2019, there will be a chance to evaluate how well those goals are being accomplished. Judging by the first two events, the conference will continue to attract crowds of crypto experts, entrepreneurs, and enthusiasts no matter what the industry holds in store for us in the meantime.