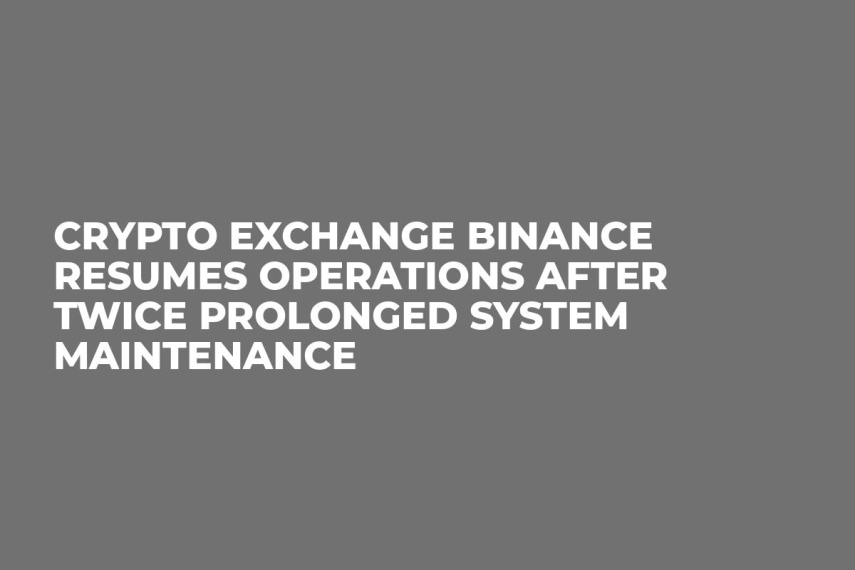 Cover image via U.Today
Trading and withdrawals suspended
Two days ago, the popular crypto trading platform, notified its users of the coming system upgrade that would start today, June 26, and continue two hours. However, the process is taking longer and at the moment of writing, it still continues.
The exchange team promptly notified the users of the delay and asked them to be patient, saying that the team is working hard to solve the issue.
Later on, another announcement came out at the Binance website, stating that the start of the trading and withdrawals have been postponed for slightly longer. The reason for this, apparently, was a warning from the platform's risk management system during the trials.
Funds are safe
The main thing in this is that the Binance CEO notified everyone on Twitter that the funds are safe. This makes the delay justified since the users are themselves interested in keeping their deposits.
Big upgrade. Funds are safu! https://t.co/1DV1sVpI93

— CZ (@cz_binance) 25 июня 2018 г.
Taking into account the recent hacks on various exchanges, including Coinrail and Bithumb, when they lost $40 and $30 mln correspondingly with just a two weeks' break between the attacks, the delay in Binance seems virtually nothing in comparison.
In this case, the Binance team has decided to be on the safe side and postpone the launch rather than lose the customers' money. Besides, currently insurance companies refuse to reimburse for such hacks, making like for exchanges even more difficult.
Back on the air
Ultimately, after a total period of waiting of over six hours, Binance has announced that it is resuming operations. Trading and depositing will be available since 20.00 PM [UTC+8]. As for withdrawals - they will resume one or two hours later.