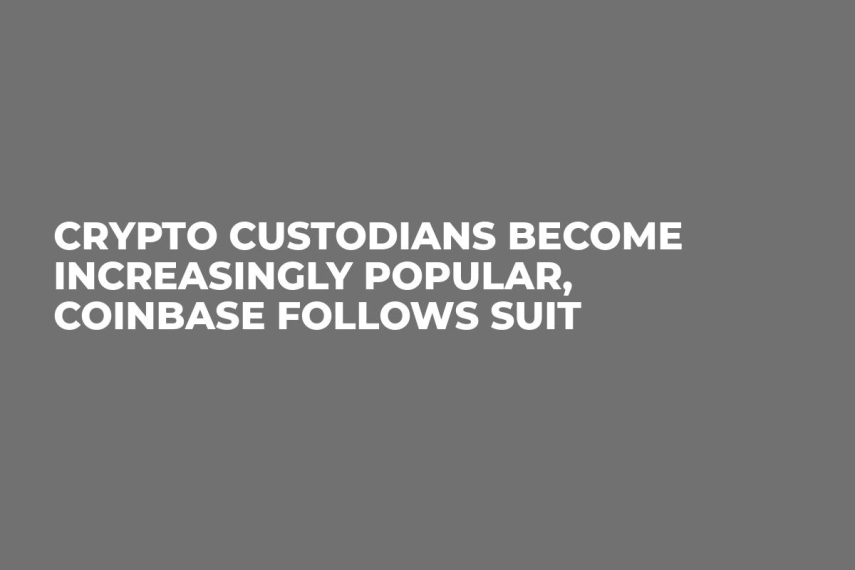 Cover image via U.Today
As over-the-counter transactions become increasingly popular, traders want to make sure that their crypto assets will be safe. That creates a new market for crypto custody services which are deemed to mark a new era in the crypto industry.
Cryptocurrency custody solutions
The cryptocurrency industry has been severely marginalized by numerous hacking attacks and other types of scams that resulted in stealing of hundreds of millions of dollars. As cryptocurrencies move closer to mainstream, there is a rising demand for cybersecurity insurance coverage among digital asset holders.

Coinbase is one of a plethora of newly emerging custodians. Their recently expanded custody service (which is fully compatible with US regulations) functions in the same way as tradition asset guarding solutions. In an attempt to diversify its profit, Coinbase so far attracted 10 hedge funds, but the company plans to expand the list of its customers up to 100 institutions till the end of this year.

card
New investments
The emergence of custodian services is a good sign for crypto, since it would attract more investors and potentially give a big push for another bullish trend. Taking into account the vulnerability and anonymity of cryptocurrencies, they cannot be protected by traditional bank holding companies like JPMorgan and State Street, so there is an open market for crypto-oriented custodians.
It comes with a big price
The obvious problem with today's crypto custodian services is that they are relatively expensive. For instance, Coinbase custodian setup will set you back as many as $100,000. However, this niche is expected to be rapidly developing in the nearest future and, subsequently, the fees will be lowered. Northern Trust, a leading financial services company in the US, is already mulling over hopping on that trend, but, so far, they've displayed an extremely cautious attitude towards cryptocurrencies.

card