Finally, the cryptocurrency market is showing some noteworthy results by gaining almost 10% to its capitalization, which causes a spike on assets like Cardano, Solana and even some meme coins like Dogecoin and Shiba Inu.
Cardano's reassuring growth
Cardano was not the easiest or most profitable asset to hold on the market throughout the year. Luckily, ADA investors received some hope after the performance ADA has shown on the market in the last few days.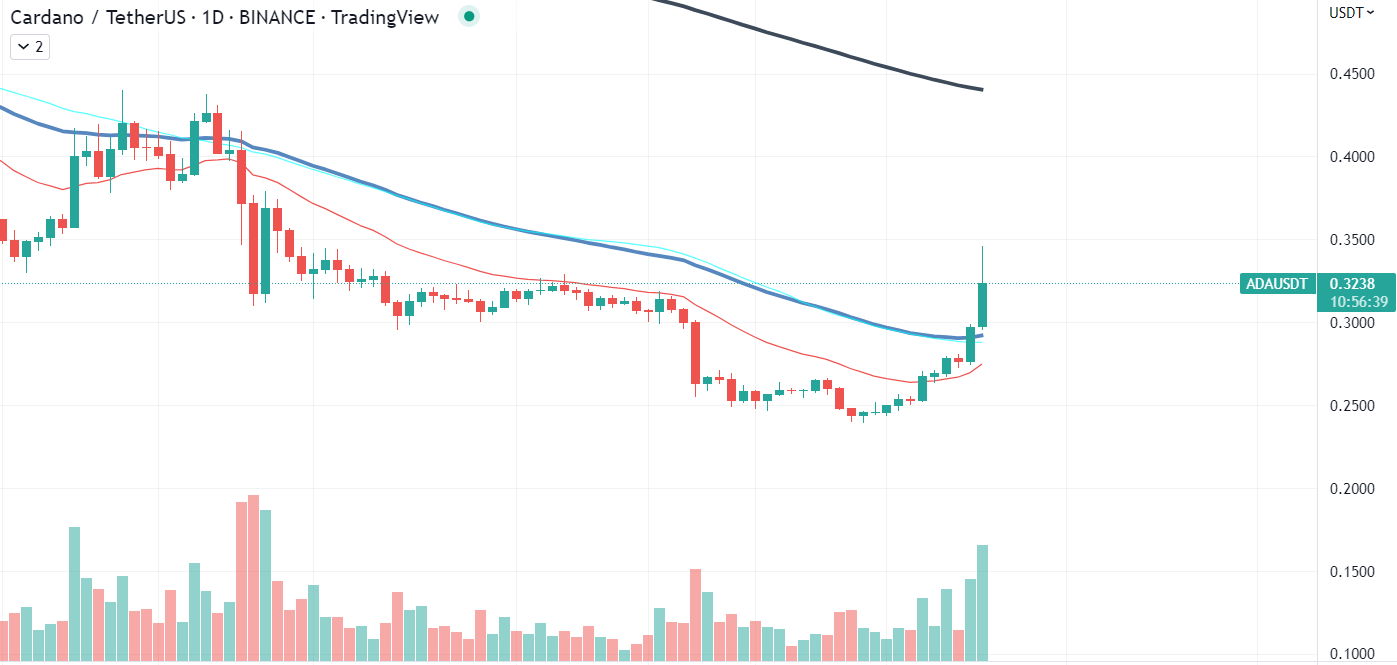 After the 15% rally and a successful breakthrough of the local 21-day moving average, ADA surprisingly started moving upward with high intensity, reaching the 50-day moving average resistance, which remained an unattainable goal for Cardano for around three months.
The last test of the aforementioned resistance level led to a swift reversal due to a lack of funding and poor market conditions. Considering the capitulation of the majority of institutional and retail investors, Cardano and similar assets might show a correction amid the prolonged downtrend.
Solana is still resisting
Solana is the cryptocurrency that the majority of investors abandoned after the FTX implosion due to the massive sell-off caused by Alameda and the failed exchange. Apart from significant selling pressure, Solana holders were waiting for the spike of selling pressure on the market caused by the 80 million SOL unlocking.
Luckily, what used to be an Ethereum killer went through December's stalemate and entered the new year with solid growth. Solana is showing a 65% return from the local low reached on Jan. 2.
The most likely reason for such an unexpected recovery, however, is not fundamental. The rally we are seeing today is most likely tied to the general recovery of the market and the attractiveness of Solana to speculative traders due to the fact it has been extremely oversold lately.
How are meme coins doing?
Usually, during the recovery of the market, meme coins gain a solid amount of value as investors become more hungry for risks and assets like DOGE and SHIB, and others are perfect tools for exposing yourself to risk on the market.
While more traditional meme assets like we mentioned above are showing solid price performance, newcomers like BONK are having some serious problems. The Solana-based meme cryptocurrency is rapidly losing its value, trading with a 68% loss from the ATH. The fate of BONK remains unclear as a large percentage of the distributed supply is still in the hands of airdrop recipients.
Both Shiba Inu and Dogecoin are doing fine on the market, gaining around 4% to their values in the last 24 hours following breakouts of local resistance levels. Unfortunately, it is difficult to tell whether the rally we see now will prevail on the market, especially with no fundamental changes in both the macroeconomic situation and the cryptocurrency market in particular.