Bitcoin doesn't change its price dramatically – it just stays on the current position, evolving around the $8K value. But sooner or later, that should change. Let's see what should happen to Bitcoin in the nearest weeks, and how to trade it wisely. These Bitcoin price predictions from TravingView will give you a better understanding of the market.
It's just a correction on the market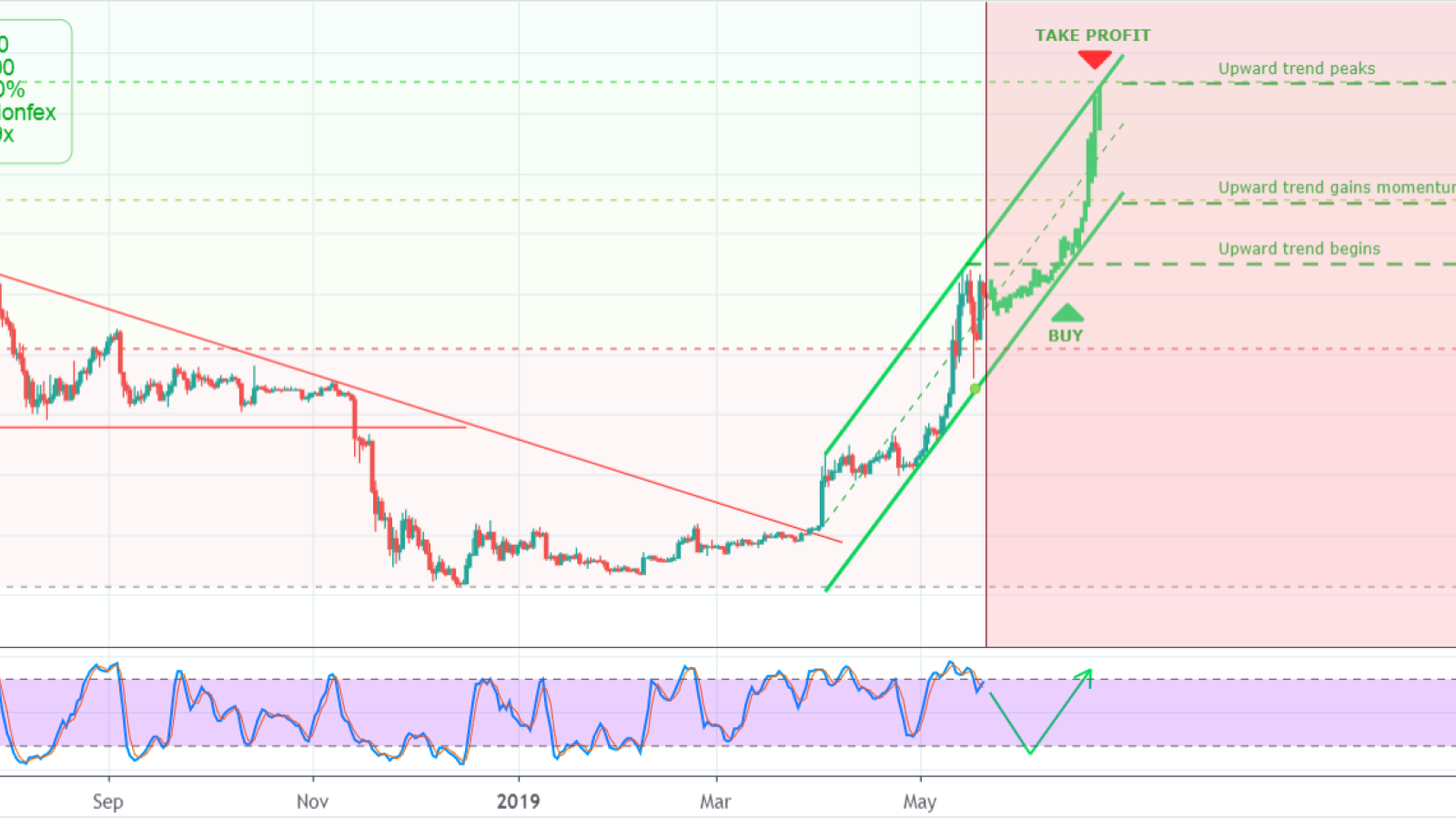 Monfex analyzed the technical situation around Bitcoin's upward trend, signals, and technical indicators.
To put it shortly:
The medium-term trend for Bitcoin remains UPWARDS.

The next month's forecast is in a range of $10,500-$11,500.

Over the short term (next two weeks), though, the flat trend is more likely, as the price corrects downwards from local highs and forms a new basis for the next wave upwards to $11,500.
The mid-term analysis is positive: it's based on technical indicators and fundamental analysis. So, what is this assumption based on? The 20-day exponential moving average is increasing and the BTC price is above the EMA (20).
There is an ascending trend channel being formed on Bitcoin's daily chart, which is a strong continuation chart pattern. Besides, the price is perfectly confined within the trendlines of this channel, and the next implied price target is located at $11,500. The two intermediate price targets are located at significant resistance levels at $8,500 and $9,500.
Positive dynamics in fundamental variables of the Bitcoin network, such as continuing growth in the number of daily transactions and the number of active wallets, reinforces and confirms an upward trend forecast for Bitcoin's market price.
Currently, the mean value, as measured by a 20-day moving average and a linear regression channel, is estimated in the range of $7,000-$7,500. Therefore, what we're seeing now is a 'healthy' short-term correction in a bull market. We don't expect it to move below the nearest significant support level at $6,500, which coincides with the lower trendline of an ascending trend channel.
So, how to trade BTC for maximum gain? Buy BTC at around $7,400 and get your profit at $11,500.
BTC will disappoint people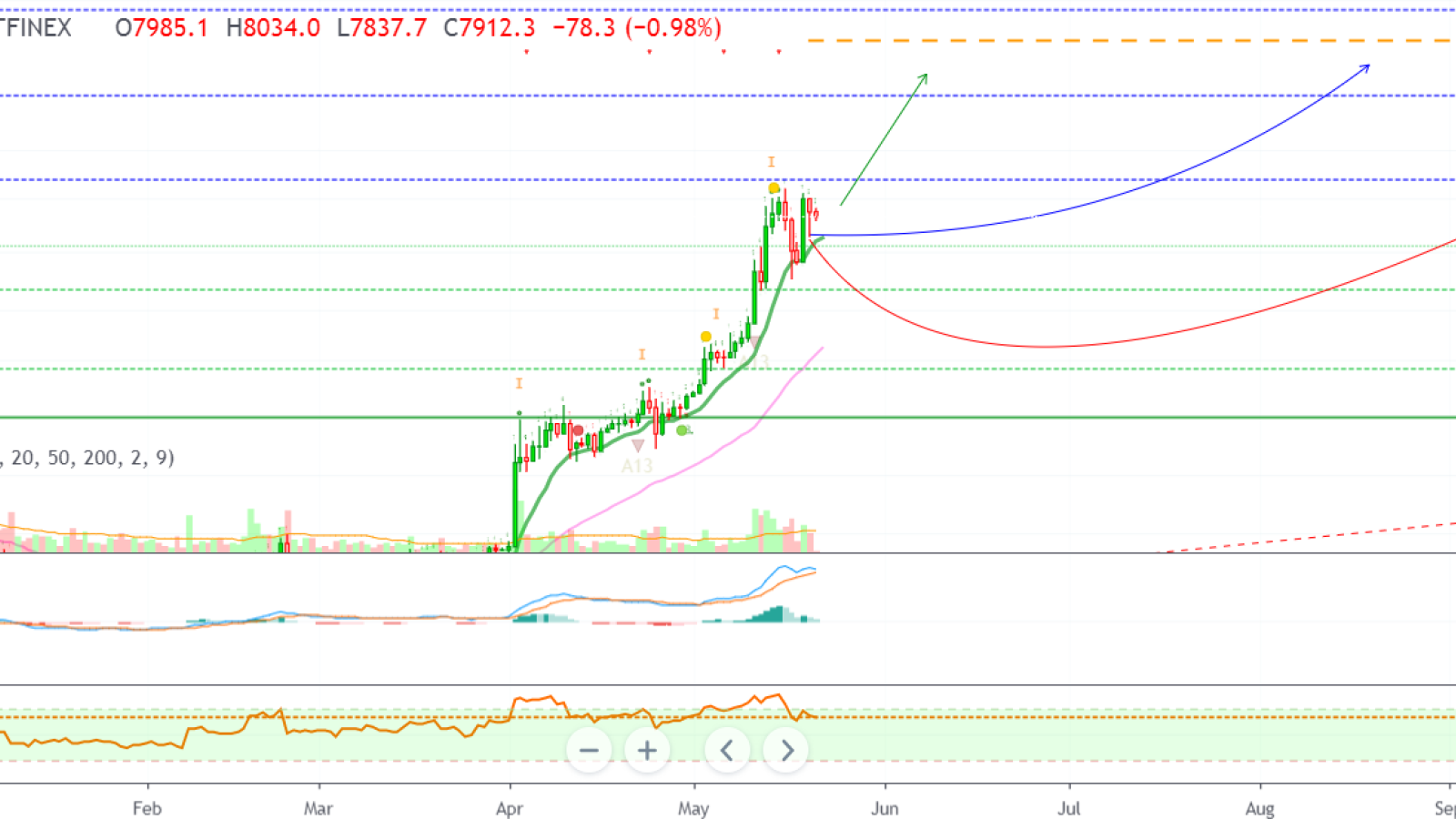 Alanmasters claims that BTC will disappoint many people. Why? Because they are waiting for Bitcoin to go down, but there is no reason for it to do so!
There can be many bearish signals, but the market has a life of its own. At the most, he expects a sideways consolidation – we can't be bearish if we continue trading above EMA10. If BTC/USD remains above this level, expect for it to go higher and reach the next resistance, the next target.
Where will Bitcoin go then? We are heading to $10,000 regardless of the signals, the bullishness lately is just way too strong.
Ascending triangle on the scene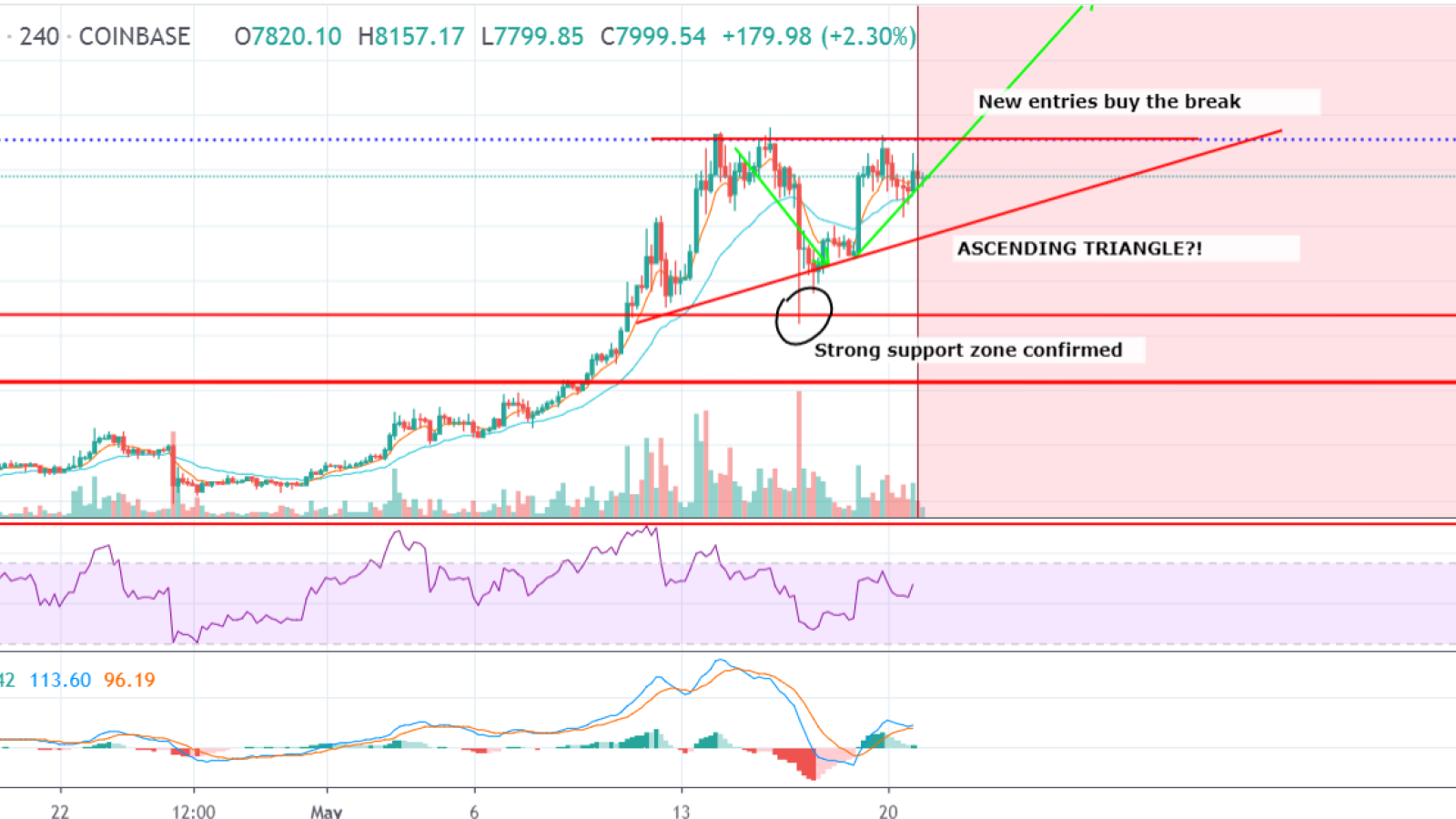 Sherem comes up with a simple explanation of what's going on. Take a closer look at the Bitcoin price pattern: it looks like an ascending triangle. That's the simplest and the most likely explanation. Maybe also it's because of the strong weekly MACD.
Even if this parameter doesn't play here, we already made out huge with the run-up to $7,500. Re-entered in at $7,200. We have our stops in place. Don't miss the chance to enter the market and buy some BTC before it finally soars.
Final thoughts
Despite traders' belief that Bitcoin has entered the bearish zone, a lot of technical indicators prove that it's still capable of making a few substantial leaps. It's more than possible for it to reach the $11,500 level in summer 2019 – it's not all lost while it's holding above $7K.
Bitcoin price charts are taken from TradingView