Bitcoin is making waves – traders are anticipating positive moves, and they are likely to happen. Since the recent $4,000 value fell, we have been counting the days when BTC will reach this high again. Seems like that will happen soon.
Check out Bitcoin price forecasts from TradingView users to find out what will drive BTC growth, and when it will hit the $4,500 target.
BTC will trade $4,500 in a week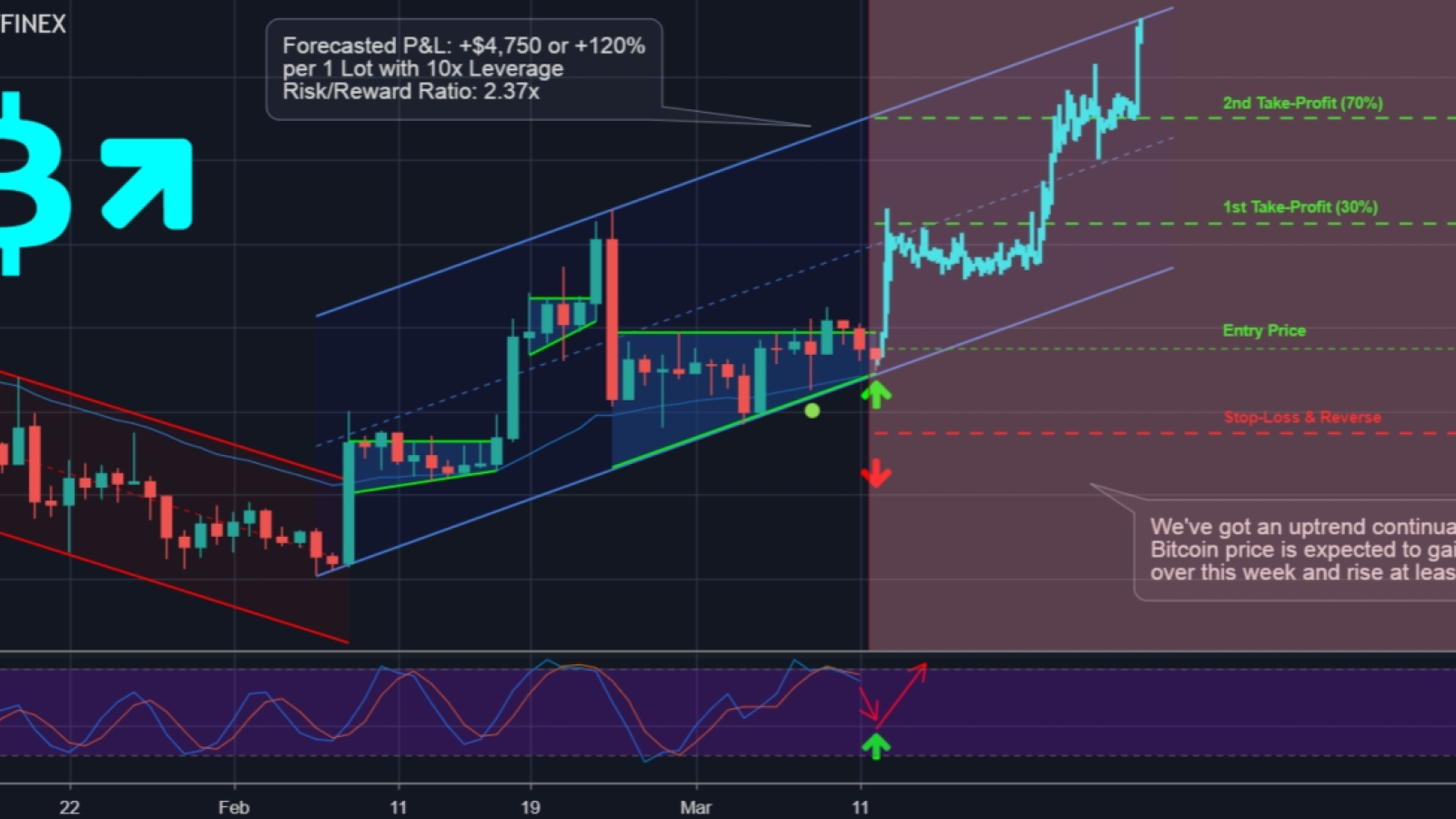 Bitcoin price chart from Monfex
User Monfex has provided a detailed technical analysis of the Bitcoin price based on technical indicators and patterns. There are several signals hinting at a BTC/USD uptrend, including:
An ascending triangle which was broken on March 9 when the price broke through the upper resistance, forming the triangle at $3,950. Buyers were selling off BTC instead of waiting for another bullish wave, so BTC gave up. Probably, it will gain momentum to reach at least $4,000 in a week and make a new rally.

An ascending trend channel is being formed on a daily time frame. Look at this pattern: the price is making higher highs and higher lows. There's a strong continuation chart pattern that confirms an upward trend signal.

Both quick (10-days) and slow (30-days) Exponential Moving Averages are increasing. EMA indicates a buy signal, too.

The stochastic oscillator has approached an overbought range. This means that a small retracement downwards is possible, after which the prevailing medium-term trend is going to continue upwards.
As long as the BTC price has managed to break the $3,950 resistance, we have an uptrend continuing. Based on the technical indicators and patterns, BTC has the chance to jump to at least to $4,250 within a week.
Bat pattern is forming – expect sell-off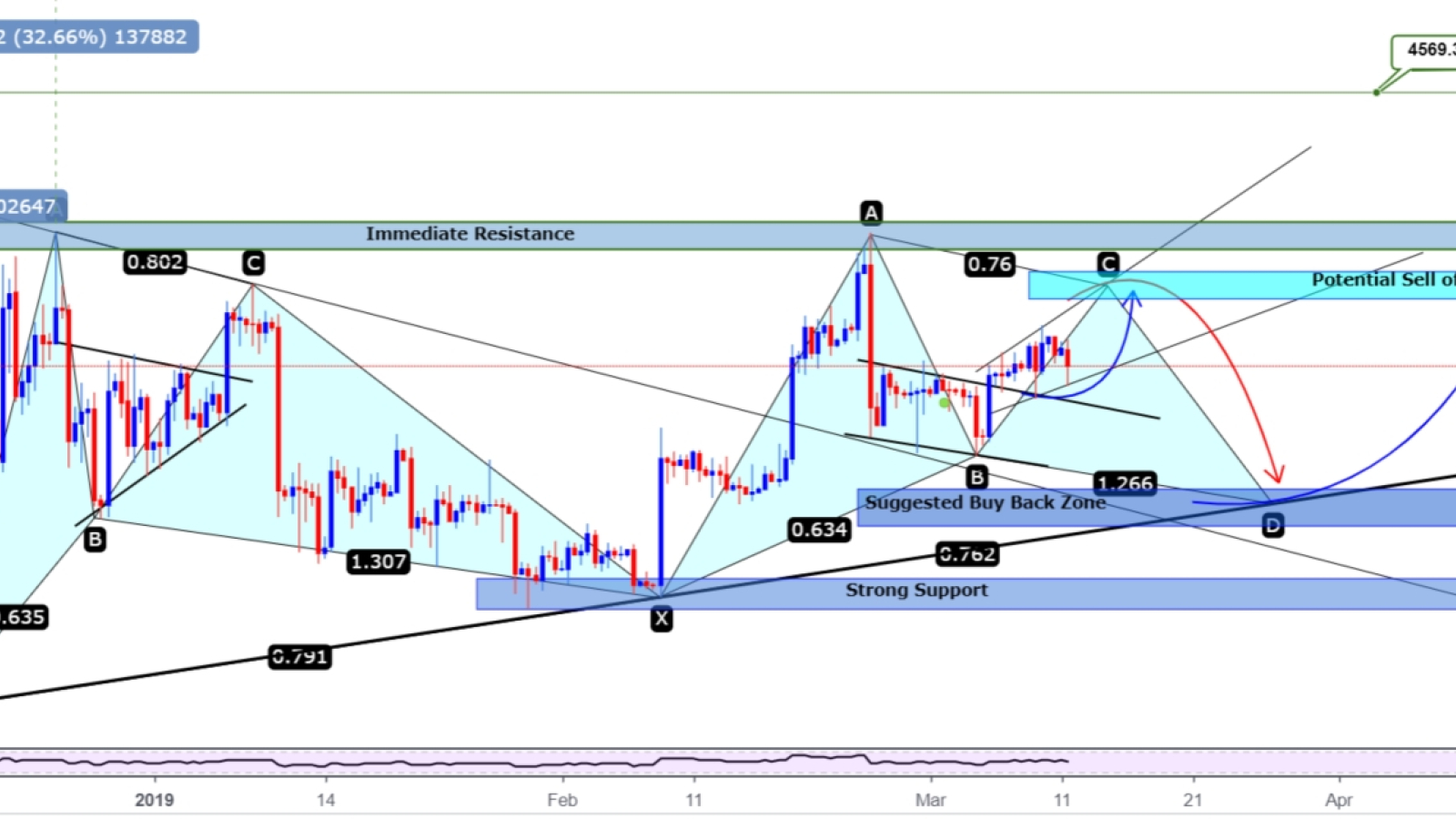 Bitcoin price chart from weslad
Analyzing the BTC/USDT ratio, user weslad has come to the conclusion there's a potential Bat pattern formation. As we see, there have been such patterns during the last 2 months. It means there's a possible upside move to complete the wave C of the Bat before we have a final leg down. If BTC reaches $4,000 within a couple of weeks, that might be a potential sell-off zone. Consequently, the rise might be followed by a nosedive to $3,500 by the end of March.
Bitcoin is NOT bearish yet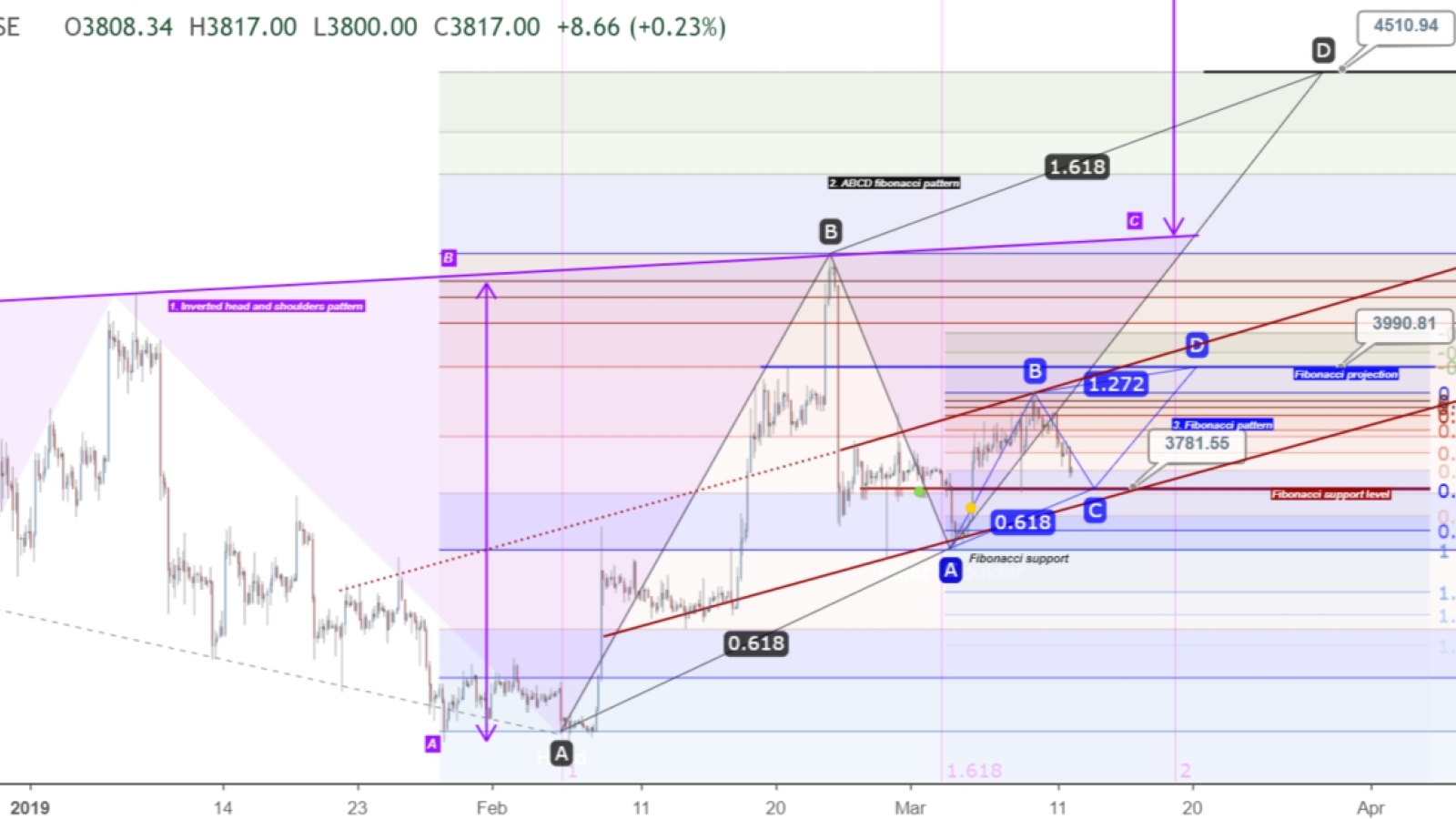 Bitcoin price chart from DianKemala
What else signifies Bitcoin's strength and potential? The user nicknamed DianKemala has noticed several technical indicators of an uptrend:
Inverted head and shoulders pattern (purple). This pattern is still valid as long as we have no candle lower than head. The projection for this pattern is at $5,000.

ABCD Fibonacci pattern (black). There's also Fibonacci support at a bigger time frame at $3,673. This pattern projection at $4,500.

Fibonacci pattern for H1 time frame (Blue) for a shorter time frame, we have Fibonacci support level at $3,781 with projection at $3,990.
Thus, all Bitcoin patterns signify we're on the verge of a Bitcoin breakout. Wait for BTC to reach $4,000 by the end of this week. There's a high chance of this happening!
BTC/USD price chart on TradingView
Disclaimer: The opinion expressed here is not investment advice – it is provided for informational purposes only. It does not necessarily reflect the opinion of U.Today. Every investment and all trading involves risk, so you should always perform your own research prior to making decisions. We do not recommend investing money you cannot afford to lose.