Our latest Bitcoin price prediction article for February 2019 asked the question whether Bitcoin could move higher than the important psychological level of $4000. Bitcoin made a rally up to the price level of $4280 on February 24, 2019. As of March 4, 2019, it has retraced to the price level of $3815. In this article we will present some Bitcoin price prediction figures for March 2019 and we will refer to our technical analysis scenarios, a positive one and a negative one.
Bitcoin performance
Bitcoin price performance for early 2019 has been negative, as the year-to-date performance as of March 4, 2019 is -2,06%. As we are still in early March 2019 the price of Bitcoin is in a narrow trading range between $4000-$3800. It is interesting to mention what are some Bitcoin price prediction ranges for March 2019 from various online sources. Some key statistics for Bitcoin as of March 4, 2019 are:
Market Cap: 66.01 B
Circ. Supply: 17.57 M
Current price is $3751
52 Week Low-52 Week High: $3,178.33- $11,666.9
Volume: 7.93 B
Max. Supply: 21.00 M
Bitcoin price prediction
LongForecast.com estimates the following Bitcoin price prediction for March 2019. An open price of $3827, a minimum-maximum range of $3278-$4371 and a close price of $4048 for a monthly return of +5.8%. it is a rather conservative Bitcoin price forecast overall.
PrevisionBitcoin.it mentions in its Bitcoin forecast for March 2019 "On March 2019 Bitcoin may heavily boost its price. We assume as high predictable a mass adoption of this cryptocurrency next months. We expect on March 2019 a Bitcoin rise with a strong capitalization and consequently a concrete value per coin increase." It also provides a minimum price for Bitcoin which is $3521.95.
Coinpredictor.io appears very pessimistic on Bitcoin. It has a Bitcoin price prediction that a decline of -31.1% may occur during March 2019 and that bitcoin could reach the price of $2628.31 by March 28, 2019. The 4-weeks predicted price for Bitcoin is $2626.68.
WalletInvestor.com provides a range of Bitcoin prices for the next 14-days.Its Bitcoin price prediction is that Bitcoin price target in 14 days could be $4262.407 to the upside and $3815.444 to the downside. However, its forecast trend line is above its price line, which indicates optimism about the Bitcoin price soon.
Bitcoin monthly price predictions based on technical analysis
As a reminder our Bitcoin price prediction for March 2019 is not an investment recommendation, rather an article to inform and express our opinion. What does the daily and weekly charts for Bitcoin tell us about its price movement in March 2019?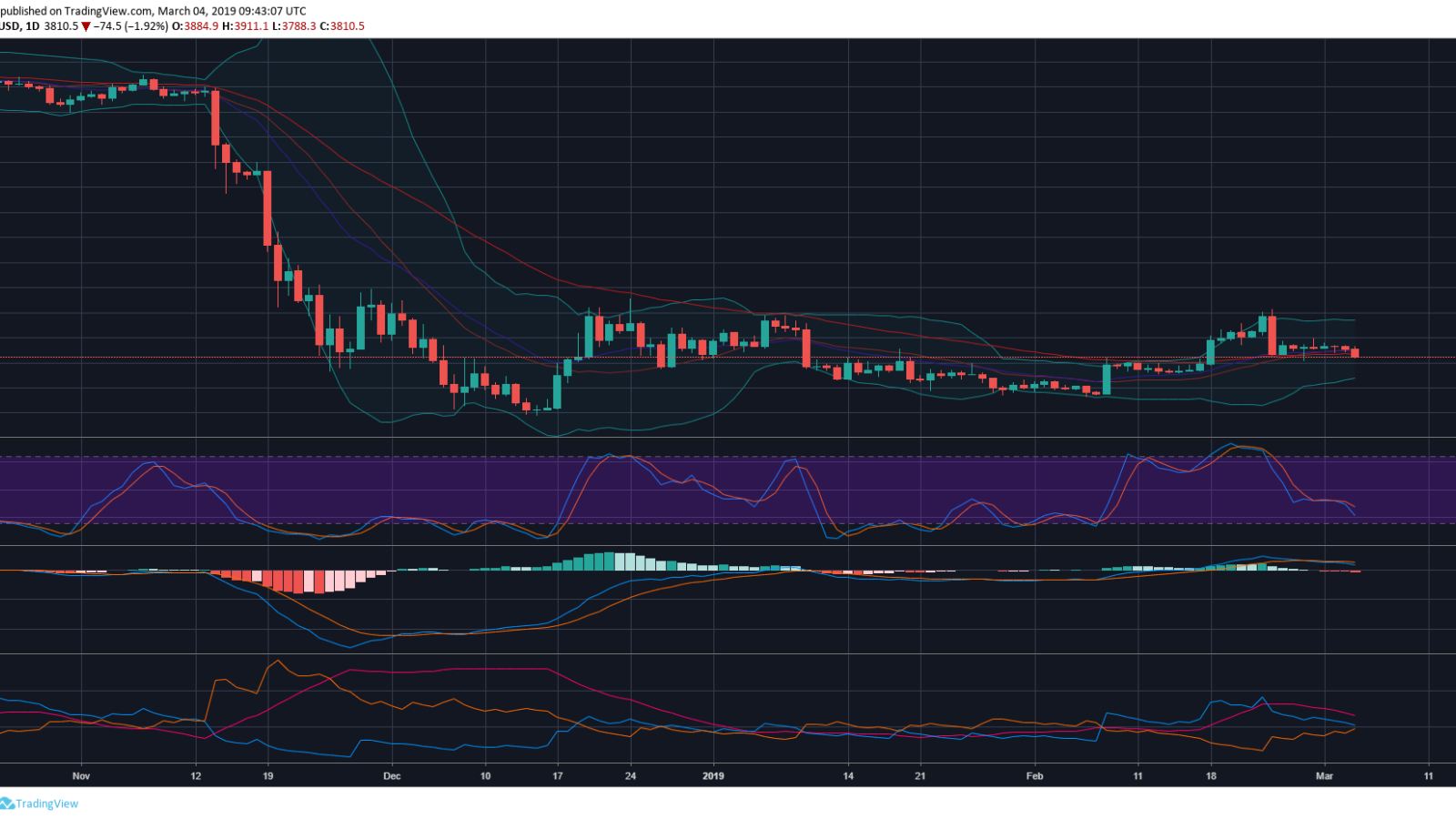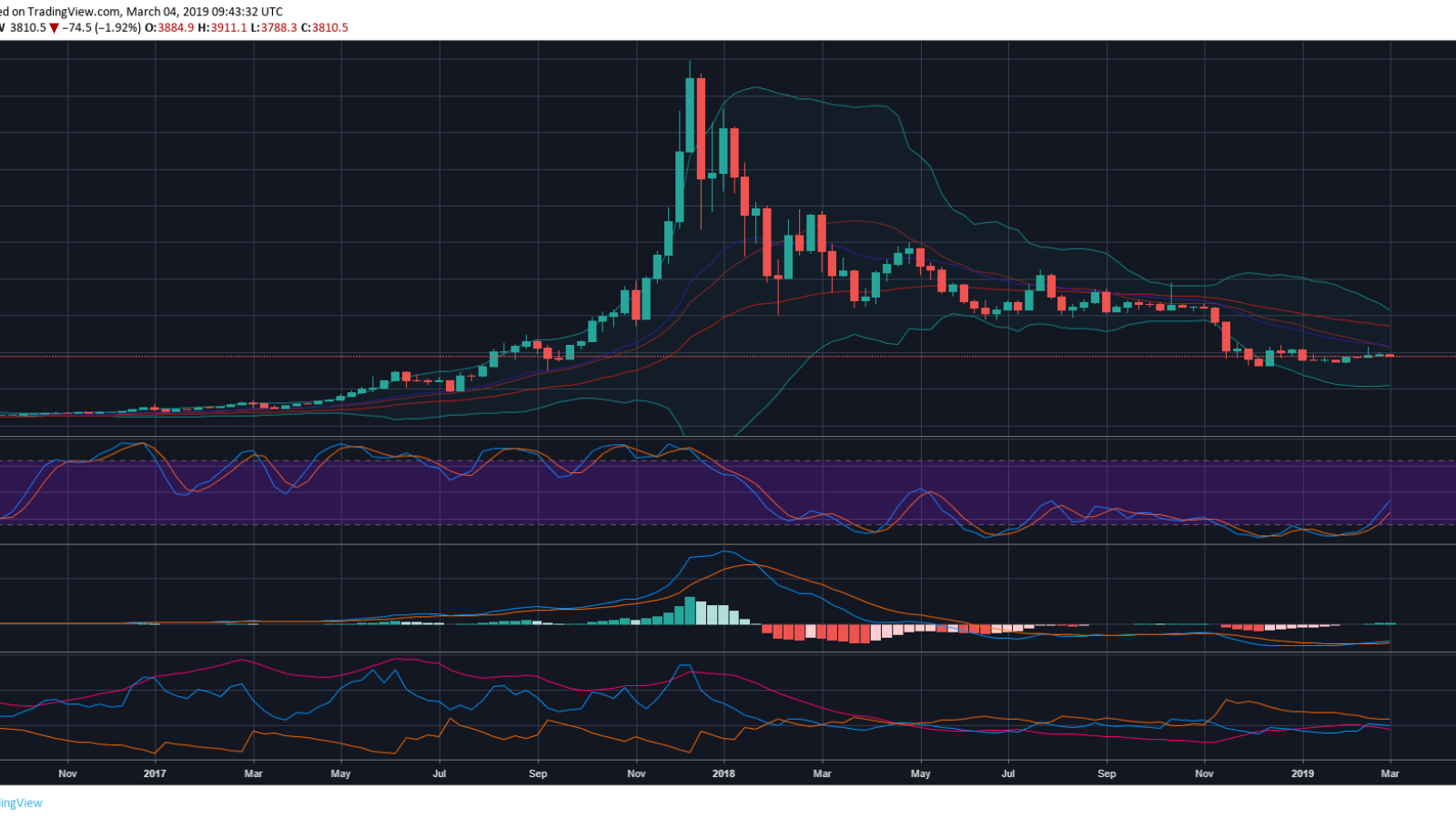 Bitcoin price prediction – Bullish scenario
There is strong support at the price levels of $3650, $3750 and $3430 showing that it will be difficult for the price of Bitcoin to drop below all these three levels in March 2019. We note a consolidation phase and the fact that both 20-period and 50 -period exponential moving averages are flat indicating that a breakout may occur sometime during this month. However, the strength of the trend that caused the rally in February 2019 is no longer evident in the market.
Our upside price target for March 2019 is the price level of $4175-$4220, where the daily upper Bollinger band should provide resistance and possibly some profit taking. On the weekly chart it is positive that a bullish MACD crossover has taken place and that Stochastics indicator (14,3,3) is moving up.
Bitcoin price prediction – Bearish scenario
The current trend has changed from downtrend to range-bound and both 50-day and 20-day exponential moving averages are flat after a short-term rise. Bitcoin is struggling and not yet achieved to close above the 20-day price exponential moving average, and the 50-day exponential moving average. We wrote in our previous article that any short-term rallies may fade soon. This is exactly what happened after the rally up to the price level of $4270.
MACD indicator on the daily chart has made a bearish crossover, and the Stochastics indicator is moving to lower levels without yet making any bullish crossover. A very large bearish candle formed on February 24, 2019 shows that there is intense selling pressure for Bitcoin near the price level of $4270. A downward move to the price level of $3590-$3400 is very probably during March 2019 if Bitcoin cannot close above the price level of $3900.
What is the most probable Bitcoin price prediction scenario?
As Bitcoin is in a consolidation phase both scenarios are possible, but we give more emphasis on the bearish scenario.