Bitcoin price performance for early 2019 has been negative, almost -10% for the first month of 2019. From the level of $4000 in early January 2019, the current price for Bitcoin as of Feb. 2, 2019 is at $3500. In this article we will make a Bitcoin price prediction, a monthly price prediction for February 2019. Coin price predictions are highly unpredictable, and for this reason our price predictions for Bitcoin and the month of February will have two scenarios, an optimistic or bullish Bitcoin price prediction, and a pessimistic or bearish Bitcoin price prediction.
Bitcoin price prediction for February 2019
Here are some monthly Bitcoin price predictions by some websites as a reference only:
· Longforecast.com has a monthly Bitcoin price forecast with a range of min-max as $2863-$3810 and a closing price of $3243.
· Tradingbeasts.com mentions "The Bitcoin price is forecasted to reach $3,658.97 by the beginning of February 2019. The expected maximum price is $4,549.91, minimum price $3,093.94. The Bitcoin price prediction for the end of the month is $3,639.93."
· Coinpredictor.io has the most bullish Bitcoin price prediction for Bitcoin estimating that on February 28, 2019 its price may be at $5712.80, a forecast based on an event-based algorithm.
Bitcoin monthly price predictions based on technical analysis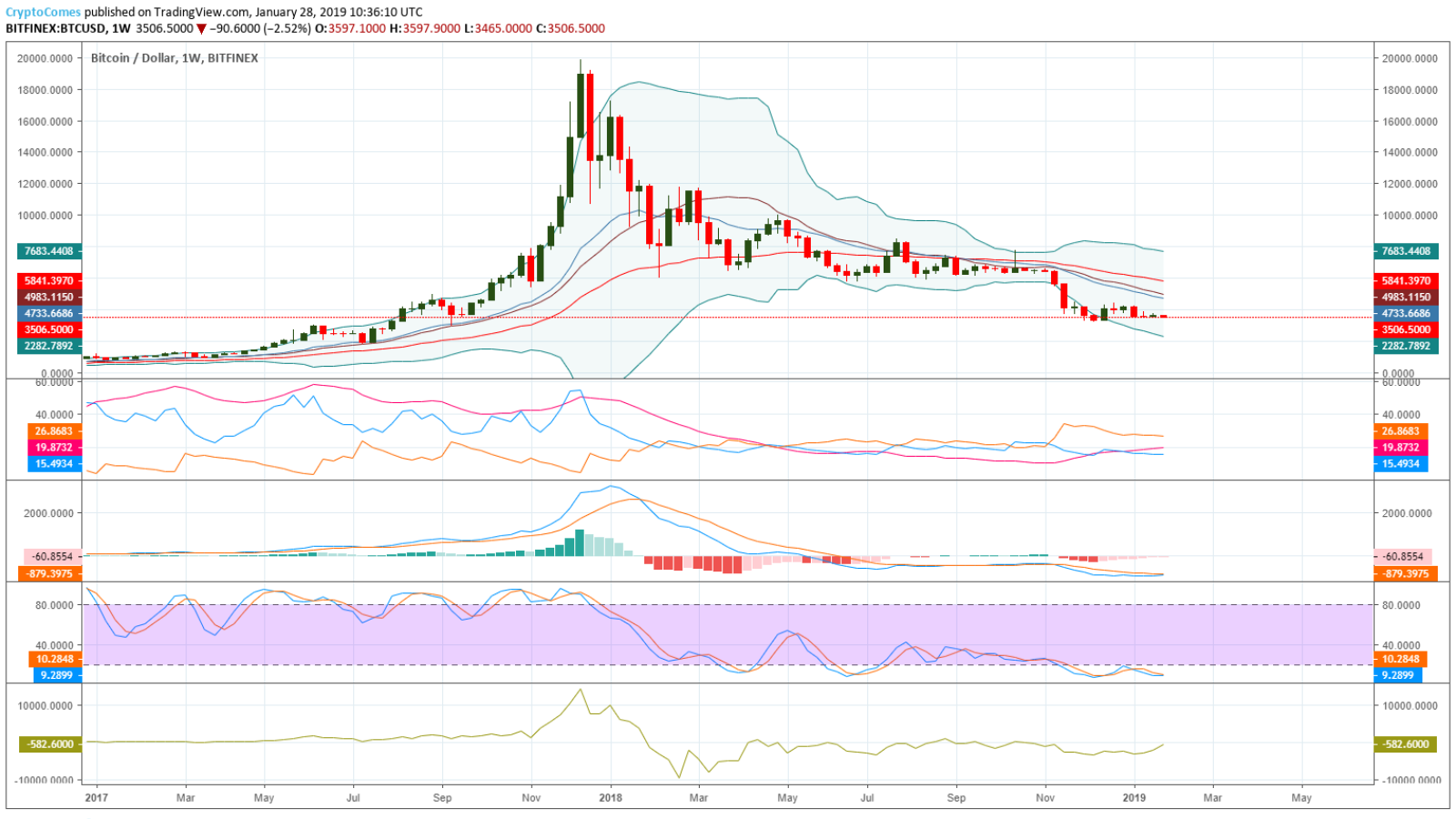 We will mention two Bitcoin price prediction scenarios based on the weekly and daily charts.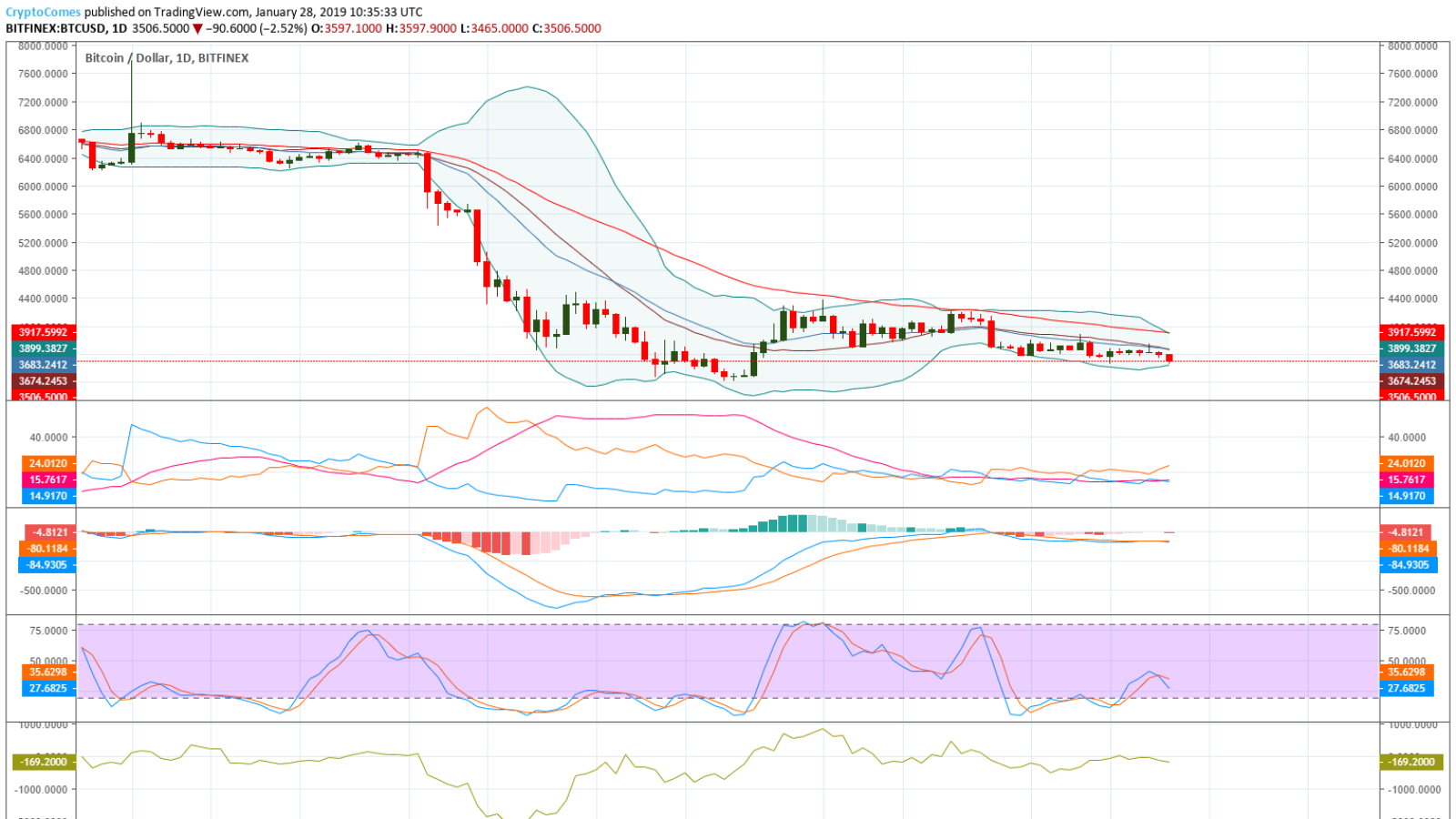 Bitcoin price prediction for February 2019 – Bullish scenario
What is Bitcoin price prediction for February 2019 based on our technical analysis? The bullish scenario is that price will be above the $4000 level.
There is a strong support at the levels of $3600 and $3300, the MACD indicator is flat showing a range-bound price action, the daily Bollinger bands are at $3440 and $3933 as of January 28, 2019 and momentum indicator is also flat, indicating that the recent downtrend may be losing its strength. The stochastic indicator (14,3,3) has bounced off the oversold level of 20% but still lacks any strength. The ADX/DMI indicator, which measures the strength of the trend is currently below the level of 25 which indicates a strong trend. In other words, a range-bound trend is evident, and Bitcoin shows a consolidation. While this is a monthly Bitcoin price prediction and not a daily one, a conservative Bitcoin price prediction to the upside would be a range of $3900-$4200 by the end of February 2019. These levels act as strong resistance, but they are realistic ones. A BTC price prediction at $3900 by the end of February 2019 coincides with the current price level of 50-day exponential moving average, with a current value of $3918.
Bitcoin price prediction for February 2019 – Bearish scenario
Cryptocurrency price predictions are mentioned not as investment recommendations, but rather as further thoughts for technical analysis. The bearish Bitcoin price prediction for February 2019 is that the current strong support at $3500 will not hold, and a decline to the lower level of $3250 will occur. Can the support of $3250 hold if revisited? A very tough answer, with all odds being open for the moment.
The current trend is a downtrend, and both 50-day and 20-day exponential moving averages are pointing down, indicative of a strong downtrend. As long as Bitcoin is fighting and not achieving to close above the 20-day price exponential moving average, with a current price of $3686, any short-term rallies may fade soon. The -DI line and the +DI line values are currently at 24.69 and 15 respectively, showing that a downtrend is still a dominant trend.
The support at $3250-$3280 is very crucial, and a break below it literally opens the room for a more dramatic decline. An accurate coin price forecast or coin price prediction for Bitcoin should take into considerations both Bitcoin price prediction scenarios.
What is the most probable Bitcoin price prediction scenario for February 2019?
If we had to choose a scenario about the forecast of Bitcoin price for February 2019, we would give a higher importance to the bearish scenario with the note that we would not like to trade against the trend, an obvious downtrend, but we would not place increased odds for a severe decline below the level of $3250-$3280, at least for February 2019.