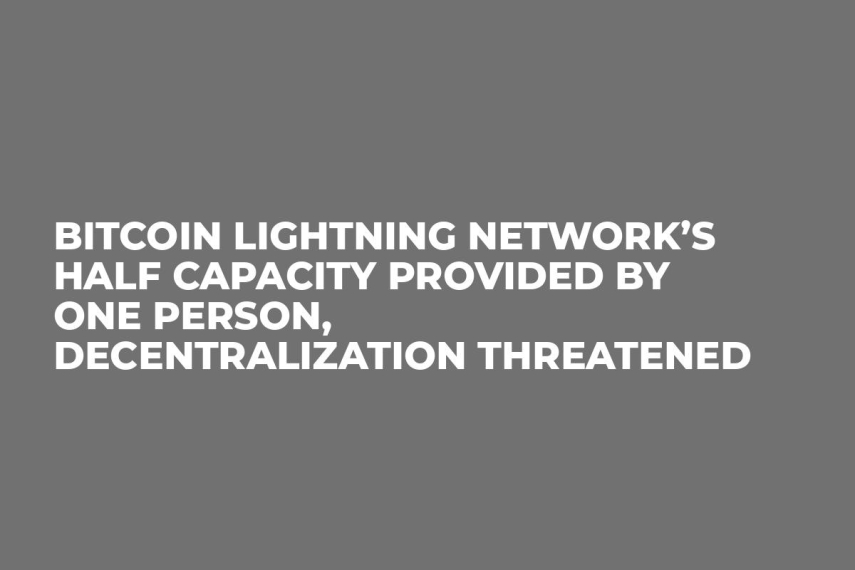 Cover image via U.Today
Decentralization is commonly known to be Bitcoin's biggest advantage, but there are grave concerns over the recent news about one single node being responsible for the 216 percent increase in the Bitcoin Lightning network's capacity. On top of that, statistical data provided by 1ml.com shows that this exact node comprises 49 percent of the network which absolutely goes against the principles of decentralization. The name of the person who owns this nod is Andreas Brekken.

Single lightning node has 20BTC capacity and 146 open channels. I believe the owner is @abrkn https://t.co/KuOGnvkuJs pic.twitter.com/0IsMXQbOIU

— RideTheLightning⚡️ (@MediumSqueeze) July 10, 2018

Who is Andreas Brekken?
Andreas Brekken is one of crypto pioneers who jumped on the trend back in 2011. Once being a critic of off-chain scaling, he's now in full control of the largest lightning network node. For comparison, the second biggest node comprises only about one percent of network's capacity. Some users have already expressed their dissatisfaction on Twitter.
Andreas Brekken is in bed with RogerVer, he will try and rek the #LightningNetwork. He is responsible for the meteoric growth in value over the recent weeks. This is just a hunch and I hope I'm wrong and I'm sure lightning can handle what gets thrown at it. Be vigilant.

— Fontaine [Maximalistic] | BitSense ⚡️ (@F0nta1n3) July 13, 2018

What is Lightning Network?
The Lightning Network (LN) was initially created to solve the problem of scalability (thus, significantly accelerating the speed of relatively slow Bitcoin transactions). It offers a scaling solution by establishing an additional payment channel outside of the Blockchain. Once the transaction between two parties is completed, the channel gets closed and the current balance is recorded on the Blockchain.

card
Why all the fuss?
Many crypto enthusiasts fear that the sudden rise of LN will lead to an inevitable centralization of Bitcoin. The lightning network will indeed support much faster transactions, but the fact that there are only few nodes will simply turn it into the current banking system instead of revolutionizing the world of finances. In addition, some individuals fear that using fast LN hubs will come with higher fees.

card