Despite the overall recession on cryptocurrency markets caused by another phase of regulatory attacks, unprecedentedly low volatility remains the key factor that influences the performance of Bitcoin (BTC) and major altcoins in Q3, 2023.
Bitcoin (BTC) volatility has never been lower in its history
The 30-day estimated Bitcoin (BTC) volatility - the average standard deviation of daily returns - dropped to the lowest levels since the Bitcoin (BTC) network launch. In the last 30 days, this indicator plummeted to 0.77%. As per the tracker by Buy Bitcoin Worldwide project, this is an absolute ATL for the largest cryptocurrency.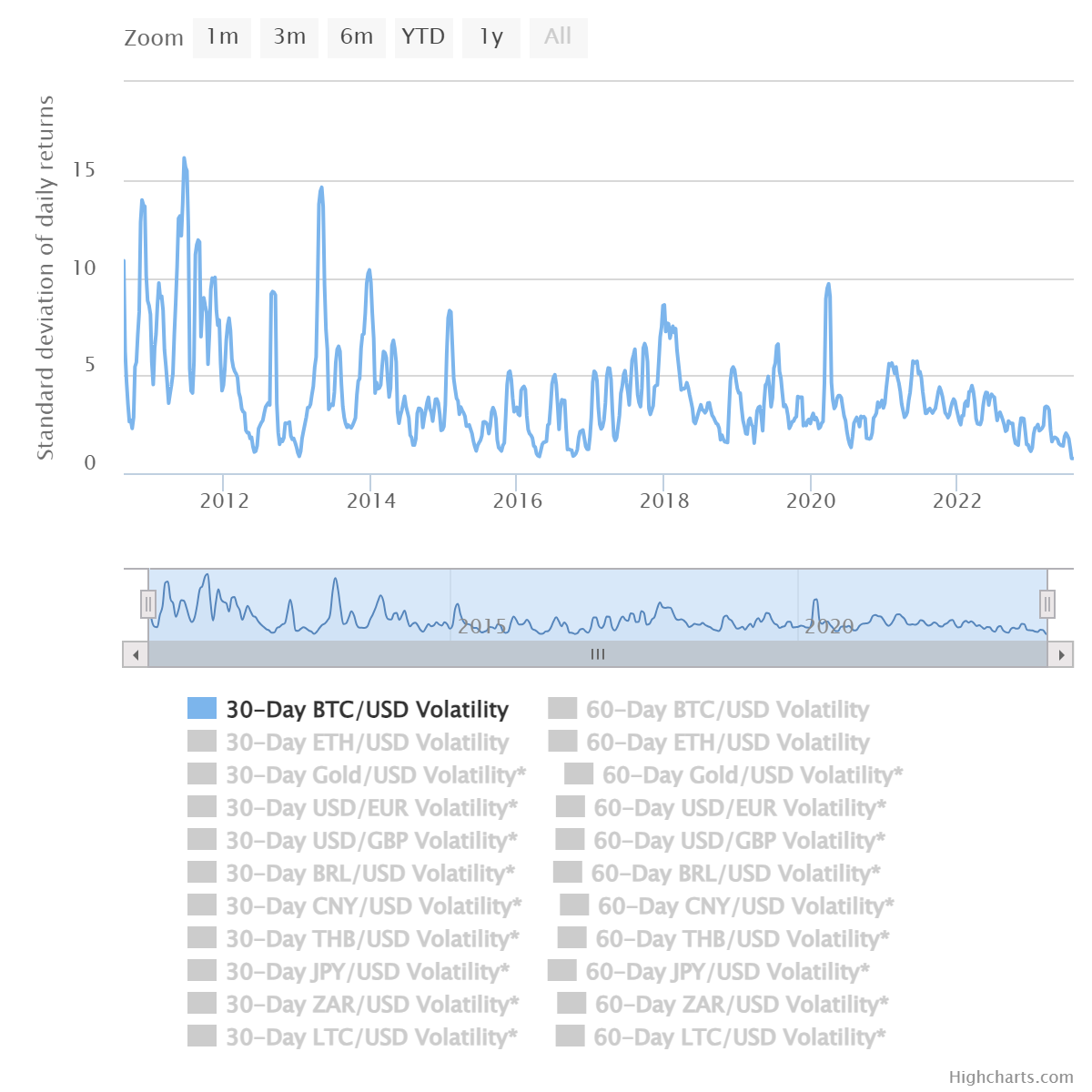 The previous low was registered in July 2020 below 1.5%. For the 60-day estimated Bitcoin (BTC) volatility chart, the recent local low was witnessed in January 2023 below 1.37%. Now, this indicator sits at 1.77%.
For Ethereum (ETH), the second largest cryptocurrency, both charts - the 30- and 60-day estimated volatility indicators - are also at historic lows and keep shrinking.
Litecoin (LTC), the "Digital Silver" and 11th largest cryptocurrency, was less volatile in 2016: its current volatility indicators are two to three times higher than they were seven years ago.
As covered by U.Today previously, major altcoin XRP witnessed an unprecedented volatility drop after its impressive 75% rally.
The upsurge in price was catalyzed by Ripple's interim victory in the SEC's legal case.
Turbulence coming?
As calculated by the experts of K33 Research (formerly Arcane), the five-day volatility of Bitcoin (BTC) surprisingly plummeted lower than that of gold (XAU) and the NASDAQ and S&P 500 indexes. On such a short timeframe, the ongoing drop is the third largest since Black Friday in Crypto of 2020.
Bitcoin's volatility dropped lower than Gold, Nasdaq and S&P500 last week 📉

Historically, such periods of low volatility have often been followed by surges in BTC volatility. Could this indicate an imminent price movement for bitcoin? pic.twitter.com/EvGYNd3tJI

— K33 Research (@K33Research) August 4, 2023
Analysts also indicated that after such impressive volatility dropdowns, periods of market turbulence usually happen. As such, both bulls and bears should be prepared for incoming rapid moves.
Meanwhile, Bitcoin (BTC) yet again failed to protect the crucial $30,000 level. By press time, it is changing hands at $29,192 on major spot exchanges.