Per IntoTheBlock data, Shiba Inu reached a seven-day high in its large transaction volume. The last 24 hours saw a massive 2.21 trillion SHIB in large transaction volume. Interestingly, this is the highest seen in the last seven days.
According to IntoTheBlock, the Large Transactions Volume metric provides an idea of the overall amount transacted by whales and institutional participants on a particular day.
Spikes in Large transaction volumes indicate that institutional players or whales are actively buying or selling.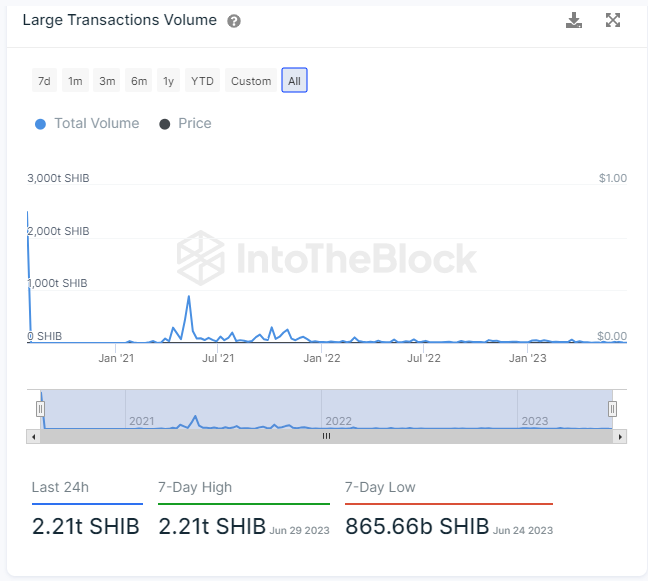 IntoTheBlock classifies large transactions as any transfers of more than $100,000. SHIB's large transaction volume was up 43.72% in the last 24 hours.
The impact of the massive whale transactions is felt as SHIB sees its largest price advance in the last seven days.
Shiba Inu price rebounds
As seen on its daily chart, SHIB is recording its largest daily gains in the last seven days, currently up 3.66% to trade at $0.00000756.
Shortly after a bullish streak that culminated in highs of $0.0000084 on June 22, SHIB's price witnessed profit-taking, which led its prices to decline.
The moment came for dip buyers after SHIB fell to lows of $0.000007 on June 28. The price drop met buyers who hurriedly bought the dip as the SHIB price rebounded subsequently on June 29.
SHIB has been sustaining its gains since then as it eyes its second consecutive day in green if a positive close is achieved today.
The last 24 hours also saw significant SHIB burning. According to SHIB Burn Twitter, in the last 24 hours, a total of 50,258,924 SHIB tokens were burned in four transactions.