Popular crypto tracking service Whale Alert, which shares the details of large cryptocurrency transfers, has tweeted that in the past 20 hours, an astounding amount of over $1 billion in Ethereum has been shifted.
The senders and recipients of these transfers were anonymous whales and large crypto exchanges.
Whales shovel over 279,003 ETH
According to data shared by blockchain sleuth Whale Alert, well over 10 massive Ethereum transactions have been made, sending 279,003 ETH between anonymous wallets, while sometimes large Ethereum lumps were sent to and from major crypto exchanges.
The largest transfer carried 61,017 ETH (totaling 207,286,216 USD) from one anonymous wallet to another. Other transfers moved 20,000 ETH on average, with the smallest carrying from 3,000 to 5,000 Ethers.
A total of 12,697 ETH (44,939,362 USD) were sent from an unregistered wallet to the Huobi exchange. Someone also withdrew 33,333 ETH (the equivalent of 119,413,436 USD) from Binance to an anonymous crypto address.
The total amount of Ethereum transferred constitutes $1,007,811,970 at the present exchange rate of $3,601 per Ether.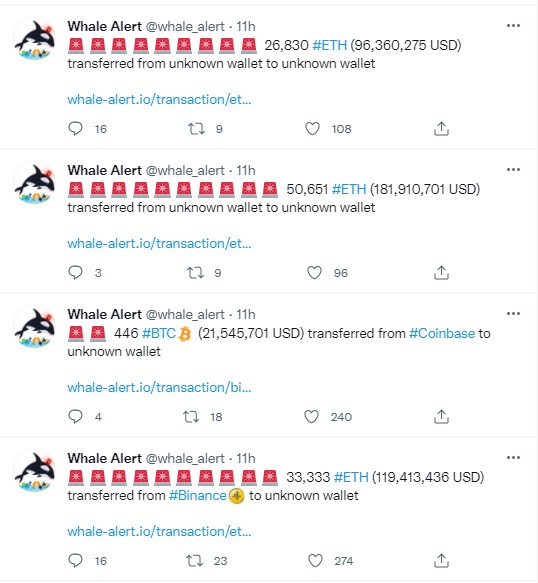 Over $1 billion in ETH burned since EIP-1559 release
Data provided by the Watchtheburn website shows that, since Aug. 5 (the day when the EIP-1559 upgrade was released on Ethereum, also known as the London hard fork), 297,000 ETH have been burned on the network. That is over $1 billion coins, the same amount that has been transferred by whales mentioned in the first part of the article.
EthHub's cofounder Anthony Sassano confirmed this on his Twitter page.
Over 300,000 ETH has now been burned ?

Gm

— Anthony Wassano ?? (@sassal0x) September 16, 2021
The London hard fork has begun to make Ethereum deflationary as it implemented a mechanism for incinerating transaction fees on the network.
Recently, the CEO and CIO of Ark Investments, Cathie Wood, stated that the fund's confidence in Ethereum has gone up dramatically. The rise in confidence in the second-biggest cryptocurrency, according to Wood, was triggered by the start of Ethereum's transition process from the proof-of-work (PoW) algorithm to a proof-of-stake (PoS) one.
Ark now intends to invest 60% of its reserves in Bitcoin and 40% in Ethereum.