After an impressive surge following its positive court ruling, XRP has since lost around 30% of its value. It seems the initial euphoria has faded, and sober realism is setting in among investors who acknowledge that XRP, in its current form, does not offer much intrinsic value and carries significant risks for institutions.
However, it is essential to note that XRP's price dynamic seems to be fading. Selling pressure from bears appears to be lessening, suggesting that the token's price may soon find its floor. Experts indicate that a potential reversal could be in the cards around the $0.6 level.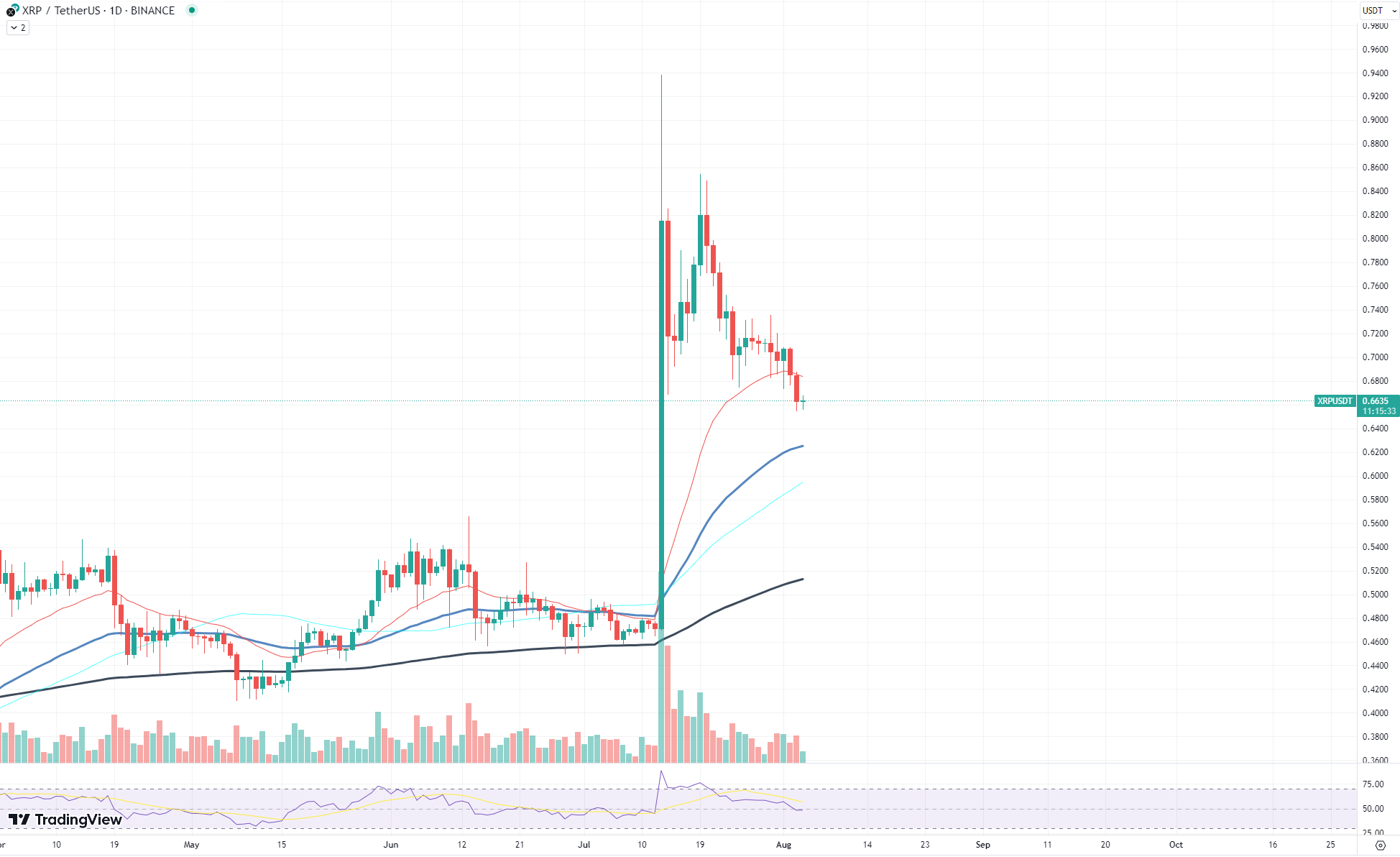 The reason behind this is twofold. First, it seems that the intensity of the bearish momentum is diminishing. The price drop is not as aggressive as before, hinting that the bears might be losing their grip. This scenario provides an opportunity for bulls to step in and start accumulating at lower prices.
Second, the $0.6 level coincides with the 50 Exponential Moving Average (EMA), a commonly used technical indicator by traders to identify potential support and resistance levels. A convergence of this indicator with a fading bearish dynamic could signal a strong support level for XRP's price.
Shiba Inu leading market
SHIB has seen a notable price surge recently, recording more than a 4% gain in its value within the past 24 hours. This uptick could mark the beginning of a broader rally, and here's why.
The latest price reversal came after SHIB bounced off of its local support level. This particular level coincides with the upper border of an ascending triangle pattern that SHIB has been charting for a while. For the uninitiated, an ascending triangle is a bullish pattern often observed before significant price breakouts.
What is noteworthy here is that SHIB is not just relying on chart patterns. It is backed by a significant increase in trading volume, which is a solid indicator of growing investor interest and a potential driver for further price acceleration. In essence, SHIB is not merely idling at the starting line; it is revving its engine, ready to race.
However, even as the meme coin positions itself for a potential rally and chart patterns hint at an imminent uptick, these indicators are not foolproof, and market dynamics can change rapidly.
Cardano is in tough spot
Cardano (ADA) has found itself in a tough spot. The cryptocurrency has entered into a bearish rally and has now returned to its 2023 bottom zone. A zone that ADA holders had been hoping to avoid has unfortunately become a reality again.
Cardano has been experiencing a downward trajectory for a while, and now it has found itself in an area that it hoped to leave behind. The return to this bottom zone is a worrying development, and if this tendency continues, we could see Cardano running into more significant problems sooner than expected.
Currently, the market shows no signs of a price reversal for Cardano. The bearish sentiment seems to be persisting, and a reprieve does not appear to be on the horizon just yet. The lack of bullish indicators and prevailing bearish momentum suggest that the situation may not change in the near term.
However, it is important to remember that the cryptocurrency market is notoriously volatile and notoriously unpredictable. While the current outlook for Cardano is bearish, conditions can change swiftly. In the world of crypto, a single development or piece of news can trigger a major shift in sentiment and price action.
For Cardano, a bounce back from this bottom zone is not off the table, and the coming weeks will be critical. Observers and investors will be keeping a close eye on the situation, looking out for any signs of a possible reversal or further downward movement.