After Ripple had rebranded its xRapid product as On-Demand Liquidity (ODL) and partnered with the largest Mexican exchange Bitso, the introduction of ODL in cooperation with MoneyGram starts bringing its first fruits. As part of the collaboration, Ripple has invested in Bitso and got them to add one of its top executives to the board of directors.
On-Demand Liquidity successfully integrated on Bitso
A member of the XRP community @XrpCenter reports that things are looking good for XRP on the largest Mexican exchange Bitso and for Ripple's ODL product. ODL was introduced there after the crypto giant invested an undisclosed amount in the trading platform.
The chart in the tweet shows that the XRP/MXN pair now accounts for 80 percent of the overall trading volume of Bitso.
XRP/MXN is currently accounting for ??% of the total trading volume at @Bitso

Bitso Liquidity Index reached a new ATH again.

Consistenly with comments on MoneyGram/Ripple, as we have entered into Q4, #ODL volumes have shown sustained incremental rates.

This is the beginning. pic.twitter.com/I0vQpBbbZe

— XRP Research Center (@XrpCenter) October 20, 2019
Bitso became the key partner of Ripple and MoneyGram at introducing On-Demand Liquidity to the Mexican market. So far, the implementation has been going successfully.
This has not impacted the XRP price much though, since over the last 24 hours it rose merely by 0.54 percent. Unlike it, BTC and its forks – BCH and BSV – have posted much higher gains, as reported by U.Today earlier.
Ripple releases its Q3 report
At the end of last week, Friday, Ripple issued its regular report on the results of Q3. In the document, Ripple covered several major issues, such as movements of XRP from escrow and back to it, recent Ripple's partnerships with Logos, Algrim and other startups, Coinme crypto ATM network.
Ripple also addressed the issues of FUD (fear, uncertainty, doubt) that has been recently actively spreading around the company and its XRP asset.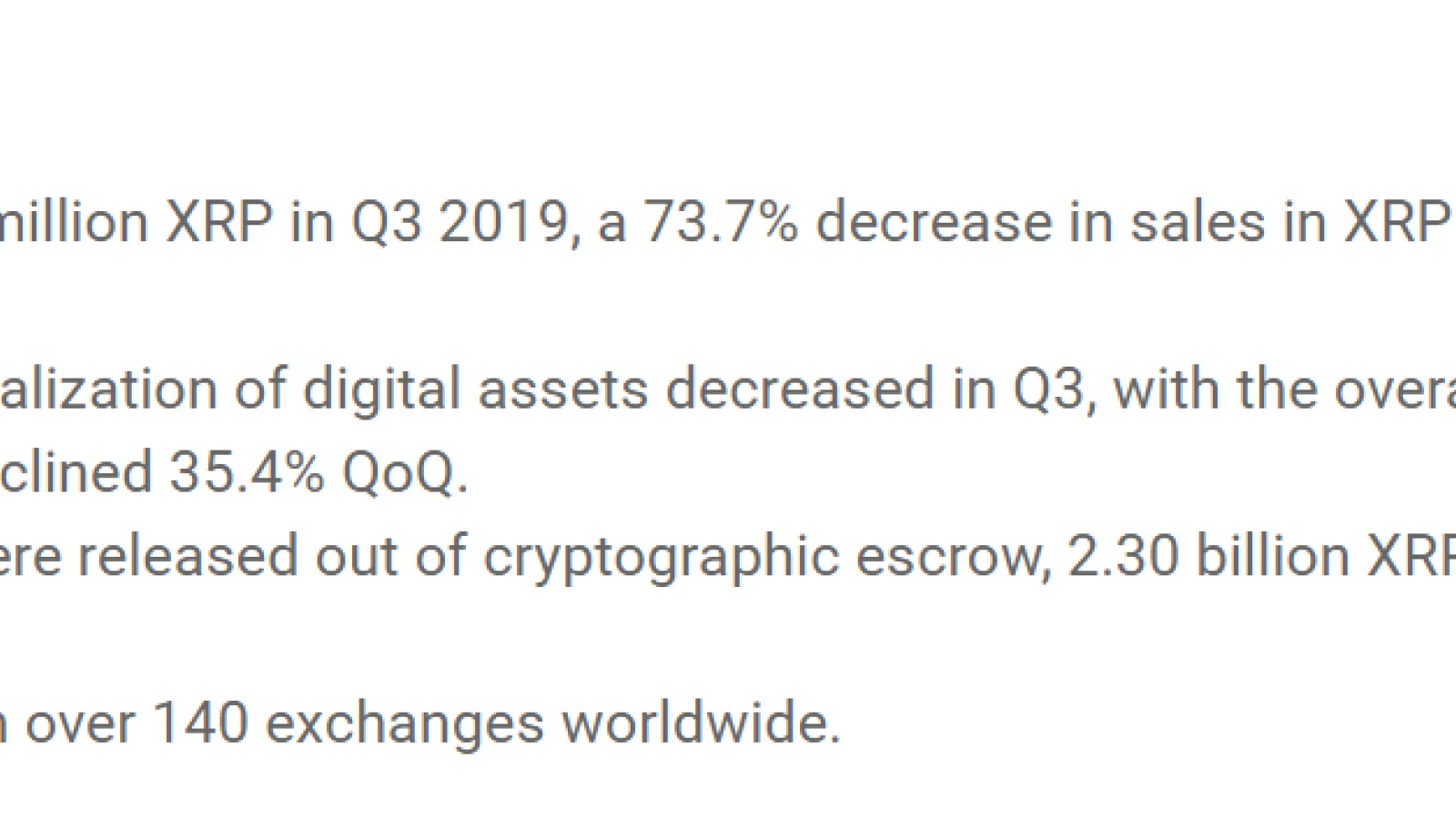 What are your thoughts on the Ripple expanding XRP use in Mexico? Share them in the comments section below!