Second largest stablecoin USD Coin (USDC) issued by fintech heavyweight Circle has seen its market capitalization falling for 13 consecutive months. Meanwhile, its main competitors are eating USDC's share of the stablecoin segment.
USDC cap is half of what it was year ago: De-pegging aftermath?
Today, Aug. 3, 2023, the aggregated market capitalization of USD Coin (USDC), the second largest stablecoin, dropped to $26.1 billion in equivalent. At its peak, registered in late June 2022, USDC's market cap was close to $56 billion.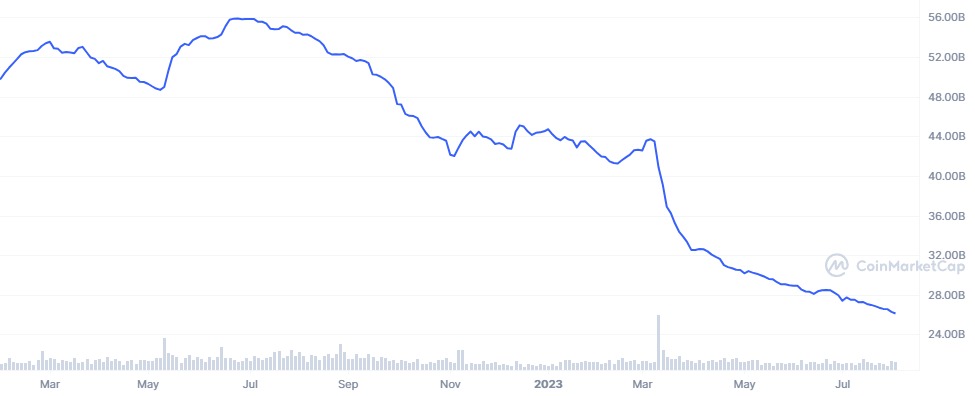 The last time USDC had such little market capitalization was in July 2021. It is interesting that USDC managed to mitigate its losses associated with the Q1, 2022 crisis: it only lost 10% of its value but recovered to new highs.
USDC's main competitor, U.S. Dollar Tether (USDT), the largest stablecoin, increased its market cap by 25.7% and established a new record for stablecoins, with $83 billion equivalent in circulation.
USDC's market cap decline accelerated after the painful de-pegging of March 11, 2023. As covered by U.Today previously, USDC holders started panic-selling it amid rumors of insolvency by banks that allegedly stored Circle's resources.
In March 2023, USDC's market cap lost $11 billion, which is arguably the fastest reduction in the stablecoin's history.
Market capitalization shrinking despite major tech milestones
In the mentioned period, USD Coin (USDC) left the top 5 of cryptocurrencies by market capitalization. It was replaced by XRP, a token that was catalyzed by announcements of Ripple's legal victories over the SEC.
At the same time, Q3, 2023, was of paramount importance for USDC in terms of technical development. First, it natively launched on Arbitrum (ARB), a dominant Ethereum L2 scaler. It made transactions with USDC cheaper and faster and unlocked it to a large audience of Arbitrum-based dApps.
Also, Coinbase Wallet integrated the function of zero-gas USDC transfers on Polygon (MATIC), the largest EVM blockchain. This option became possible thanks to EIP 4337, or the so-called "Account Abstraction" mechanism of Ethereum-like blockchains.