Tezro, a one-stop cryptocurrency ecosystem for various use cases, advances its toolkit with a messaging app, an API module and even an auction platform.
Tezro for retail: crypto storage, exchange and cards
Launched in Q3, 2022, Tezro is a newbie-friendly one-stop cryptocurrency ecosystem tailored for private and corporate usage. Its functionality includes cryptocurrency storage and exchange modules, an auctions toolkit, e-commerce integration opportunities, native Visa/Mastercard cards and gift vouchers.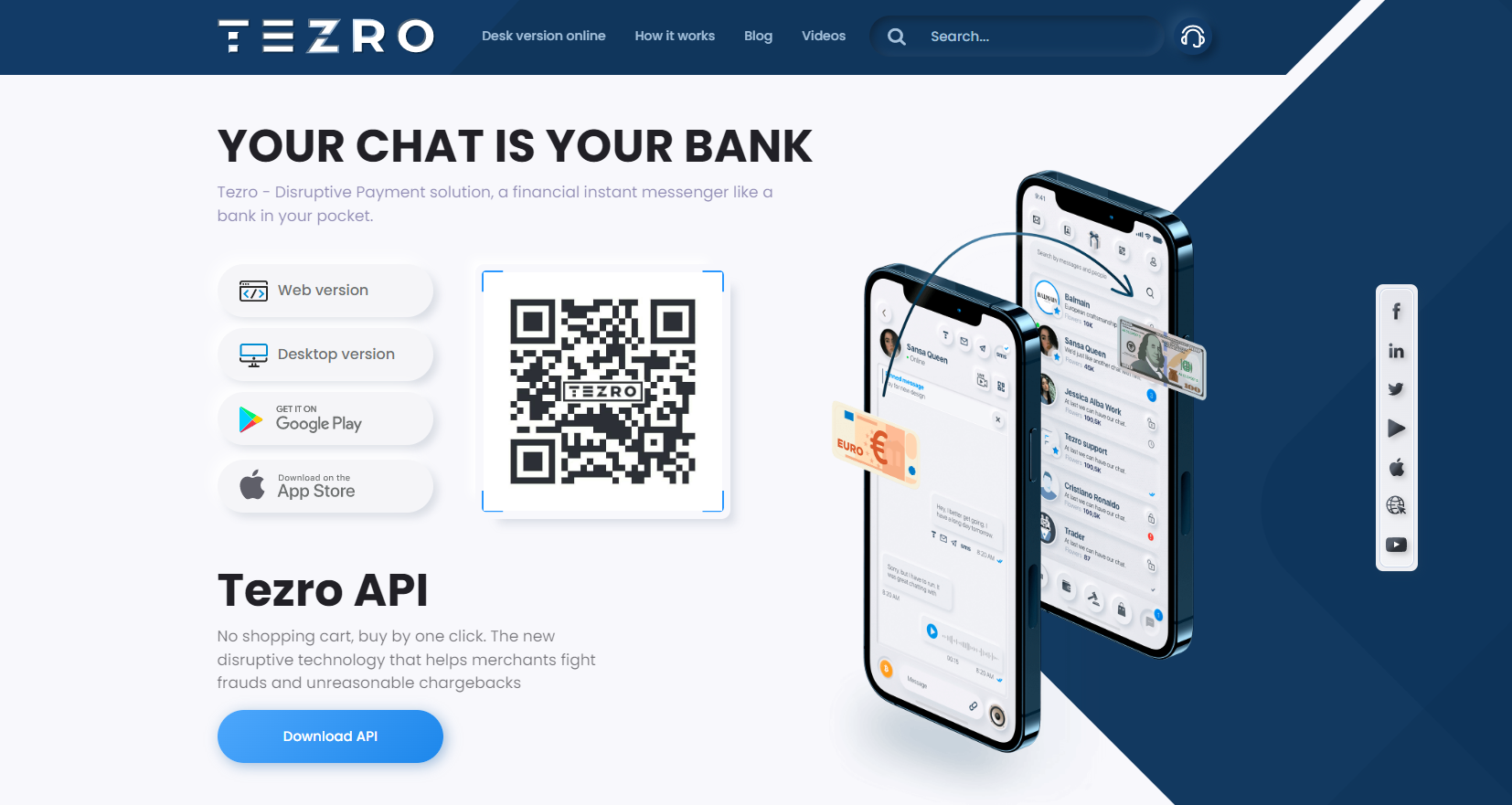 The cryptocurrency wallet is a backbone element of Tezro's payment solution that allows its users to turn a smartphone app into a full-fledged digital bank. As of March 2023, Tezro supports a wide range of cryptocurrencies, including the likes of the largest cryptocurrency Bitcoin (BTC), the first smart contracts platform Ethereum (ETH), veteran delegated proof-of-stake (DPoS) cryptocurrency Eos (EOS) and so on.
Also, Tezro works with various stablecoins, including U.S. Dollar Tether (USDT), Euro Tether (EURT), Offshore Renminbi Tether (CHNT). Its fiat currencies list includes the Euro (EUR), the U.S. Dollar (USD) and the Chinese Yuan (CNY). In total, 1000+ trading pairs are available for Tezro customers.
All of these currencies can be stored, exchanged and transferred through Tezro's crypto wallet module. To advance the crypto-to-fiat conversion and evolve into a go-to fiat on- and off-ramp, Tezro launched card programs together with Visa and Mastercard. Crypto owners can pre-order cards with customized designs and get amazing bonuses. Besides that, Tezro clients can book and send gift vouchers to their friends, partners, family members and colleagues.
Multi-currency platform for e-shopping with built-in messaging app and native TezroST token
Besides an impressive retail toolkit, Tezro supercharges its own e-commerce platform: a new-gen marketplace for electronics, clothes, footwear, art and jewelry from celebrity-backed collections.
Not unlike Amazon, Tezro created a feature-rich dashboard for interactions between merchants and potential purchasers. Entrepreneurs can easily open up a merchant account and sell their goods and services on Tezro's system directly or through social networks thanks to seamless integrations.
Customers can pay for purchases on Tezro through seamless native payment channels. Tezro welcomes entrepreneurs and buyers with improved UX/UI and ultra-low commissions: beneficiaries only pay 0.5% from the total turnover, which is among the most forgiving options in the segment. Needless to say, with Tezro, users can pay for goods and services in all cryptocurrencies available with no need for conversion.
In terms of a toolkit, there is a plethora of marketing opportunities for e-commerce organizations. Every item can be displayed through a "video streaming" option: traders can attach a QR-code and broadcast it on all social media platforms. "Price tags" are equipped with fluctuating prices: once a seller changes it in Tezro, it is automatically updated on all platforms they share the content on.
To ensure a holistic e-commerce experience for all of its customers, Tezro deployed and activated native utility stablecoin TezroST. Users can easily acquire TezroST with nothing but USTC stablecoins at a 1:1 rate.
Recently, Tezro enabled the Tezro Loans instrument. It is a platform backed by Tezro partners; everyone can purchase goods and services using borrowed funds provided by reputable banking institutions.
Tezro API and auctions: new opportunities for crypto-friendly entrepreneurs
Tezro users can interact with the platform and with each other via purpose-made messaging applications. It is created in accordance with the most advanced security and encryption practices and methods. As such, using the Tezro app for daily messaging is far more secure than using mainstream social media. Also, Tezro's encrypted chat is a perfect place for over-the-counter (OTC) trading.
Tezro API is a core technical element of the application, its e-commerce, payments and integration modules. Tezro API can be added as an additional layer of functionality to new services and can advance the operability of existing platforms and protocols.
Tezro's auction toolkit is the most sophisticated e-commerce module for crypto-friendly traders and merchants. Through a ready-made solution, users can have their products auctioned and accept all payments in cryptocurrencies. As such, this option looks more resource-efficient compared to the traditional auctions system. Tezro only relies on noncustodial wallets and does not store cryptocurrency itself, so traders will not put their funds at risk at any step of the auction.
Tezro application is available for both iOS-based and Android-based smartphones and can be downloaded from the App Store and major Android marketplaces.