Mainstream cryptocurrency trading application TabTrader launches a cutting-edge wallet to advance UX, security, and usability for new and existing users.
TabTrader app now has its own noncustodial wallet for crypto
According to the official statement shared by the team of TabTrader, its native noncustodial wallet for the Solana blockchain has been released in the mainnet. With the wallet, customers of TabTrader are able to purchase, store, transfer, receive, and exchange cryptocurrencies on both centralized and decentralized exchanges with no need to leave a single interface.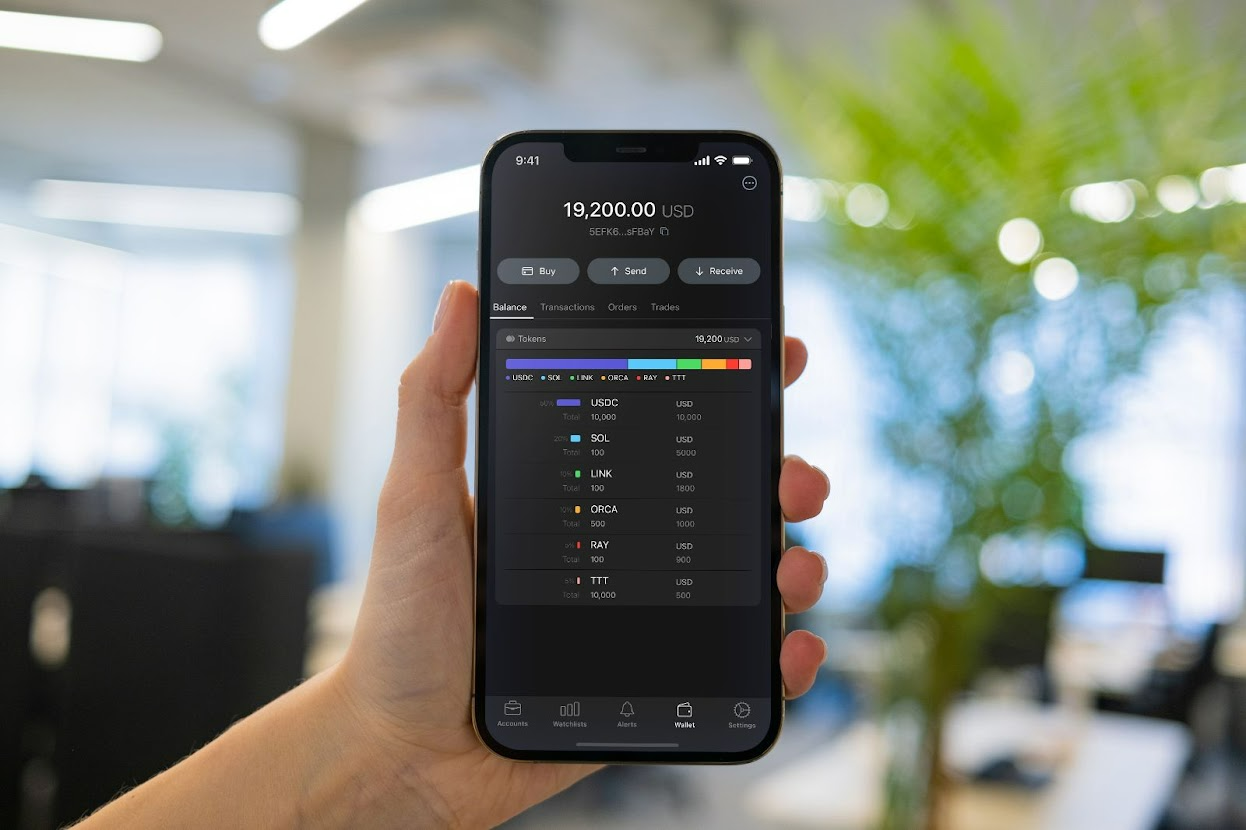 Image by TabTrader
Namely, besides 30+ top-tier centralized trading platforms, TabTrader Wallet can work with Openbook, a decentralized exchange on Solana (SOL). More DeFi services will be added to its toolkit in the coming months.
With this release, TabTrader becomes the first-ever terminal to allow its users to interact with centralized and decentralized exchanges simultaneously. Kirill Suslov, CEO of TabTrader, stresses the importance of such an approach for the global trading sphere:
Our focus is on DeFi, and with our extensive experience in providing connectivity to CEXs, we will provide access to DEXs. We believe that DeFi should be mobile, that's why we have built a cross–platform DeFi wallet for Android and iOS. You can get an overview and move all your assets across CeFi and Defi in the same app, with more than 20 centralized exchanges along decentralized exchanges. Billions of users from mobile-only countries will be able to participate in financial innovation of DeFi by storing assets in non-custodial wallets, earning yield on dormant assets and trading on decentralized exchanges. Storing own funds locally and using DEXes is important because it eliminates trust in banks and exchanges. Additionally DEXes are now the main venue for up and coming opportunities, like ETH was once during its ICO, potentially providing generational wealth.
Unlike its competitors, TabTrader is equipped with a number of ground-breaking features designed to ensure a holistic trading experience.
TabTrader Wallet boasts unique features for end users
First, the wallet supports seamless interaction with crypto-to-fiat payment processors. TabTrader Wallet is integrated with Moonpay to enable purchasing crypto with the mainstream systems' credit and debit cards.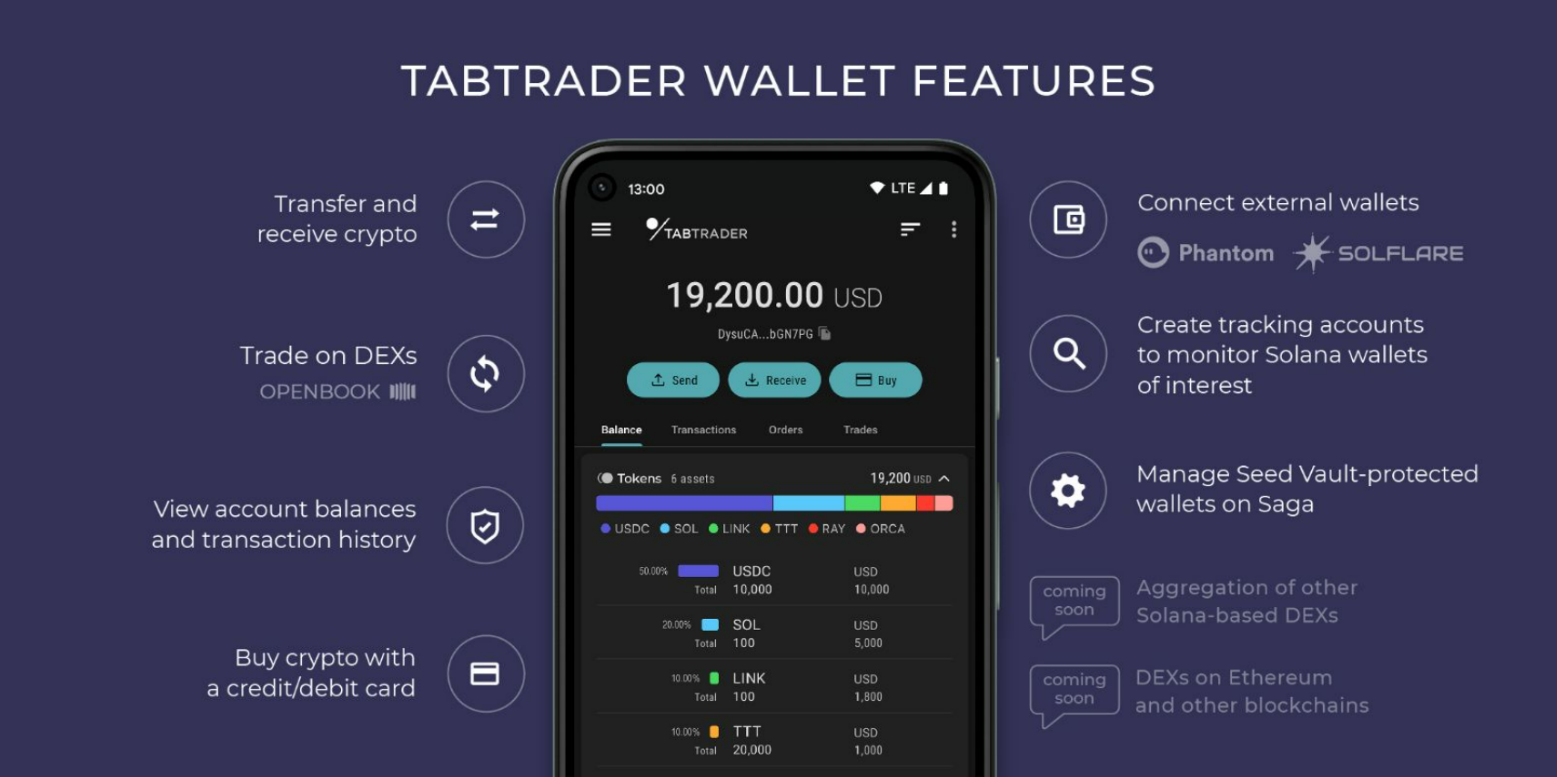 Image by TabTrader
TabTrader Wallet has a "Settlement" function, where users can easily view and settle unsettled funds on DEXes. Even when the order is placed on this or that DEX, the user can withdraw the funds to the wallet anytime.
TabTrader can now be integrated with a couple of top-notch wallet services of the Solana (SOL) ecosystem, including Phantom and Solflare.
With the "Tracking Accounts" module, cryptocurrency holders can monitor balances and trades across all devices connected to the trading terminal. This option allows traders to develop more balanced and flexible trading or liquidity-providing strategies.
Last, but not least, all the Solana-centric mobile phone Saga users can manage Seed Vault-protected wallets via TabTrader. This is one of the first interactions between Saga and third-party Solana-based apps.
Crypto app TabTrader accomplishes 300,000 MAU milestone
With Seed Vaults, private keys from noncustodial wallets can be stored in browsers to make working with decentralized wallets more convenient than ever before.
The release of its own crypto wallet is a watershed milestone for TabTrader's technical and marketing roadmaps. It is poised to strengthen its dominance in the segment of retail trading applications for multiple crypto exchanges.
By Q2, 2023, TabTrader will cater to over 300,000 active users every month. The net sum of funds its customers operate eclipses a whopping $8.7 billion.