Aptos (APT), the popular Layer 1 protocol that is often regarded as a Solana killer, has deviated from the general bearish trend on the market today. At the time of writing, Aptos has inked 2.3% growth in the past 24 hours, taking its price to $5.51 per coin. By virtue of its current performance, APT has pared off some of the losses it had accrued in the past seven days, with its price down by 4% in that time span.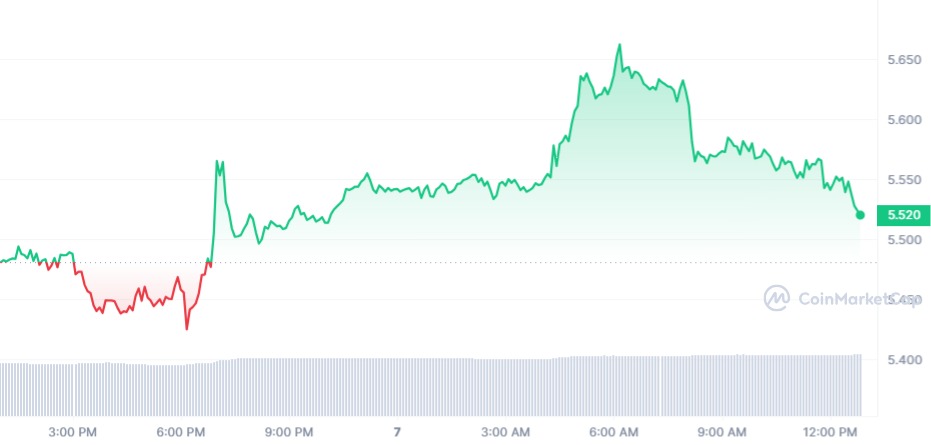 APT, as a digital currency on many retail traders' watchlists, places a great deal of emphasis on utility, which at this time has boosted the interest of APT traders to go on a massive accumulation spree. At the time of writing, Aptos is recording a trading volume of $66,011,502, which has seen it jump by more than 20% overnight.
This trading volume is arguably the biggest the protocol has recorded thus far this week, underscoring the fact that buyers are unrelenting in their frantic efforts to return the coin to winning ways.
The Aptos Network has been on a steady trajectory in its ecosystem as concerns a number of growth and performance markers. Per an earlier report from U.Today back in August, key on-chain data pointed to the fact that a Solana-like bullish run might be imminent in the near to midterm.
Capitalizing on partnerships
Just like the average Layer 1 protocol around today, Solana is poised to capitalize on the broad-based partnerships with top industry giants it secured earlier this year.
Some of these partnerships, which span from tech giant Microsoft to payments behemoth Mastercard, were positioned to help polish the attractiveness of the Aptos ecosystem, while also building a basis to drive a more mainstream appreciation of blockchain technology.