The crypto ecosystem is opening the week with a massively bullish performance from a number of new players, who are taking advantage of the hype in prominent projects like Shiba Inu (SHIB) and Shibarium to chart their own massive bullish cycle. A relatively new meme coin, XShiba Inu, is leading the altcoin trend this morning with 513% growth to $0.000007855, according to data from CoinMarketCap.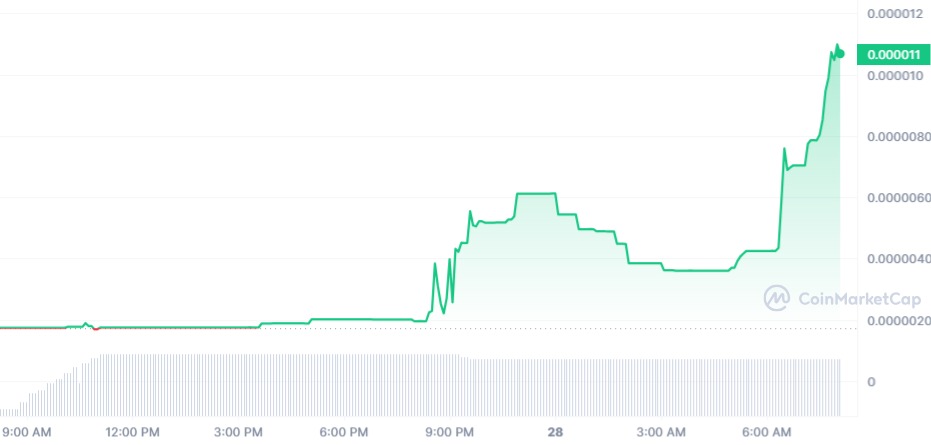 Little is known about XShiba Inu at this time except for the fact that it shares the same ideology with Shiba Inu dog-themed cryptocurrencies. However, the meme coin is built on the Ethereum network, takes a 1% tax fee and has its own staking dApp, where users can stake their tokens like a regular proof-of-stake (PoS) project.
While it is not uncommon to find copycats of projects like the Shiba Inu, their longevity is an entirely different subject. With XShiba riding on the hype surrounding the reopening of the Shibarium Layer 2 scaling protocol, this bullish hype may soon fade out.
Building momentum on Shibarium might prove to be more volatile than envisaged as, even though the protocol has a large supporter base, it still requires time to earn its place as an L2 on Ethereum and in the broader digital currency ecosystem.
More monikers to come
Per the update shared about the scalability of the Shibarium protocol by lead developer Shytoshi Kusama, there is bound to be a broad-based restoration to the protocol moving forward.
As a result, the likelihood of recording more projects that will resemble Shiba Inu or any of the tokens within the meme coin ecosystem is very high. This singular factor is responsible for why one of the team members warned that the Shibarium protocol will not be immune to bad actors building their projects on the smart contract network.