Earlier today, the lead developer of Shiba Inu token, who uses the Shytoshi Kusama pseudonym on social media, stated in his Shibarium Telegram group that he has faced difficulty in communicating with projects that had previously said they want to build on the Layer-2 protocol.
Here's what happened, according to the person who calls himself Shytoshi Kusama.
50 projects who wanted to work on Shibarium get out of touch
Shytoshi Kusama wrote on his Telegram channel that he was contacted by at least 50 projects that said they wanted to build on Shibarium Layer-2 solution. However, after responding and laying out Shibarium's values to them, he had not received any response. Now, Kusama thinks they are backing off.
What he told them was the value system that Shibarium-based projects have to comply with: "Burn, Protect, Help, Grow." He told the teams that "real projects will do their best to do these things."
However, after that, there was "instantly...SILENCE."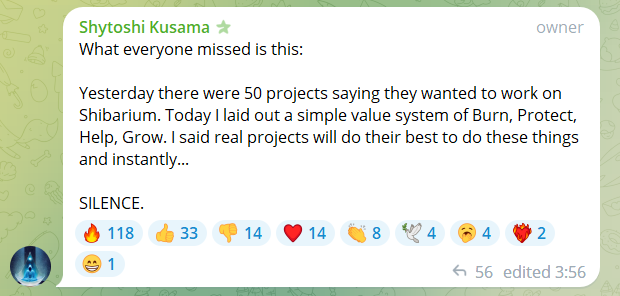 As reported by U.Today earlier this week, the developer of SHIB said on Telegram that Shibarium is ready and he cannot wait to release the beta version. However, the top developer of recently lost his father, and now Shytoshi has urged the community to let the person mourn. Until that is over, Shibarium Layer-2 solution beta will not be released.
In the meantime, though, Kusama said that he will not stay idle and will publish a series of Medium articles to tell the world about Shibarium.
Kusama starts Medium campaign for Shibarium
Shytoshi has already released the first Medium post dedicated to Shibarium, "The Worldwide Invite." In it, the developer stated the world has been divided by "shadowy feline entities" for the past thousand years who want to keep the status quo. In particular, he wrote that "these Shadowcats hide behind their power and influence; a vast network of corrupted wealth that utilizes obscure technology and brute force to keep the majority of the population broken down and debilitated."
"But that past doesn't have to be our future," said Kusama in his manner that, similarly to his alias Shytoshi Kusama, copies the style of Eastern philosophers of the past, like Confucius, Zhuangzi and others.
In the "Shibarium Invite" article, he said that one of the goals of the SHIB Layer-2 protocol is to make "the first step in a global movement to end the cycle of abusive control by embracing the power of decentralization."
He also shared the aforementioned Shibarium values: Burn, Protect, Help, Grow. The first one confirms that SHIB burns will be encouraged on every project built on Shibarium.
More Medium articles from Kusama are to follow soon. They should be published later today, "within hours," according to the lead SHIB developer.