Shiba Inu (SHIB) is gaining popularity with short-term traders, with an 84% increase in the last 30 days, according to IntoTheBlock data.
IntoTheBlock collects addresses based on how long they have held a given crypto asset. These addresses are divided as follows: "Hodlers" are long-term investors, "Cruisers" are mid-term or so-called swing traders; and "Traders" are short-term speculators.
Based on these categories, hodlers account for 69% of all Shiba Inu addresses, cruisers or midterm traders account for 27% and traders account for 4%.
To further define the situation, hodlers are addresses that have held SHIB for over a year, cruisers are addresses that have held for one to twelve months and traders are addresses that have held for less than one month.
Additional new use cases offered by innovations such as ShibaSwap, Shibarium, Shiba Eternity and the like may have played a vital role in the continual growth of hodlers, as these long-term addresses may have wanted to keep their holdings to benefit from these innovations.
SHIB price shift imminent
The volatility indicator from IntoTheBlock measures price fluctuations for a certain crypto asset. The current volatility of Shiba Inu is 70.24%. July 1 saw the highest volatility in the last 30 days, at 75.72%.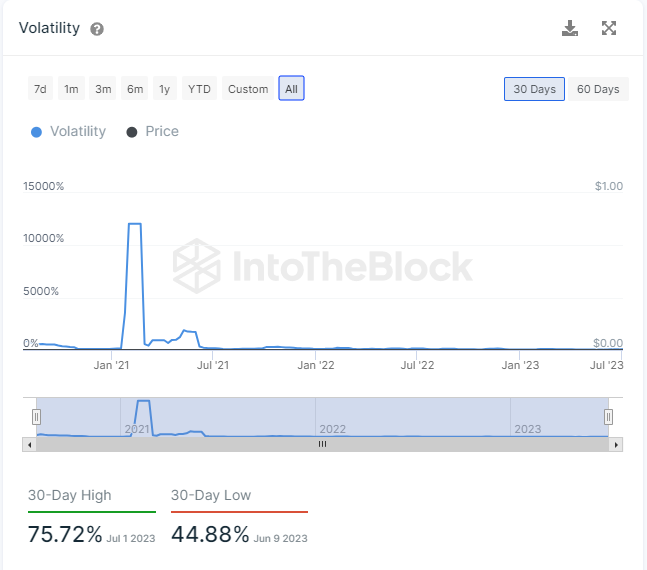 High volatility generally means large price fluctuations (either up or down). Low volatility, on the other hand, indicates price stagnation.
Large jumps in volatility usually indicate a trend reversal. Thus, periods of extremely high volatility may be an indicator of the price potentially reverting its direction to the mean. Meanwhile, low volatility tends to indicate an impending significant breakout in either direction.
At the time of writing, SHIB was down 2.52% in the last 24 hours to $0.0000075.