Shibburn tracker has shared that the Shiba Inu community has finally succeeded in raising the burn rate of its favorite meme coins to the high within the past 24 hours that has not been seen for a long time already.
Burn rate jumps by nearly 30,000%
After the recent hourly update shared on Twitter, the 24-hour burn rate of Shiba Inu has skyrocketed to the level of almost 28,000%. A total of 2,057,811,344 SHIB tokens have been burned since yesterday morning.
Also, 2,186,841,623 meme tokens from this network have been put out of circulation over the past seven days. This exceeds all the recent burns this year by multiple times. The likely reason for such high token burn activity is the release of the Shibarium Layer 2 blockchain this week, as promised by the SHIB developer team recently.
Over the past five hours, a large series of transactions carrying tens of millions of SHIB to unspendable wallets was spotted by Shibburn.
However, the price performance of SHIB remains poor, even despite the upcoming bullish event of the Shibarium release.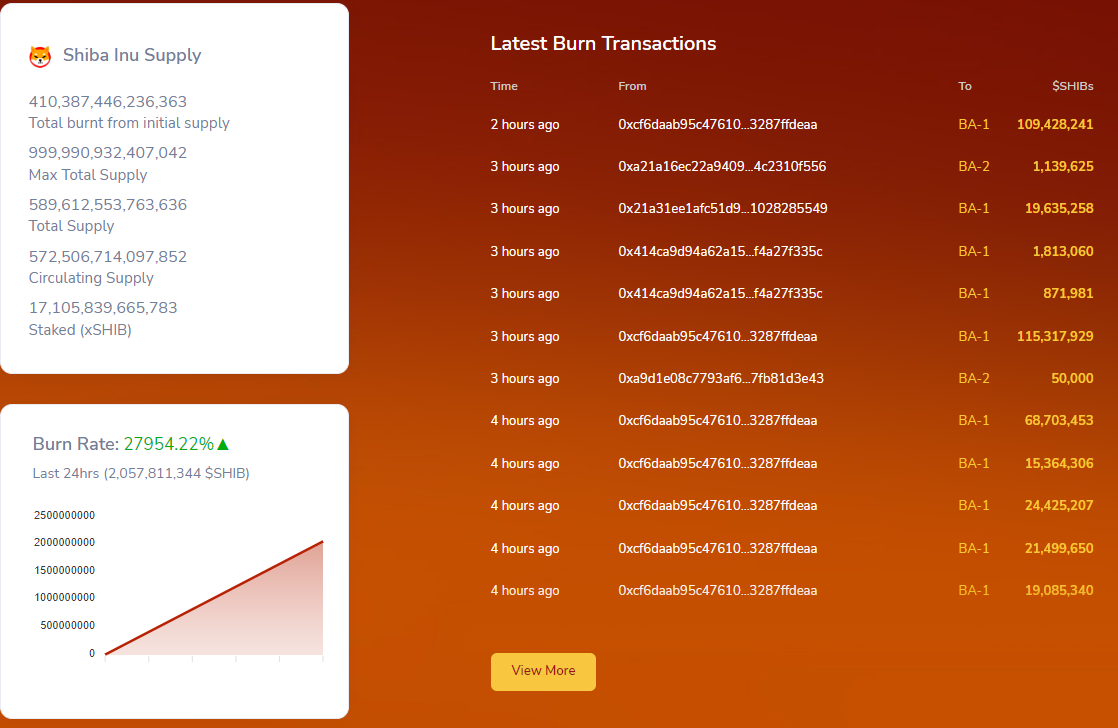 Shibarium to launch this week
As reported earlier, the SHIB token's Twitter handle shared a post that announced that the Layer 2 solution called Shibarium (compatible with Ethereum Virtual Machine) will come out in beta later this week. This actually leaves the SHIB development team four days to do it, unless they manage to initiate the rollout before the weekend begins.
The long-awaited release is coming after a year of development, while Shytoshi Kusama and his team had been working hard on every aspect of the new blockchain. They promise the community better security of transactions, low fees for crypto transfers and greater speed. The Layer 2 solution will allow users to avoid congestion that often happens on the Ethereum chain on which Shiba Inu was initially created.
The SHIB army has been excited about the announcement as they have been looking forward to the launch. Lead developer Kusama has dropped hints, which were interpreted by the community as various possible dates for the Shibarium launch — Feb. 10 and Feb. 14. However, nothing happened in those two days, and no official announcements came out either.
This time, however, the release has been confirmed by the official Shiba Inu handle.