The Shiba Inu community continues to wonder when it will finally see the Shibarium mainnet launched. The lead developer of SHIB and Layer 2 protocol Shibarium, known under the alias Shytoshi Kusama, has stopped answering that question.
However, within the community, in the official "Shibarium Tech" channel, there is an answer to that.
"Wen Shibarium?" Here's when
Over the last few days, many SHIB army members have been showering the admins of the Shibarium channel with questions, wondering and demanding to know when the long-promised mainnet of the Layer 2 network will finally be released.
The community seems to have divided into those who keep asking when the mainnet will be rolled out and those who answer those questions that have been coming in a lot over the past few days.
The most popular joke answer has now become "soon" or even "soonday," followed by ROFL emojis.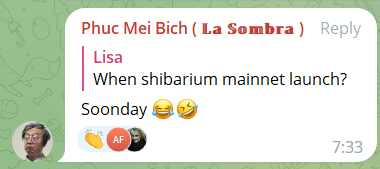 One user referred to an exclusive interview Shytoshi Kusama gave in April to International Business Times. There, he mentioned an approximate time period of two to four months for launching Shibarium, but that is not guaranteed, according to the Telegram user. Aside from talking about the very approximate time frames for Shibarium's launch, Kusama refuted the rumors that his team had turned down several projects.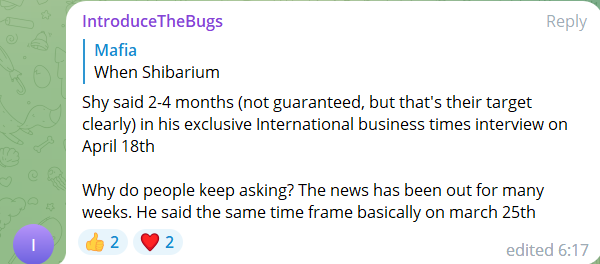 The lead developer said that "everyone is in" and that the application form through which the team was contacted by projects was merely to talk and ask members of these projects for details on what they want to build on Shibarium.
Shytoshi's warning
As covered by U.Today last week, Shytoshi Kusama again warned the SHIB community that Puppynet is merely a beta test of Shibarium. All the tokens on it are launched and transacted for testing purposed only, he wrote in his message on Telegram.
He said that no real tokens have been burned yet and warned that users should not transfer their real crypto to Puppynet.
The lead of Shiba Inu added that he and his dev team are as excited as the whole SHIB community and promised that "there will be many updates" in the near future.