Prominent member of the Shiba Inu team, known on Twitter as @LucieSHIB, has taken to Twitter to point out that the lead developer of Shiba Inu, the pseudonymous Shytoshi Kusama, has set up a new location status on his Twitter page.
She believes it could be to do with Shibarium testing the artificial intelligence technology. Shytoshi set that he is now based in Athens, Greece. Lucie tagged Twitter account @nfai, saying that this is "Athena." She did not offer any further explanation, though, and stressed that it was not a fact but merely her guess.
My imagination whispers: #Shibarium testing AI functions
( @nfai - Athena )

Reminder: it's just my guess - not fact pic.twitter.com/TwCvh6ndny

— 𝐋𝐔𝐂𝐈𝐄 (@LucieSHIB) May 12, 2023
Other prominent SHIB army members have also paid attention to Kusama's new status.
In the meantime, the SHIB team has been rebuked for being "too slow" by the Shiba Inu community, and a Shibarium Telegram channel admin has been defending Kusama and his developers from these accusations.
"Ragnar Shib" stands up to complainers within SHIB army
One of the admins of Telegram channel "Shibarium Tech," named "Ragnar Shib" (he can be found on Twitter under the same alias) stated that he has been receiving some direct messages recently.
In them, SHIB users were complaining about Shibarium's mainnet not being released yet and accusing the SHIB team developers of "being too slow."
"Ragnar" stated that these people have no idea how hard developers have to work to create "everything that now makes now the SHIB ecosystem." However, he added that the majority of the Shiba Inu community "supports the project silently. This community is the best," he wrote.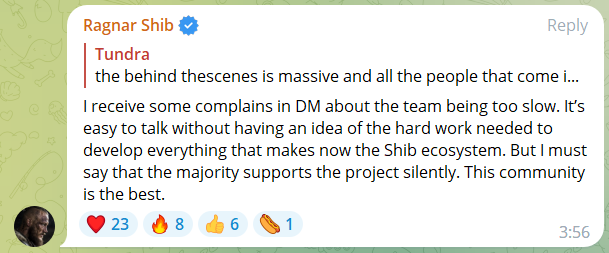 The admin also warned the community to be careful with anyone who offers to make airdrops. Shiba Inu would never make an airdrop, he stated.
SHIB scam targeting crypto exchanges
In a tweet on May 11, "Ragnar Shib" sent a warning to the Shiba Inu community. He stated that SHIB scammers are currently targeting crypto exchanges, pretending they are offering to list SHIB based on blockchains other than Ethereum.
He named two blockchains in particular that scammers are basing their fake SHIB on — Fantom and BNB Chain. He reminded listing managers of exchanges that the original token Shiba Inu exists on Ethereum (ERC20) only.
I just received a tip from a discord mod that they are also saying we are in BSC blockchain. Again we are ERC20 only. Don't fall for those scams.

— Ragnar Shib (@RagnarShiba) May 11, 2023