Ripple, and its native token XRP, has often split the cryptocurrency community in terms of its value and place in the ecosystem, but a recent poll from independent rating agency Weiss Ratings has seen the third biggest cryptocurrency by market cap claim a comprehensive win in the popularity stakes.
The poll asked which is the crypto community's preferred digital currency. The options available were Bitcoin (BTC), XRP, Ethereum (ETH), Cardano (ADA), and it was the Ripple token that took the win.
5,000 individuals voted for XRP as their preferred currency. The second most voted option was Cardano, which received 24 percent of the votes, close to 2,040. Meanwhile, Bitcoin was the third most voted coin with 12 percent choosing this digital asset. Finally, Ethereum received just 4 percent of the votes – around 340.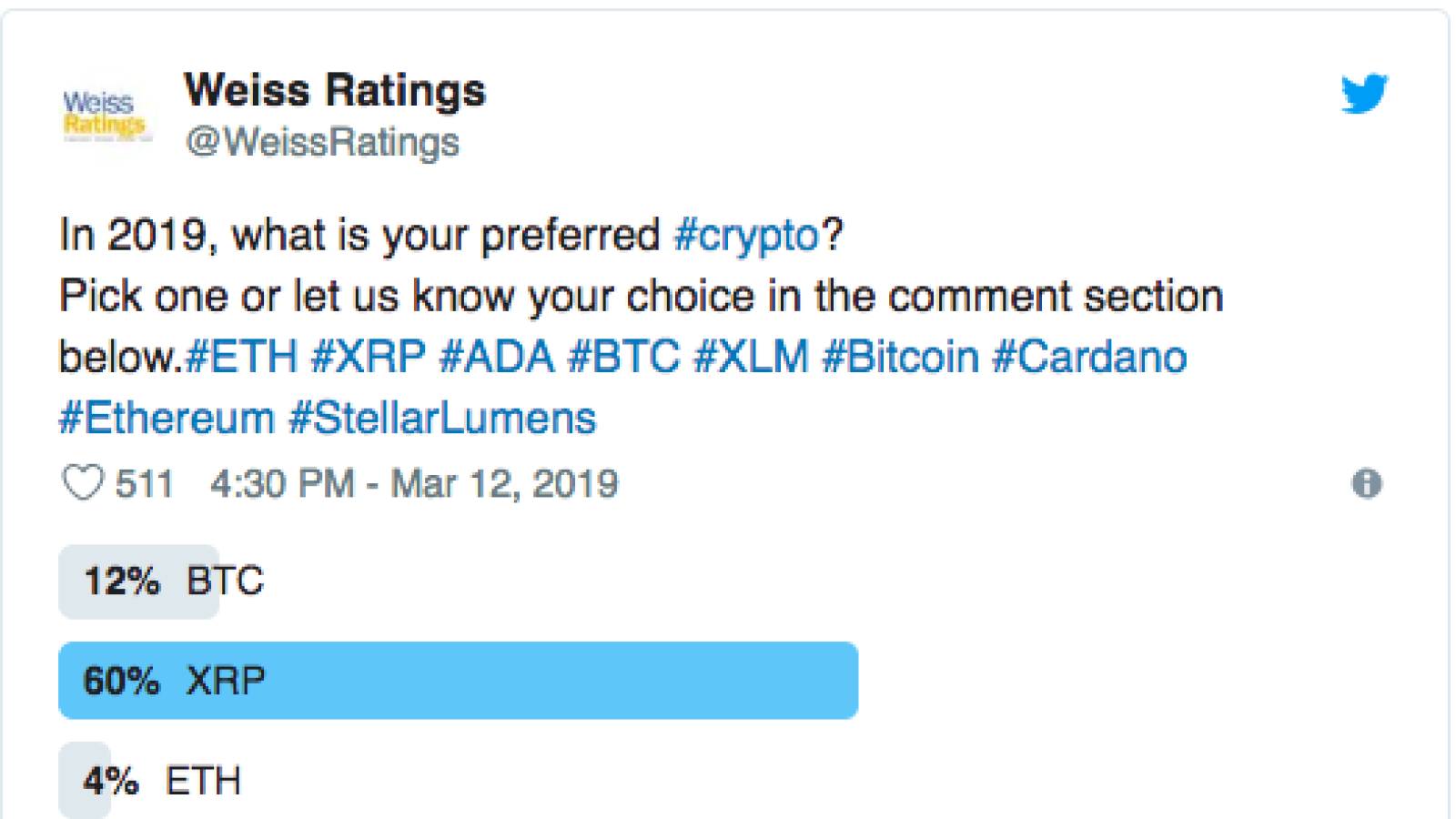 Popular option?
The poll is an interesting one to note as it covers a broad spectrum of everyday cryptocurrency users, but also because it includes coins that have different niches. There is Bitcoin, which is the original and has historically been the most popular and most well known.
But there are also two smart contract blockchains in ADA and ETH. However, the low support for ETH might indicate that individuals are getting frustrated with the original smart contract blockchain and its shortcomings, rather favouring the likes of Cardano and its improvements in terms of smart contract blockchain.
XRP's comprehensive win is also an interesting point to note as Ripple has had most of its focus aimed at making major financial partnerships, with the intention to gain popularity not high on the list.
Good for investors?
Of course, Ripple has been making good strides in the financial sector, getting its xRapid product across a few major banks all over the world as it looks to expand its reach and offering as a cross-banking payment option.
But in terms of investor interest and popularity, the fact that people are strongly favouring the XRP token could mean that there will be a bigger demand down the line. It may be that investors are seeing the regulatory adherence of XRP and following its journey there and the potential that offers, or it could be that Ripple's work with banks means a boost in adoption, so people want to be in early.