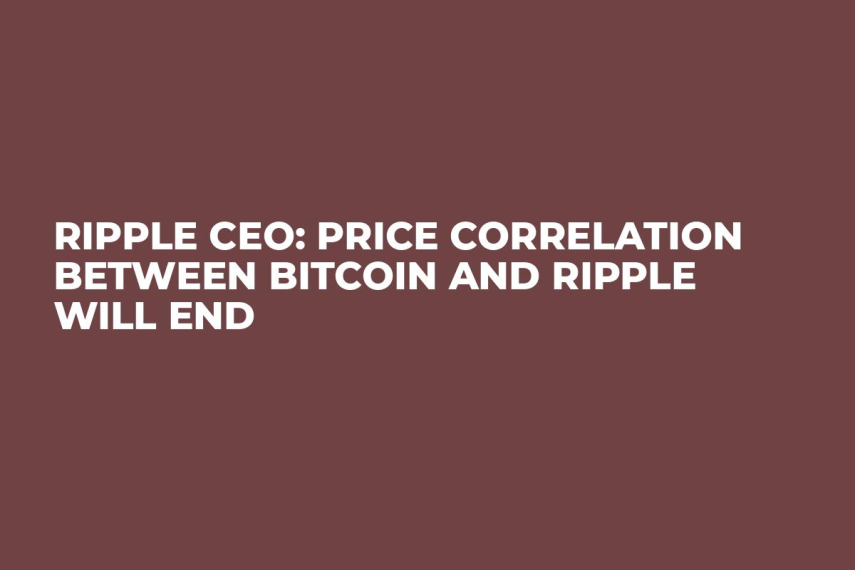 Cover image via U.Today
Investors can expect less correlation between digital currencies Bitcoin and Ripple as more independent open source technologies emerge, says Brad Garlinghouse, CEO of Ripple.
In an interview with CNBC, Garlinghouse said that the high price correlation between Bitcoin and Ripple will eventually diverge as digital currencies become for more specialized by use cases:
"There's a very high correlation between the price of XRP and the price of bitcoin, but ultimately these are independent open sourced technologies. It's early, over time you'll see a more rational market and behaviors that reflect that."
Garlinghouse explained that as digital assets diverge and stop trading in tandem they will eventually look like unique asset classes in the broader financial markets, such as stocks, bonds and commodities.
He also added that only one percent of the digital currencies being traded today will be around in the next 10 years.
"There's gonna be a bit of a correction along the way here where a lot of the players in the space that don't actually solve a real problem are going to get washed out."
Even though Ripple has initiated and signed more than 20 production contracts and entered partnerships with Kuwait Finance House and MoneyGram earlier this year, the first quarter performance of its coin XRP has been lackluster.
Ripple, the third largest digital currency by market capitalization, has lost more than 75 percent in value in first quarter of 2018 since its year-to-date high of $3.16 in January and is trading at a meager $0.61, according to data compiled by Coinmarketcap.
But, Galinghouse says that it's still early in the industry, likening the period to a pre-game stage.
"It's still a nascent industry, the speculation in the market dominates the trading activity. I think it's a matter of time until people better understand the different use cases."
Ripple has also recently made efforts to separate the company from the cryptocurrency coin XRP, to rid people of the notion that the company and the currency are the same thing.