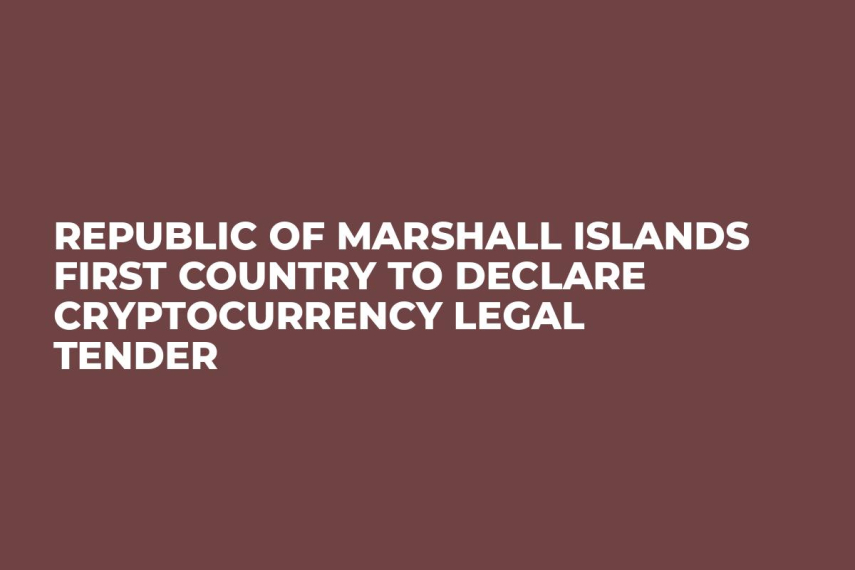 Cover image via U.Today
The Republic of Marshall Islands (RMI) – a country located in the Pacific Ocean with a population of 53,000 – has partnered with Israeli fintech startup NEEMA to launch the SOV – the world's first digital token that functions as legal tender. Currently, RMI's official currency is the USD, but once the SOV token is launched via ICO, the SOV token will circulate as legal tender too.
On Feb. 26, RMI's parliament passed the Declaration and Issuance of the Sovereign Currency Act in a 20-8 vote. RMI partnering with NEEMA to launch the SOV sets a precedent in the world of cryptocurrency. Currently, cryptocurrency is not considered legal tender in any jurisdiction. In 2014, the Internal Revenue Service (IRS) released the "IRS Virtual Currency Guidance" in which they stated,
In some environments, virtual currency operates like "real" currency – i.e., the coin and paper money of the United States or of any other country that is designated as legal tender, circulates, and is customarily used and accepted as a medium of exchange in the country of issuance – but it does not have legal tender status in any jurisdiction.
Instead, the IRS treats virtual currency as property in the United States and taxes the capital gains made from selling digital assets.
RMI plans to use the capital they earn from their ICO to fund a number of projects that work toward solving the countries most pressing issues. 50% will go to the RMI's National Trust Fund, 20% will go to RMI's Nuclear Legacy and Healthcare Fund, 10% will go to RMI's Green Climate Fund, and the final 20% will be given to the citizens of RMI in the form of SOV tokens.
RMI's Parliament passing the Declaration and Issuance of the Sovereign Currency Act is groundbreaking for the cryptocurrency industry. Because the SOV is considered legal tender, SOV tokens will be accepted anywhere in RMI. Everything that you currently use cash for in RMI, you will be able to use SOV tokens for. Some individuals believe that this is what the future will look like; a world without cash where all payments are digital. It turns out, the world is already working its way toward that future; in China, it is estimated that 85% of the country uses WeChat Pay – a mobile payment platform that allows users to transfer funds electronically.