Hello, my dear readers and subscribers. This is Andrew Strogoff and I'm going to offer you my complete guide to Kraken exchange. Here you will learn how to start trading, the main features of this trading platform as well as its advantages and disadvantages.
Kraken is a rather popular cryptocurrency exchange, which is famous among both skilled and novice traders. This trading platform has large volumes and great liquidity. In addition, Kraken has a positive reputation among traders and investors. The company was launched in 2011 but the beta version of exchange appeared in 2013.The company was established by Jesse Powell, who is the CEO and co-founder of this project. The headquarters of the company is in San Francisco. The company has purchased some other exchange services and expanded its influence.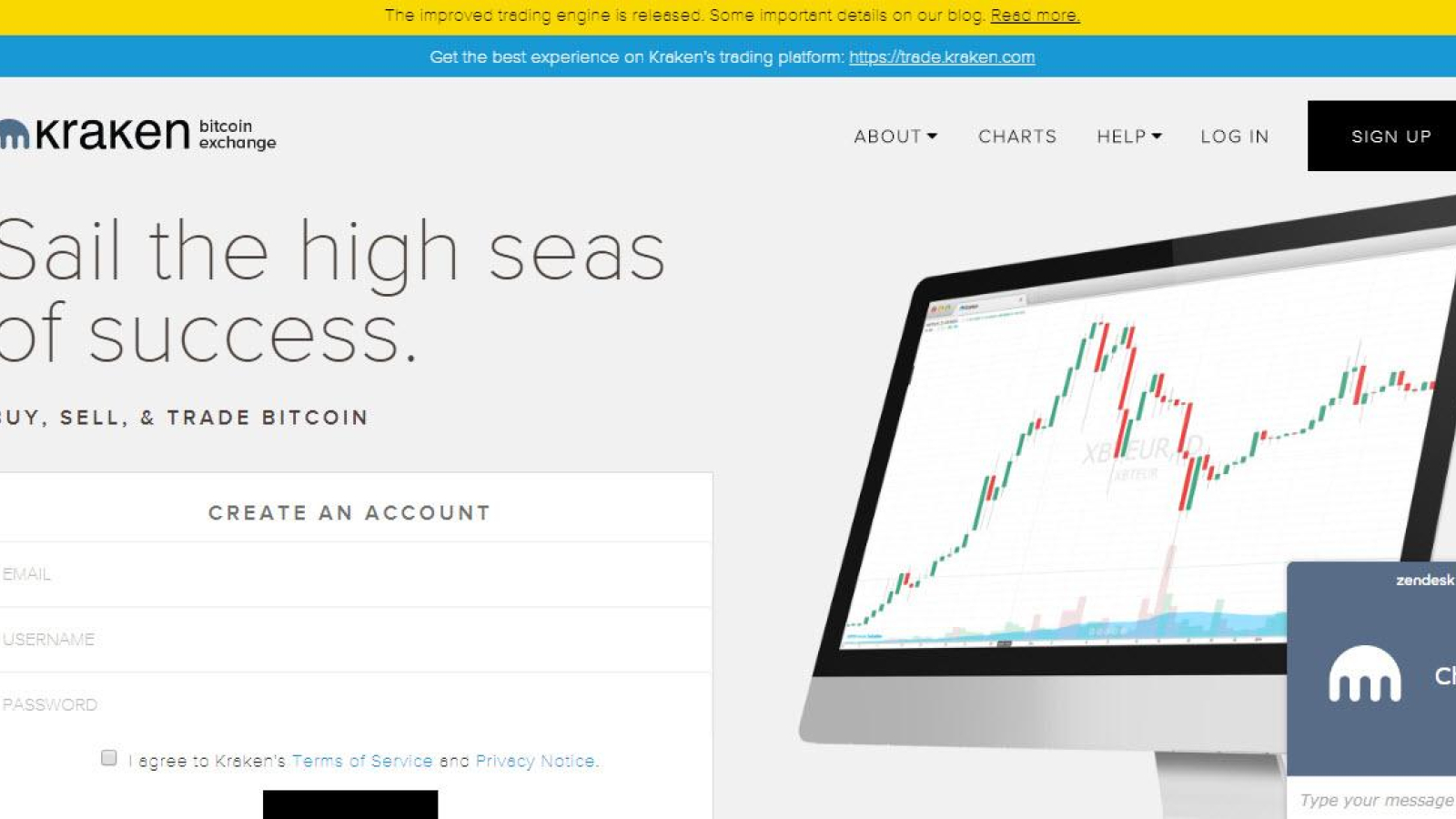 Before I start this guide, I want to mention that there are many useful features that Kraken offers to the clients. There is API here that you can set up according to your interests. The exchange is available in English only. It is not a problem for me, personally and I don't think that this may cause any troubles, however, most of the exchanges have different localizations nowadays.
For those traders and investors who prefer smartphones or phablets, Kraken offers their mobile solutions for iOS.

card
Create a new account with Kraken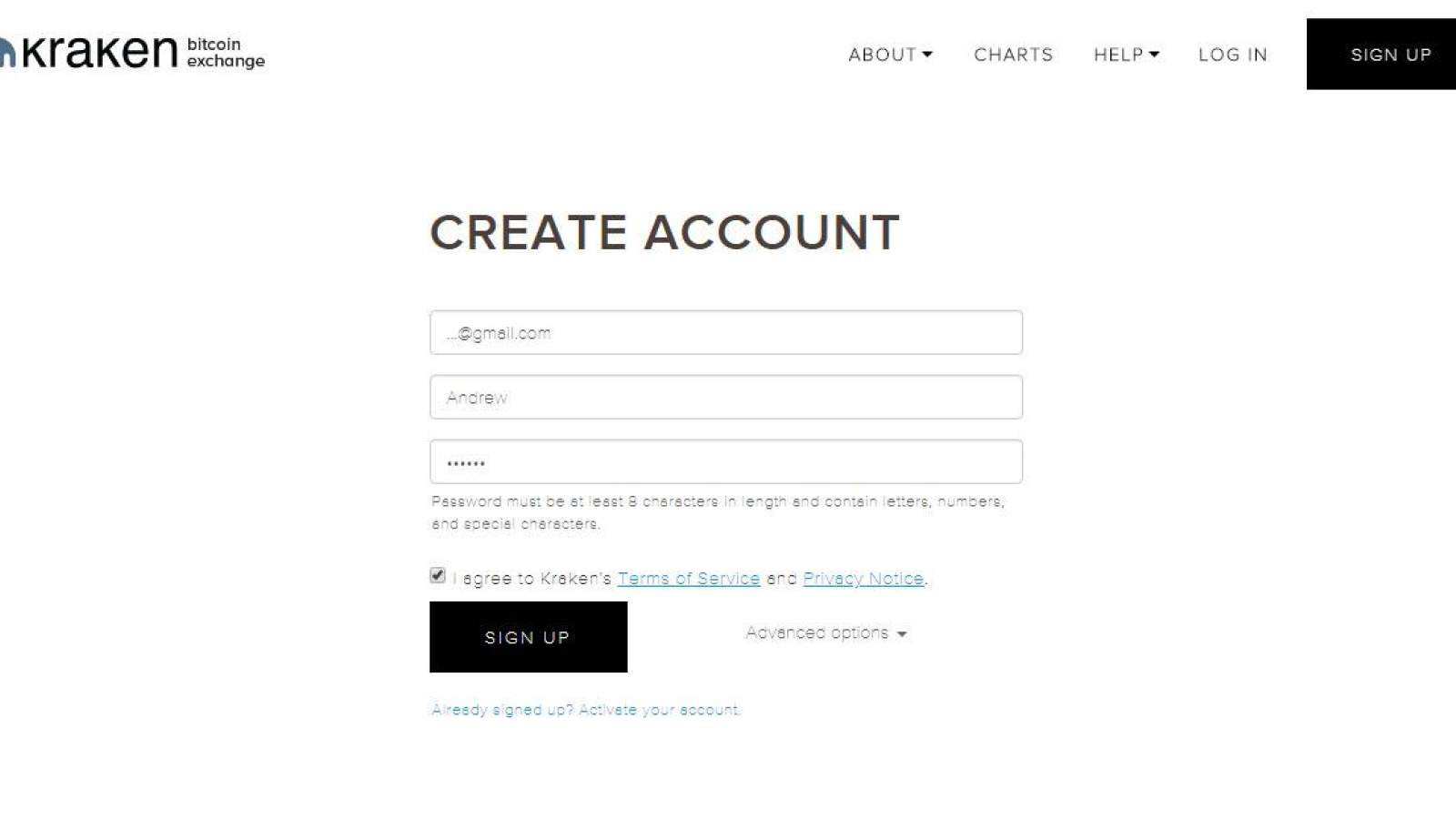 Before you make your first steps on this platform, you need to sign up. This procedure is rather simple and is similar to account creation with other exchanges. You need to provide the platform with your email, login and password.
This procedure is rather simple, but the email should be confirmed later by clicking on the link in the incoming letter from the company. This is a kind of email verification. Once this step is done, you can proceed to your personal account. However, this is not the beginning of your trading career with Kraken.
The US broker offers five levels of ID verification that open some features to traders. Every user can decide for himself the volume of personal data he is ready to give to the company. As I have previously mentioned, five levels are available:
Level Zero. As you can imagine, this one requires no personal data. However, you have access to your personal account only. No other features including depositing and withdrawal of any currencies are available.

Level One. Offers an opportunity to deposit and withdraw from cryptocurrency wallets as well as to trade. To get access, you need to provide the company with your name, date of birth, phone number and country of residence.

Level Two. Allows users to work with fiat cryptocurrencies including depositing and withdrawal procedures. You need to confirm your address of residence.

Level Three. Increases limits for withdrawals. You need to provide the company with your taxpayer number.

Level Four. This account level eliminates all barriers for deposit and withdrawal. In order to get this level, you need to contact the support service.
How to trade on Kraken's platform
Let's suppose you have already created your trading account and received any level of verification, which allows you to start trading. Before you open your first position, you need to deposit some amount.
In order to do this, you can use both fiat and cryptocurrencies. Deposits can be made in USD, EUR, JPY, CAD and other fiat money. Besides, deposits in bitcoin and other cryptos are also available.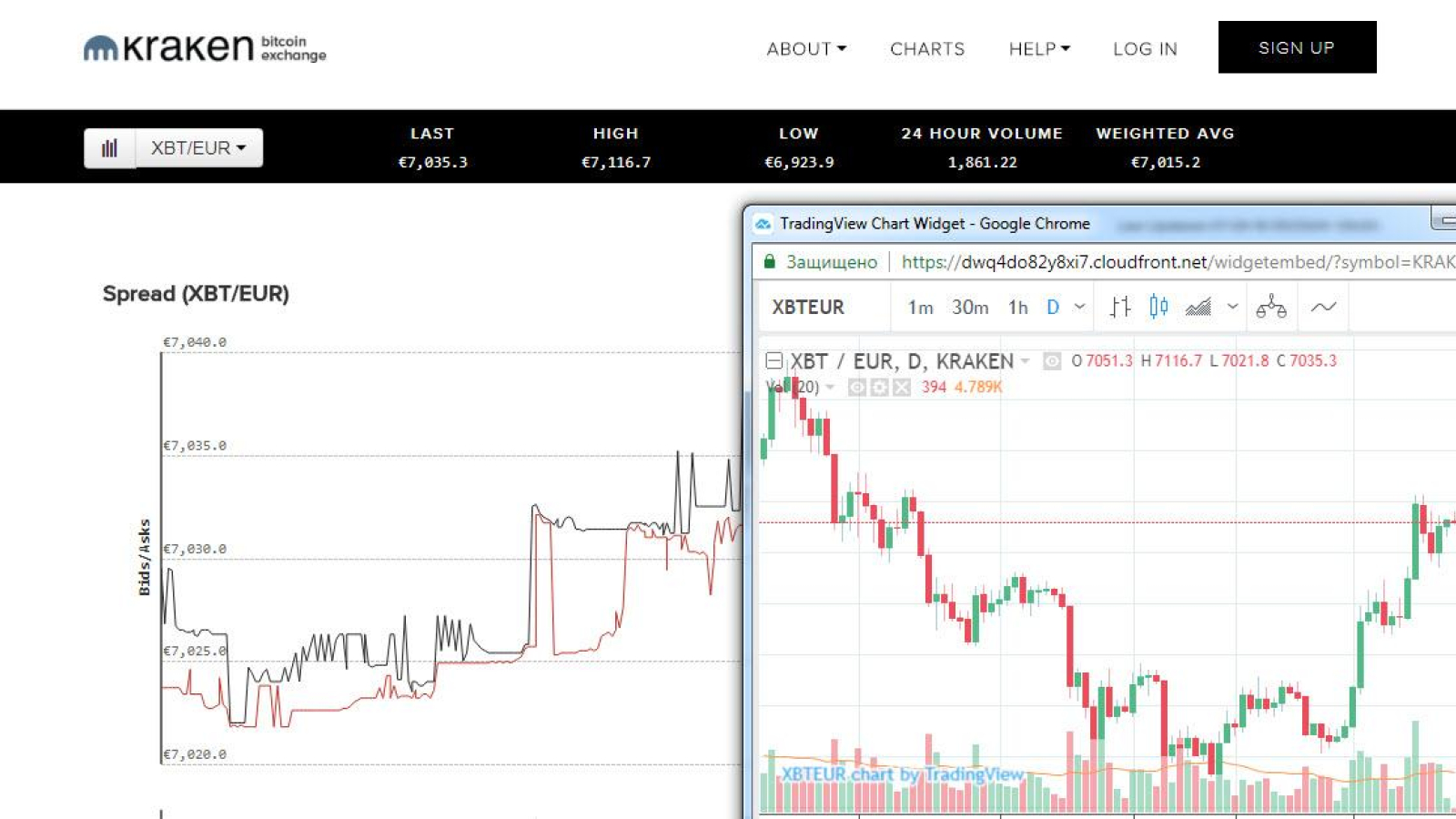 After you have finished funding your account, you can start trading. Kraken offers a chart to analyze markets and special advanced trading platform.
Simple charts offer an opportunity for you to learn the spread difference between the Bid and the Ask price as well as look through professional charts, offered by Tradingview.
I can say that this interface is rather easy. However, I spent some time trying to find out how to open this new window chart. To do that, you need to click on this small button left to currency pair one (XBT/EUR in my example).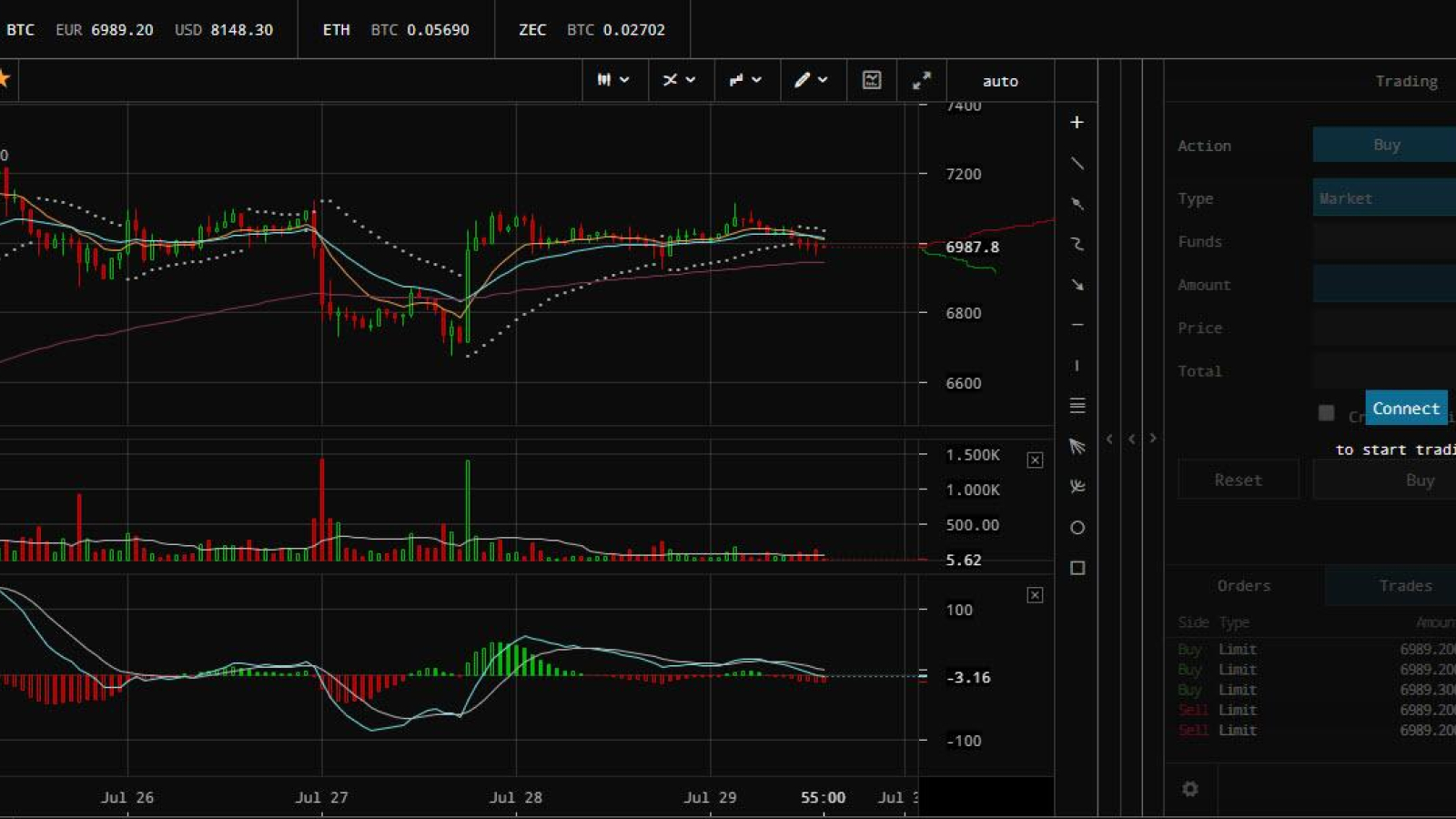 Kraken, as I have mentioned above, has its own professional trading platform, which I think is something I would never use in real life. I don't like it at all. Kraken's professional platform is their own product, but it seems uncomfortable for me to use it. I prefer tradingview and I think those exchanges integrating famous tradingview, have advantages over the others.
To tell you the truth, you can find all the necessary tools for trading there but I don't like the interface. You can choose from plenty of important and useful indicators there including trending ones and oscillators. Anyway, those who have the same opinion about this platform can use tradingview to conduct the analysis.
Now I want to say some words about order types that are available here. Most of the exchanges offer two main kinds of trading positions– market and limit. You can find them on the Kraken platform as well. The market order allows you to buy cryptocurrency at the better average fill price meaning that you place this order when you think that the market price is suitable for you.
The limit order is used when you want to set up your suitable price manually. This type of order is not instant compared to market one as you set the price below or above the current for the position to be executed.
Limit orders are recommended for professional or skilled traders who conduct technical analysis and are able to forecast the levels that the price is able to reach. However, I personally do not recommend this type of order to greedy people, who want to buy a currency pair at lowest levels even without conducting any analysis.
Limit orders may be filled completely or partially. Let me show you an example. You want to buy one Ethereum for USD. ETH/USD at $400 but the current price is $435.20. You place a limit order and if the price reaches this level ($400) the order will be executed. However, I want to mention here that your order may be filled partially meaning you will be able to buy 0.5ETH e.g. (and not one ETH according to your wishes).
Kraken offers to stop losses and take profit orders as well. Those are to limit your risks and to assure profit gains. Stop loss is applied when you want your risks to be set at a certain level. Let suppose you don't want to lose more than five percent per trade. You place your stop loss at the appropriate level and once the price reaches it, stop loss triggers. As for the take profit, it triggers once the price reaches your preset profit level.
Another great feature that Kraken offers to the clients is margin trading. You can get up to five times leverage in order to open positions. The main feature of this type of trading is that you can open any types of position even if you don't have the necessary currency. This principle is similar to Forex trades. All you need is to choose the currency pair you want to buy or to sell. Every time you open a new position, you need to indicate the volume of leverage.
Fees and trading volumes
Kraken is one of the most popular cryptocurrency exchanges in the US. Daily trading volumes are higher than $200 mln meaning that this trading place competing with Poloniex. The basic fee is 0.24 percent per trade. However, Kraken administration supports those traders who make higher volumes and decrease the commission for them.
Support service and security
Kraken has a good reputation among traders and is considered to be one of the most reliable trading places. Administration offers only one way to protect your account– 2FA. You will need it not only to access to your account, but also to enter the trading platform. Those measures seem primitive nowadays but Kraken is the first to pass crypto audit successfully.
There is not much to say about the support service. However, in 2017 due to the huge inflow of investors, some may have had troubles when trying to contact the support service.
Kraken pros and cons
Before I make the full stop, I would like to underline some Kraken advantages and disadvantages. I would like to start with the pros. What do I find positive about Kraken's activity?
A big number of currency pairs. The exchange administration does its best to satisfy traders' needs. They offer a large number of currency pairs including cryptos and fiat. Users can benefit from the most liquid coins.

Margin trading. This advantage is one of the most important as there are few trading places allowing traders to both use leverage and margin benefits in their daily trading routine. Leverage allows investors to significantly increase their eventual profits. However, you need to remember that leverage increases your risks proportionally.

Great experience. When we talk about Kraken, we talk about a very highly skilled and experienced collection of people. This exchange is one of the oldest on the market.

High-security level. The crypto audit, that Kraken has already passed indicates on the safety level that the trading platform offers to their clients.

Flexible verification system. Traders may choose their verification level according to their preferences. For example, if you want to work with cryptos only, you don't need to do level two verification.
As for the disadvantages, to tell you the truth, I have found almost nothing there, but I had to mention something as there are no ideal websites for trading I think. Well, here they are:
Mandatory verification. I think that this is a bad thing for the cryptocurrency world. However, I also think that we have to obey as in future all brokers and exchanges will require verification.

Lack of localization. The website has only one language– English. I don't think that this is a big disadvantage. However, for those who aren't confident English speakers, this may cause some trouble.
Final words
Kraken is one of the oldest and most reliable cryptocurrency exchanges operating since 2013. The platform offers a large number of crypto pairs and a high security level. I have found no news about hack attacks on this exchange.