In a stunning turn of events, the crypto space witnessed a rapid reversal in fortunes for the Shiba Inu token shortly after celebrating a remarkable 15% growth. In just half an hour, everything changed as a massive sell-off sent shockwaves through the market, resulting in a significant price drop of over 2.3%. The epicenter of this upheaval was Binance, where a staggering 337 billion tokens were sold, as indicated by the Buying Selling Volume indicator.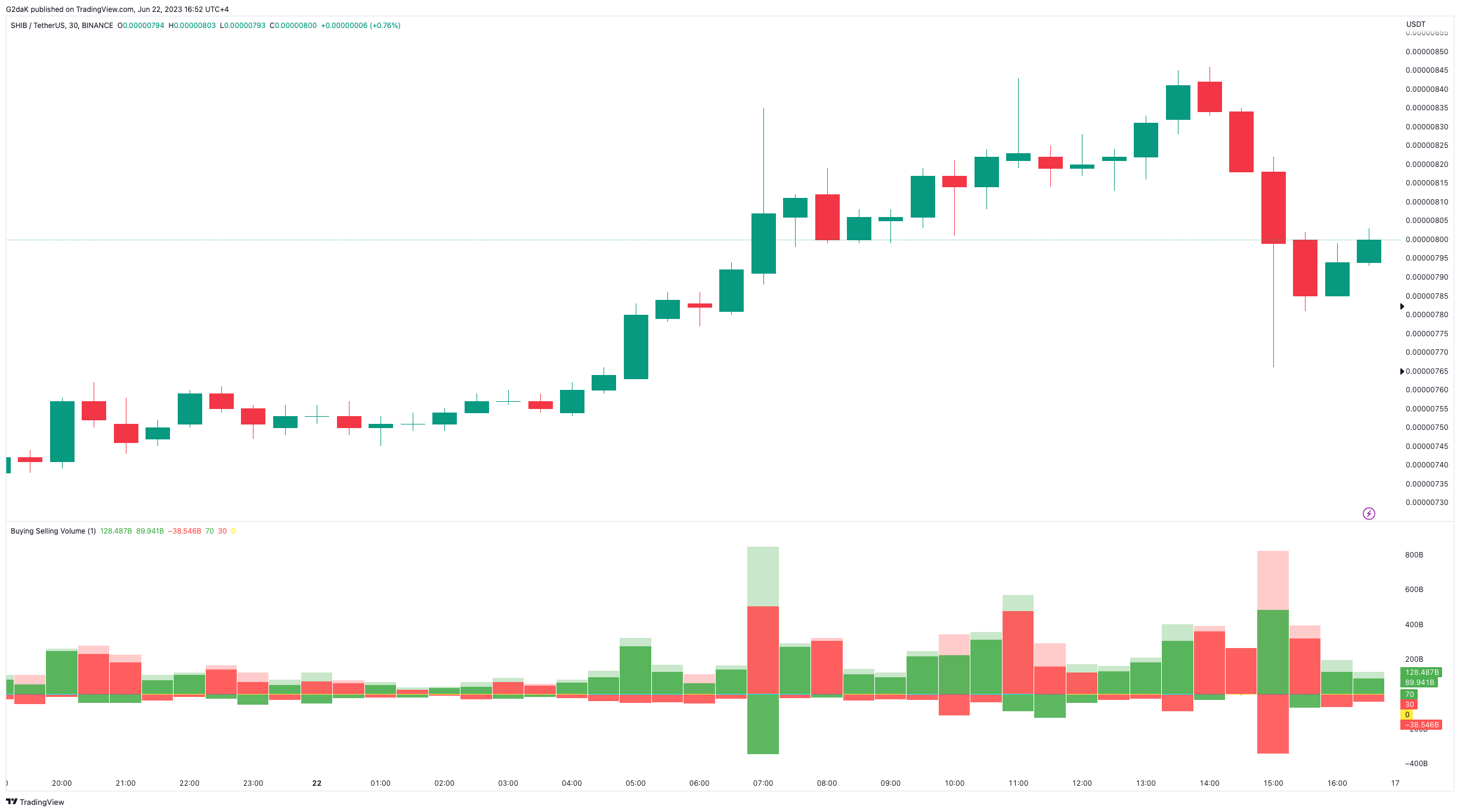 The preceding half hour also witnessed a flurry of activity, resulting in a total hour-long decline of 4% in price, with a whopping 800 billion tokens offloaded. The indicator further disclosed that the buying volume on Binance during this period accounted for nearly half of the selling volume, reaching approximately 412.44 billion SHIB.
This sharp fall was possibly instigated by a cascade of liquidations, driven by late-coming traders seeking to capitalize on the Shiba Inu price pump. Many of these latecomers had taken on long positions with excessively large leverage, only to be swiftly wiped out by the market — a phenomenon commonly referred to as a "long-squeeze."
Curse of meme coins
Interestingly, the root cause of this market turmoil could potentially be attributed to the Shiba Inu token itself. The prevailing theory is that meme coin pumps often serve as precursors to market dumps.
This pattern emerges due to capital cycling within financial markets, as funds flow from less risky assets to more speculative ones, in particular, meme tokens like SHIB and Dogecoin (DOGE). Consequently, the inflated valuation of these assets is often followed by a capital exodus, resulting in a market-wide dump.
However, it is important to note that Dogecoin did not experience a similar surge today, casting doubt on this theory.