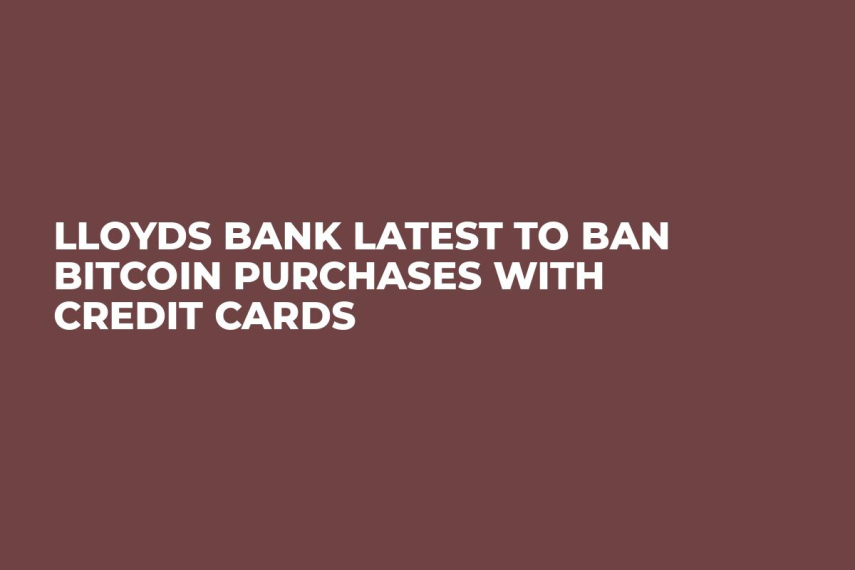 Cover image via U.Today
The Lloyds Banking Group, in the UK, which encompasses Lloyds Bank, Bank of Scotland, Halifax and MBNA, have placed a ban on the purchasing of Bitcoin and other cryptocurrencies with their credit cards.
The ban comes as the digital currency sits in a slump from its mid-December high which was fueled by a bout of mass individual adoption. It is a move from the banking group to further protect its customers from more price volatility.
Lloyds fears that people are being caught up in the hype, buying Bitcoin in any manner, including using debit and credit cards, in the hope of profiting. However, in the current climate, there's not much profiting happening leading to further increased debt.
This ban, however, will not be affecting its debit cards, rather the group's eight mln credit card customers.
Setting a trend
Lloyds is following in the footsteps of JP Morgan in the US who last week placed a similar ban on the buying of Bitcoin with credit cards. It is a little more complicated however.
The Wall Street bank, whose CEO Jamie Dimon was at the center of a bout of Bitcoin bashing last year, has confirmed to CNBC that they will be baring buying Bitcoin with credit cards.
"At this time, we are not processing cryptocurrency purchases using credit cards, due to the volatility and risk involved. We will review the issue as the market evolves."
This again seems to reinforce the idea that these banking groups are worried about the volatility of the cryptocurrency. JP Morgan has halted its customers buying during a period where Bitcoin is in a slump after huge highs back in December.
New style of regulation
These moves by the banks seem to indicate a new style of regulation and control of the use of Bitcoin, but perhaps a regulation that is functional and needed. The promise and hype of a booming Bitcoin economy is almost too much to ignore for some, which has caused some poor buying choice.
It represents not only a move to protect customers, but could be good for the digital currency as many markets have collapsed before when individual default on their debt, such as in the housing crisis which was based around subprime mortgages.