Litecoin (LTC) has joined the league of the best performing altcoins today as the protocol now rides on the strength of its security, consistency and value propositions in both the short and long term. At the time of writing, the LTC coin is valued at an average price of $97.64 on exchanges and is marked by a cumulative growth rate of 16.42% over the past 24 hours.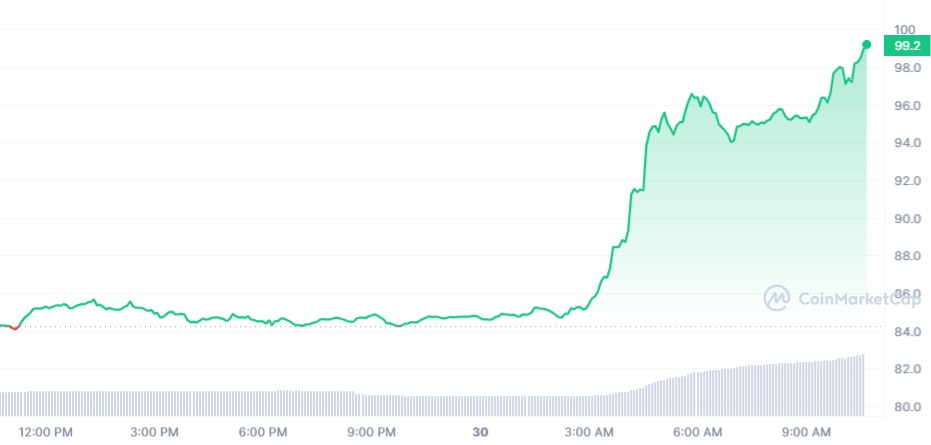 Positive Litecoin fundamentals
While general market sentiment is positive at this time, the Litecoin protocol is also seeing a lot of positive fundamentals at this time. The protocol is seeing more miners plugging into the network, stirring the hashrate to its highest level.
According to data from Coinwarz, the current Litecoin hashrate is 745.39 TH/s, representing the global Litecoin network hashrate with a mining difficulty of 26.38 M at block height 2,500,528. The mining difficulty typically soars when the number of miners connected to the network grows, an indication of decentralization and, by extension, security.
Over the past few weeks, Litecoin has seen an impressive hashrate and price growth and, thus far this month, it has seen a marginal upsurge of 6.77%.
Halving sentiment
The attractiveness of Litecoin is also being bolstered by the halving event that is slated to take place in August. The Litecoin halving, just like Bitcoin's, takes place every four years, in which rewards issued to miners will be slashed by half.
The halving is designed to reduce the rate at which new LTC tokens are released and, as such, introduces an element of deflation that may have a long-term impact on the price of the digital currency.
According to prior projections, investors may start buying LTC en masse in the coming weeks based on the growing halving sentiment.