Seasoned cryptocurrency investor and developer Mingxing Xu, also known as Star Xu, dropped a bombshell today with his tweet. It looks like the crypto segment might see one more blockchain launched in Q1, 2023. While the details are yet to be disclosed, what will it look like?
OKB blockchain will be launched by OKX: Highlights
Today, Feb. 16, 2023, Mingxing "Star" Xu, legendary crypto veteran and one of the pioneers of this segment in China, shared the first details of his new project.
On Thursday, Feb. 16, 2023, Star Xu, founder of OKX crypto exchange, announced the release of OKBChain, a new decentralized network;
OKBChain will go live as soon as in Q1, 2023;
The development of the new blockchain will be separated from the progress of OKXChain, a multi-purpose blockchain by the OKX community;
While OKXChain will remain 100% community-driven, OKBChain will be developed, curated and promoted by the OKX company itself;
OKBChain architecture will be unveiled in the coming weeks; however, it will be separate from proof-of-stake (PoS) consensus on OKXChain;
On this announcement, the price of OKB, a core cryptocurrency of the OKX ecosystem, smashed through its 2021 high and printed a new record of over $52.31.
As OKX is among the most influential ecosystems in the cryptocurrency segment that gained particular traction in the regions of Asia and the CIS, the release of its own blockchain will be hotly anticipated by developers, investors and crypto enthusiasts all over the globe.
OKX's founder Mingxing "Star" Xu announces new blockchain: What happened?
Today, at around 6:00 a.m. (UTC), Mingxing "Star" Xu, founder of OKX (previously OKEx), shared a tweet about a surprising price upsurge of OKX's core crypto, OKB, on centralized and decentralized spot trading platforms.
ATH,it's a good news. Also it's the community's trust to OKX. A new OKBChain will be launched in Q1 which is independent with current Okxchain , start to build OKB decentralized ecosystem. pic.twitter.com/7IcMbFa1VE

— Star (@starokg) February 16, 2023
He attributed the role of "community trust" in this marvelous upsurge for OKX capitalization and announced that, in the coming weeks, OKBChain will go live. This blockchain will be totally separated from the current OKXChain as it will be developed and maintained independently.
Technically, the new blockchain will supercharge the "OKB decentralized ecosystem," Mr. Xu added. After a few minutes, he decided to clarify the status and role of the upcoming blockchain for the OKX ecosystem:
To clarify, OKXchain is a PoS chain which is totally open and co-build by communities. OKBChain is developed and operated by the OKX company. The two chains are totally separate.
As such, despite being developed under the OKX umbrella, OKBChain will not retain the status and core tech specifications of "corporate chains" representing CEX heavyweights Huobi (Huobi Eco Chain or HECO), Gate.io (GateChain), KuCoin (KuCoin Community Chain) and so on.
On this announcement, the price of OKB spiked yet again. In less than two hours, the token jumped by 13% and peaked over $52. The rally of OKB looks really outstanding: despite the fact that it is not associated with one of the trending narratives (liquid staking derivatives, AI tokens, zk-proofs), the token added almost 110% in 2023.
The previous all-time high for OKB was registered on May 4, 2021, at $39.20.
What is OKX?
Launched amid the 2017 cryptocurrency euphoria as OKEx, digital assets exchange OKX remains one of the largest centralized crypto services ever. As of today, the Seychelles-headquartered exchange delivers its services to millions of clients in 100+ countries across the globe.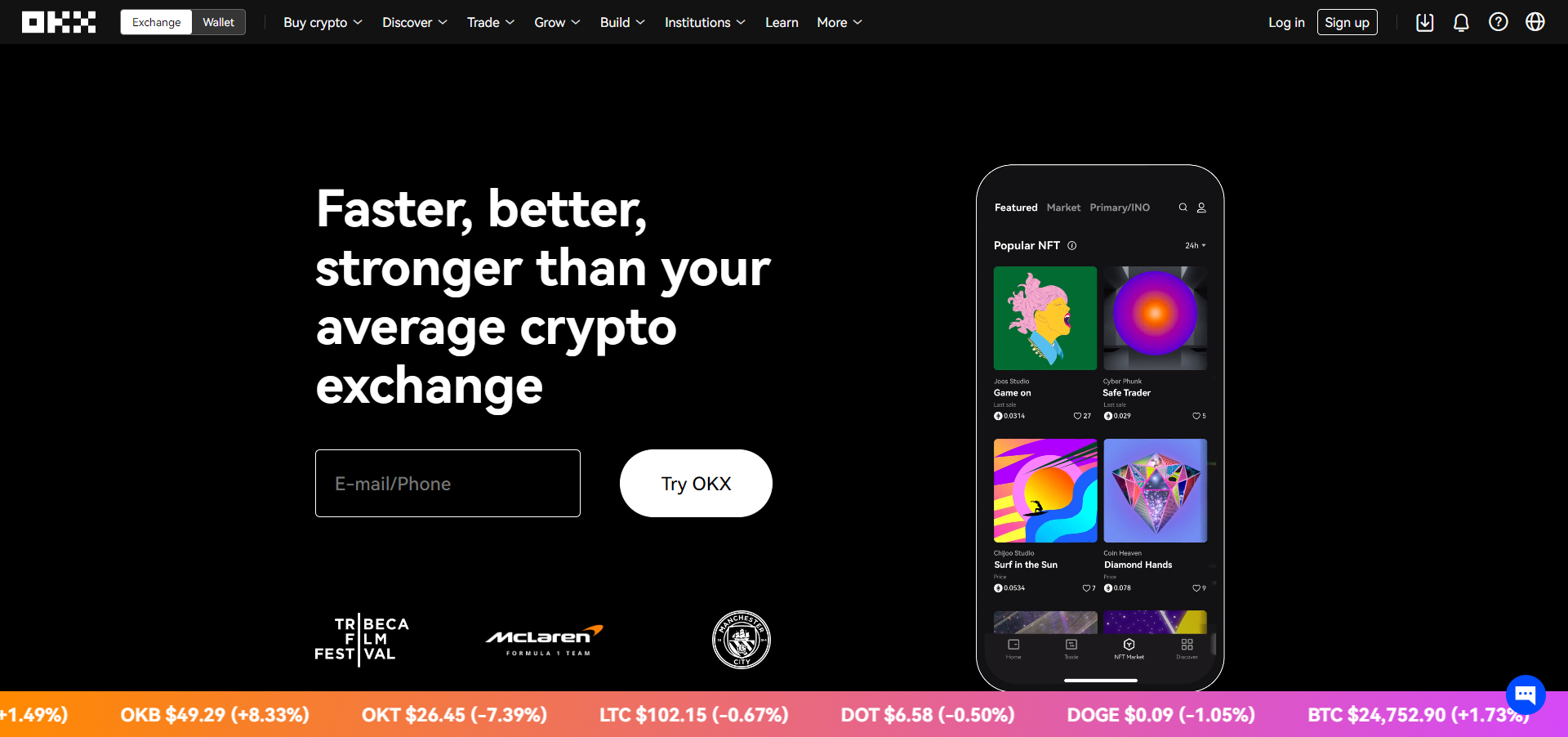 Besides spot and derivatives trading, the platform has a saving module for deposits in cryptocurrencies, a peer-to-peer trading dashboard, a "Buy Crypto" module with fiat support, a trading bot toolkit, staking functionalities (including the opportunities for stake Ethers (ETH) in its deposit contract), a flash loan toolkit and so on.
The OKX tokenomics is underpinned by OKB, its native cryptocurrency token. As of Q4, 2022, the aggregated OKX headcount exceeded 2000 employees. Chinese entrepreneur Jay Hao is the CEO of OKX crypto exchange.
What is OKXChain?
OKXChain (also OKC) is a programmable blockchain developed and nurtured by the OKX community. Launched in December 2020, it is compatible with the two main ecosystems in crypto: it is seamlessly interoperable with both Ethereum Virtual Machine (EVM) and Inter-Blockchain Communication protocol (IBC). As such, the blockchain can effortlessly interact with both Ethereum (ETH) and Cosmos (ATOM), two dominant decentralized networks in DeFi. OKC leverages the Tendermint algorithm and delegated proof-of-stake (DPoS) consensus. Its peak transactional bandwidth exceeds 5,000 transactions per second (TPS).
As of early Q1, 2023, OKXChain has 103 million active addresses, while the total value locked (TVL) in its ecosystem exceeds $149 million. Thanks to its developer-friendliness, OKXChain is used by DeFis, NFT marketplaces and play-to-earn ecosystems.
What is OKBChain and who can use it?
OKBChain is an upcoming blockchain developed by the team of cryptocurrency exchange OKX. It was developed quietly in 2022; for the first time, the existence of OKBChain was made public on Feb. 16, 2023, by Mingxing "Star" Xu, a founder of OKX.
Mr. Xu stressed that it would be separated from OKXChain and would address other goals. However, it is obvious that OKBChain will bring more utility to the OKB token and its ecosystem.
Most likely, the new blockchain will be integrated into a family of services developed and promoted under the OKX umbrella. Also, it seems to be rational for OKBChain to have EVM and IBC support to optimize its developer-friendliness.
Closing thoughts
As announced today, OKBChain will be a separate blockchain by OKX cryptocurrency exchange. It would be programmatic and fuel OKB tokens with more utility.
The development of OKBChain is backed by one of the largest and most influential crypto exchanges. Also, it would address the needs of the multi-million-strong OKX community in various countries.