What is Bithumb?
So, what is Bithumb? Based in Seoul, South Korea, Bithumb is a reputed exchange with a daily trading volume of more than $465 million. Statistically speaking, about ¾ of all Bitcoin (BTC) trading volume and half of all Ethereum (ETC) trading volume in South Korea comes via Bithumb.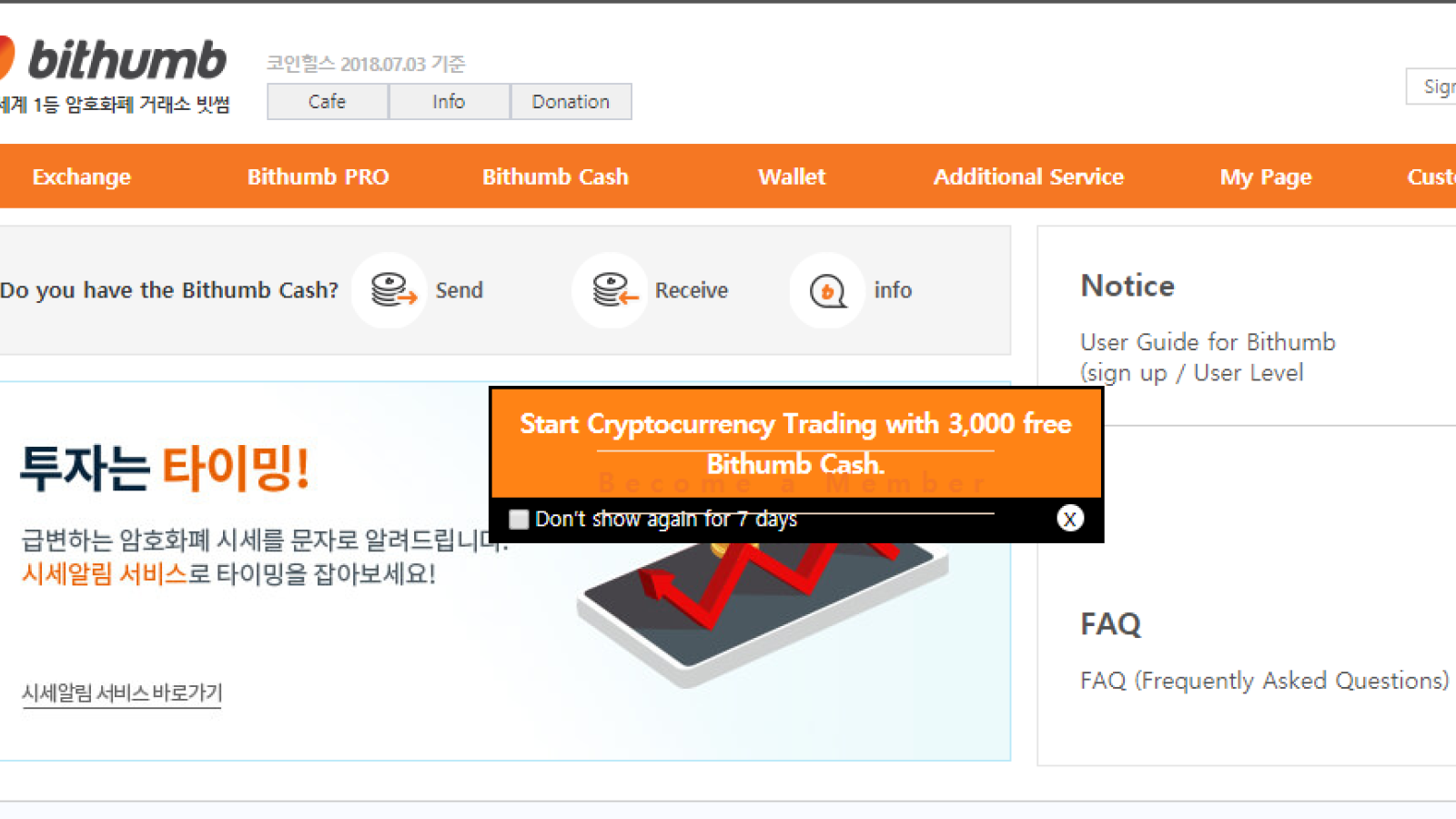 Bithumb is available all over the world, but it has recently banned 11 countries (including Serbia, Yemen and Syria) from accessing the exchange due to anti-money laundering regulations. Their official website bithumb.com translated into multiple languages. However, Bithumb is not that foreign-friendly when it comes to fiat money, since the South Korean Won (KRW) is the only available traditional currency here.

South Korea, a major crypto hub that is expected to become the first crypto-powered nation, banned ICO just weeks after the same decision was announced in China in 2017. This country doesn't have the same rancorous attitude to cryptocurrencies as China, but the ban still caused a frenzy in the community. Nevertheless, Korean crypto-insiders remain optimistic.

Bithumb exchange, on the hand, claims that right regulations are beneficial for them since it helps to make the cryptomarket more transparent and protect its clients. It is worth mentioning that the recent government investigation didn't reveal any wrongdoings on the Bithumb's side (illegitimate activities, tax evasion, etc.).

Bithumb Review
Bitcoin (BTC) is the main cryptocurrency which is traded here, but Bithumb also offers other altcoins to choose from. All in all, there are currently 12 available coins which (apart from Bitcoin) include some other major currencies such as Ethereum (ETH), Litecoin (LTC) and Bithumb Monero (XMR). As mentioned above, these currencies can be only bought with the Korean Won. The exchange wants to make sure that any coin featured Bithumb is relevant enough for the Korean cryptomarket. It explains a rather meagre choice that is typical for all South Korean exchanges. Rumor has it that the exchange is going to add NEO Bithumb in the nearest future, but the company still hasn't made any official announcement whether it is indeed planning to enlist Bithumb NEO.
In addition to cryptocurrencies, there are also Bitcoin gift vouchers that can be given out to family member or friends and later converted into the equivalent value in BTC. Each gift voucher is worth at least 10,000 Won which is close to $10.

Bithumb conveniently shows the list of all your financial operations which makes it easy to check any transaction or monitor your profit with the help of the blockchain explorer. Such a feature can't be found on any other exchange.

The exchange is also constantly expanding its online influence: it has recently launched a brand-new service which allows paying with crypto in a great number of physical stores across the country. On top of that, Bithumb is also constantly improving its online support (it has opened 8 consulting centers so far).

Perhaps, the Bithumb trading platform is more suitable for beginners than for experienced traders due to the absence of any advanced features. Furthermore, Bithumb doesn't allow you to trade with leverage, which may sound even more discouraging for big-league investors.

When it comes to spot trading, there are three main mods. They offer traders room to decide how they would like to purchase and sell cryptocurrency here.
| | |
| --- | --- |
| General Trade | Simply buying or selling a specific amount of coins with the help of the slider. |
| Easy Trade | Placing a pre-order while the transaction is conducted automatically. |
| Reversed Trade | Purchasing crypto at the reversed base price. Basically, your order won't be fulfilled until the price reaches a certain limit. |

You should consider engaging in Bithumb arbitrage trading, since Bitcoin prices tend to be a bit higher on this exchange. Hence, you may speculate on this discrepancy and profit off selling Bitcoin on Bithumb. However, many Bithumb US customers claim that the Korean exchange usually takes a rather hostile stance towards non-Korean traders and goes as far as throttling international transactions.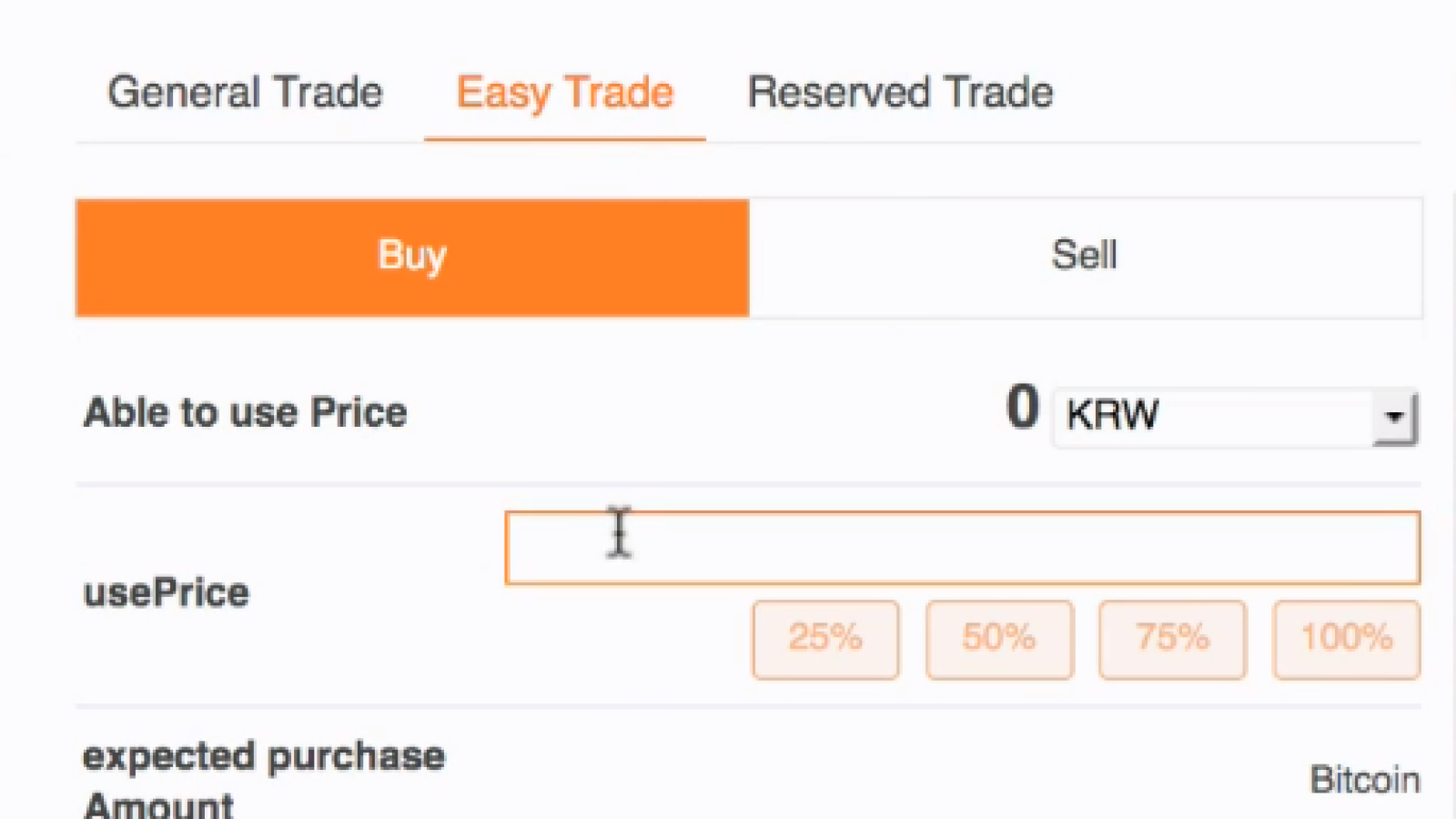 How to Use Bithumb?
In order to register for Bithumb services, click on the 'Sign Up' button and type in the required information. Once you've done that, you will receive a verification number to your phone (2FV). Later you can also create a Bithumb API key that you have to remember along with your secret key.


Looking at the home page, you can see the main services that you can take advantage of ('Exchange', 'Bithumb Cash', 'Wallet', 'Remittance').

The list of all the currencies is traditionally located in the left top corner while the market status with current Bitcoin prices is on the right.


In the center of the page, there is 'Buy/Sell' section where you can see three aforementioned trading modes. Simply click on 'Buy Order' in order to conduct a transaction.




Is Bithumb Safe?

A few weeks ago, the crypto world was shaken by the Bithumb news about a major hack which resulted in more than $30 million dollars being stolen from the Korean exchange. Bithumb announced on Twitter that they were planning to move all their funds to the cold storage days before the full-blown cyber attack happened. While all the details of this major security breach remained undisclosed, pundits point out failed security enhancement as the main reason. It is peculiar that Ripple (Bithumb XRP) was the main cryptocurrency targeted by hackers, and it is unclear whether other digital currencies were compromised as well.

Despite covering the losses, Bithumb must fight tooth and nail to preserve its reputation, since it is not the first time when they face a major security issue. Back in July 2017, more than 30,000 customers suffered from hackers who aimed at stealing their personal information.

So, what's the bottom line? Is Bithumb safe? This exchange has been on the market for five years and has proven to be a very reputable platform (regulatory compliance, a huge customer base, payment of taxes and so on). The recent hack clearly pales in comparison to other attacks directed at now-dead exchanges, but the fact that Bithumb quickly recovered and managed to repay all the stolen money from its own reserve in to time just proves how big this exchange really is.

Bithumb Verification
You can deposit or withdraw money from Bithumb without confirming your identity (about 60% of its clients do not use real-name accounts). If you want to get verified, simply upload your ID scans. In order to get unlimited access to all four levels of this exchange, you actually have to provide more information about yourself (a personally written pledge and scans/photos of your utility bills for address confirmation). Bithumb verification helps to reach a higher daily trading limit.
Bithumb Fees
Despite a relatively small number of trading pairs and bias accusations, Bithumb still remains one of the biggest players on market partly due to its low trading fees that are praised in practically any Bithumb review. Again, the need to exchange US dollars into Korean Won can be considered a major drawback for Bithumb USA traders, but competitive fees can definitely compensate this effort.

There are no Bithumb fees when it comes to making a deposit in KRW or BTC. The withdrawal fees are the following (depending on the currency of your choice):
1,000 KRW (roughly $0.9);

0.0005 BTC;

0.01 ETH;

0.01 XRP.
Bithumb Withdrawal Limits
Withdrawal limits correlate with your verification level. In May 2018, Bithumb announced about sticker requirements to the verification of foreign users and lowered withdrawal limits for unverified users. Until recently, the daily withdrawal limit was set at 50 million KRW, but it has been decreased to 45 million. Bithumb claims that such measures are important in order to prevent financial crimes fueled by anonymous transactions. Go to Bithumb Reddit or Bithumb Twitter for more information about withdrawal limits.