If you are going to join the rows of proud Bitcoin owners, the first thing you should take care of is a Bitcoin wallet. Where you keep your digital riches matters a lot, so trust your previous BTC tokens to the most reliable storage providers only. What are the worthiest BTC wallets in 2019? We have prepared reviews of popular solutions – it will guide you through the mire of Bitcoin wallets.
But before we start, let's observe the rules of choosing a safe and reliable BTC wallet.
How to pick out the best Bitcoin wallet?
You should consider your own preferences and needs. Here are a few aspects to pay the utmost attention to:
Need to work with your crypto portfolio on the go? Then opt for a mobile wallet, such as Mycelium, Jaxx, or Copay.
How often will you need to make BTC transactions? For long-term holding and cold storage, consider hardware and paper solutions. Online and desktop versions are more flexible for trading and spending.
What amount of BTC will you handle? For huge BTC amounts, use hardware wallets. For minor sums – web and desktop wallets.
Is the wallet secure enough? Ensure that your private keys won't go online. If they do, make sure you deal with a reliable website that won't disclose your data to third parties.
What's the transaction fee? The commission for BTC transactions can range from 0% to 4% and higher. Some wallets don't charge any commissions, but you will have to pay fees when connecting to trading platforms.
Ideally, you should use a combination of wallets – each for its purpose. That will ensure higher security and fast access to your digital funds.
Types of Bitcoin wallets
There are four main categories of Bitcoin wallets. They vary by the way you can access your assets.
Hardware wallets
Those are devices that look like typical USBs and are connected to the user's computer in a similar manner. A hardware BTC wallet keeps the private keys and can be accessed only when the owner enters a PIN. The user's digital currency cannot be accessed via the Net – direct connection to the gadget is required. It's called cold storage and is considered to be the safest way of storing assets. The main drawback is a relatively high cost of the solution.
Online wallets
These are online services that allow users to generate their client area with their own Bitcoin wallet. It means BTC is virtually stored on third-party servers. Because of the threat of hacking, this method is considered to be unsafe. However, it depends on the website you select.
Desktop wallet
In this case, users install software on their PC or a mobile app. Private keys are stored on the device and don't go online. This is a relatively safe method of crypto storage unless your PC is vulnerable to malware and viruses. Such software might require gigabytes of space and some basic technical skills, so it should rather be used by those who are IT-savvy.
Paper wallets
This is the rarest and the safest way of crypto storage. User's private and public codes are stored on a piece of paper. It can be put in a bank safe deposit. Although it sounds outdated, this method is still relevant and reliable.
Now when you know the essentials, it's time to observe the best Bitcoin wallets for 2019.
1. Copay
This wallet was developed by BitPay five years ago to couple unbeatable security with intuitive navigation and rich features. This is why Copay is one of the best software solutions for BTC holders. It leverages multisig technology for fast verification of transactions and allows more than 1 signature, which guarantees better protection against hackers. Besides, this is an open-source solution, meaning you can have better control over your funds. It will be equally efficient on your desktop, web, or mobile interface. Copay works on all major operating systems.
Copay renders the whole gamut of features to receive and send payments:
2-step authentication

safe payment verification

Bitcoin Payment Protocol support
2. Coinbase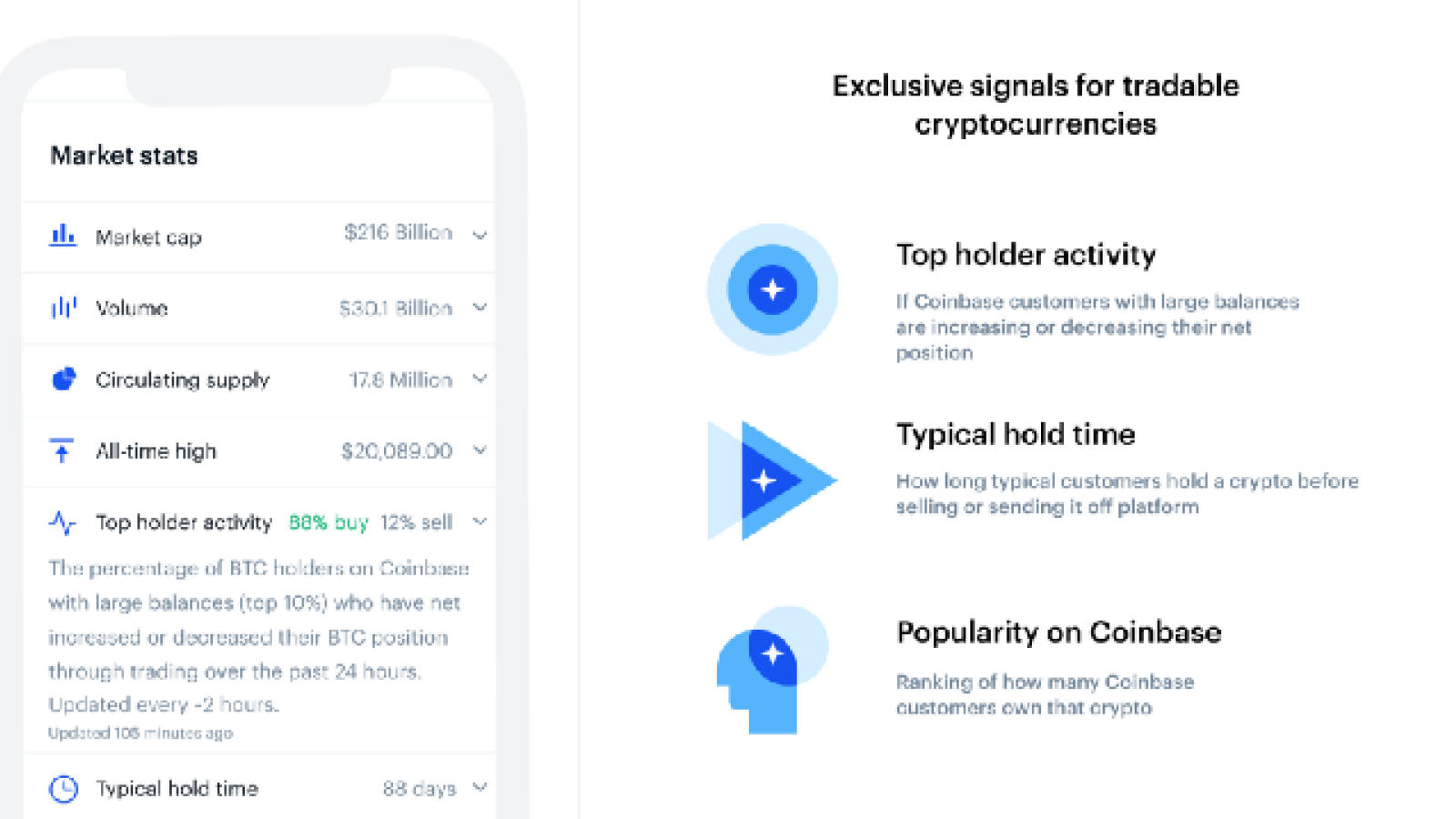 Not that it's the safest option for BTC storage – Coinbase has a few downsides when it comes to privacy and security. For example, it controls your private keys and tracks where and how you spend your Bitcoins (some users' accounts are blocked for illegal purchases made with BTC in the darknet).
However, Coinbase ensures unbeatable convenience and is perfect for buying and selling crypto. With this website, you can establish a direct connection with a U.S. bank account and have dollars at your disposal to buy BTC instantly. Sold BTC will be automatically converted into USD and sent to your account, too. It's a very flexible platform.
Another concern is Coinbase's vulnerability to hacker attacks. The sad Mt. Gox example has proven that online storage can be a huge mistake – hackers invent new ways of stealing digital money, so IT teams should always be on guard.
3. BRD Wallet
BRD is a no-brainer even for beginners. It allows for managing major crypto assets and is available for both iPhone and Android. Using this Bitcoin wallet, users can buy BTC in different ways (via ATMs, in person, credit cards, wire transfers, etc). Cryptocurrency conversion is also possible. BRD wallet makes up for flawless user experience.
What about security? BRD wallet is connected to the blockchain via a 12-word paper key. Thus, you don't have to deal with accounts and numerous passwords. Simple as never before!
4. Coinomi
This is a multi-language application that was created for users from all over the world. The web-based wallet can be used on tablets and smartphones. It features 2-step authentication and a user-friendly interface for fast and easy BTC management. There's everything you need and nothing you don't.
5. Blockchain.com
This is one of the most commonly used BTC wallets because it enables Bitcoin transactions made via both browser and mobile phone. Interestingly, this hybrid wallet stores your private keys on the Internet but doesn't have access to them. Storage and the marketplace are divided from each other. However, you should transfer money only to the receivers you trust – the wallet will be loaded from their servers.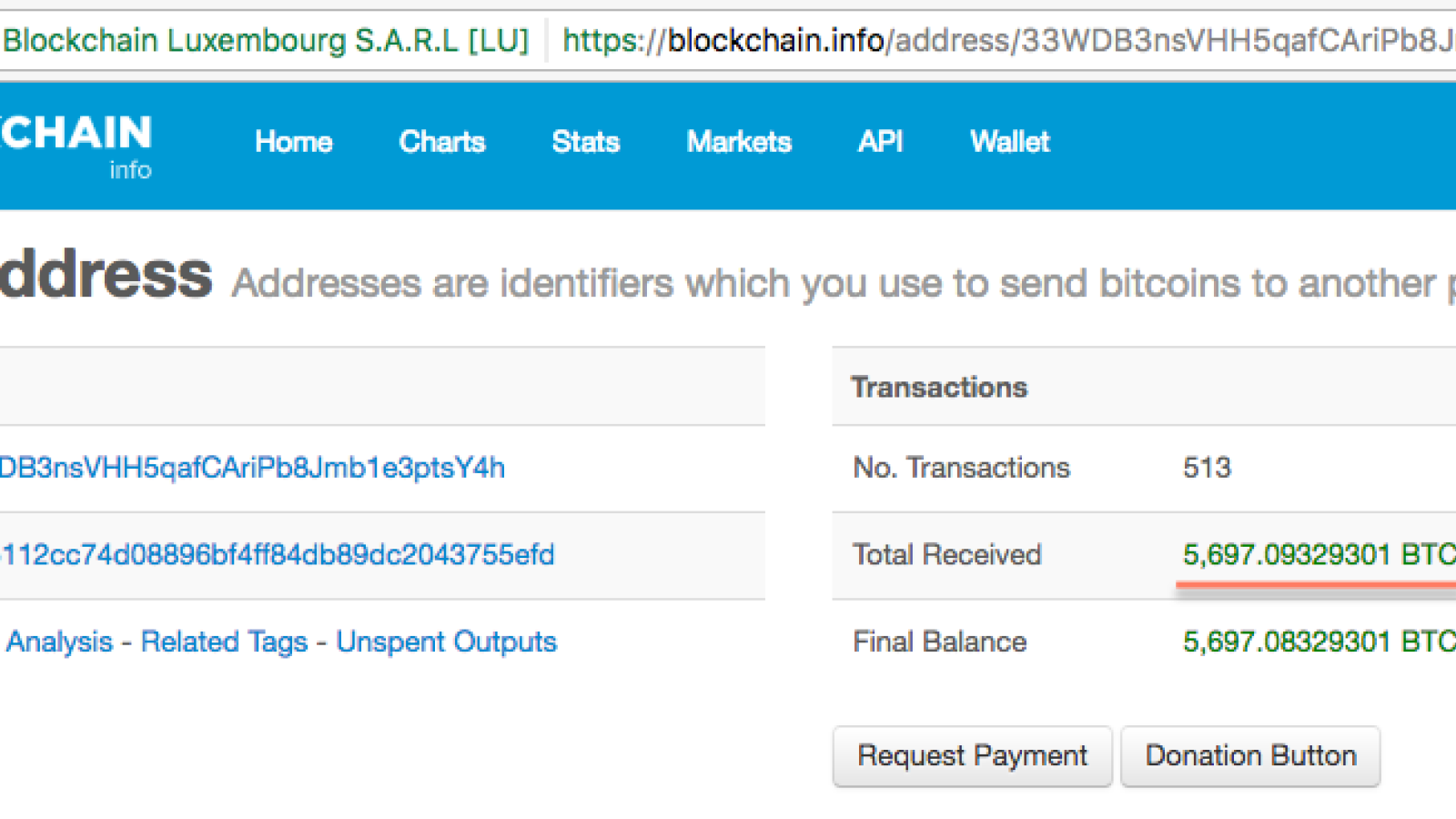 This Bitcoin wallet is suitable for starters who are only learning the nuts and bolts of cryptocurrency. The company is well-established and has gained trust among the crypto community. The only drawback is that anonymous transfers are unlikely to be made with Blockchain.info.
6. GreenAddress Wallet
This cryptocurrency wallet provides users with total control over their personal assets, including BTC. Here, you can set up transaction limits, spending threshold, and so on. What makes it superb from a security standpoint? It enables 2-factor authentication for every transaction made. Thus, it guarantees the safety of your cryptocurrency, even though such an approach isn't convenient. Transactions are made a bit slower.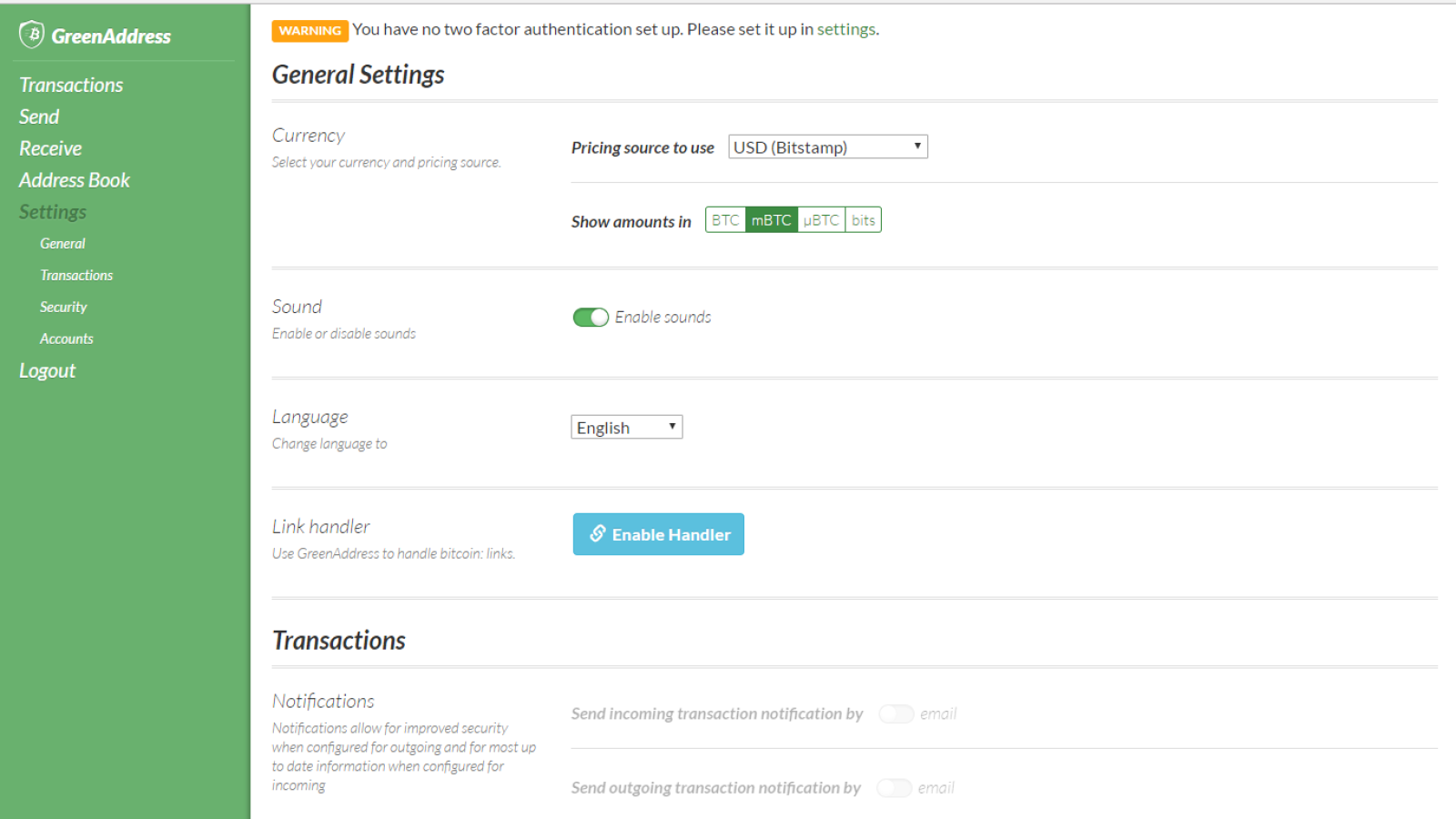 The vast majority of user reviews are pretty fair, and users agree that this wallet isn't hard to navigate and comprehend. So if you don't mind the trade-off between security and speed, GreenAddress would be a perfect choice.
7. Robinhood
This platform was started as a trading website, but recently it extended the list of available features and included support of Bitcoin and a few other crypto assets. Like Coinbase, Robinhood serves as both an exchange and wallet. However, it puts a heavy focus on mobile experience and doesn't provide a web interface for traders.
Why try Robinhood? It's totally free! There's no fee for purchasing or selling BTC, like any other stock on the platform. However, some claim that this app isn't secure enough. So far, no issues with hacking have popped up.
8. Trezor
This hardware BTC wallet is one of the top picks for storing crypto. It works as a USB drive, the contents of which can be accessed by the owner only. You need to set up a PIN code to access the funds and manage them. If you lose it, there's a recovery seed for restoring the account. One of the best things about Trezor is its multi-currency feature.
Aside from that, the wallet is very easy to use: its interface is understandable even for beginners. Just plug it in and enjoy simple the navigation coupled with unbeatable performance. The gadget is lightweight, so you can easily take it with you and have BTC at your fingertips. Additional security is ensured thanks to the 24-word seed combined with the passphrase, making accessing the wallet impossible for anyone but the owner! Warning: if you forget the passphrase, you won't be able to recover it.
Are there any downsides? Well, if you don't mind paying up to $100 and having to connect the device to your PC, this gadget is perfect. When Trezor isn't connected to a computer, it's simply turned off.
9. Exodus
This BTC wallet reminds one of Electrum but boasts a way more beautiful interface and more intuitive use. It has the same advantages as other wallets do, but looks much better. The user-friendly menu allows for managing BTC and tens of other cryptocurrencies. Users can also manage their portfolio and view statistics: the information about transactions is displayed in the form of charts and graphs. You can also swap BTC for another coin via the ShapeShift exchange – it's built in.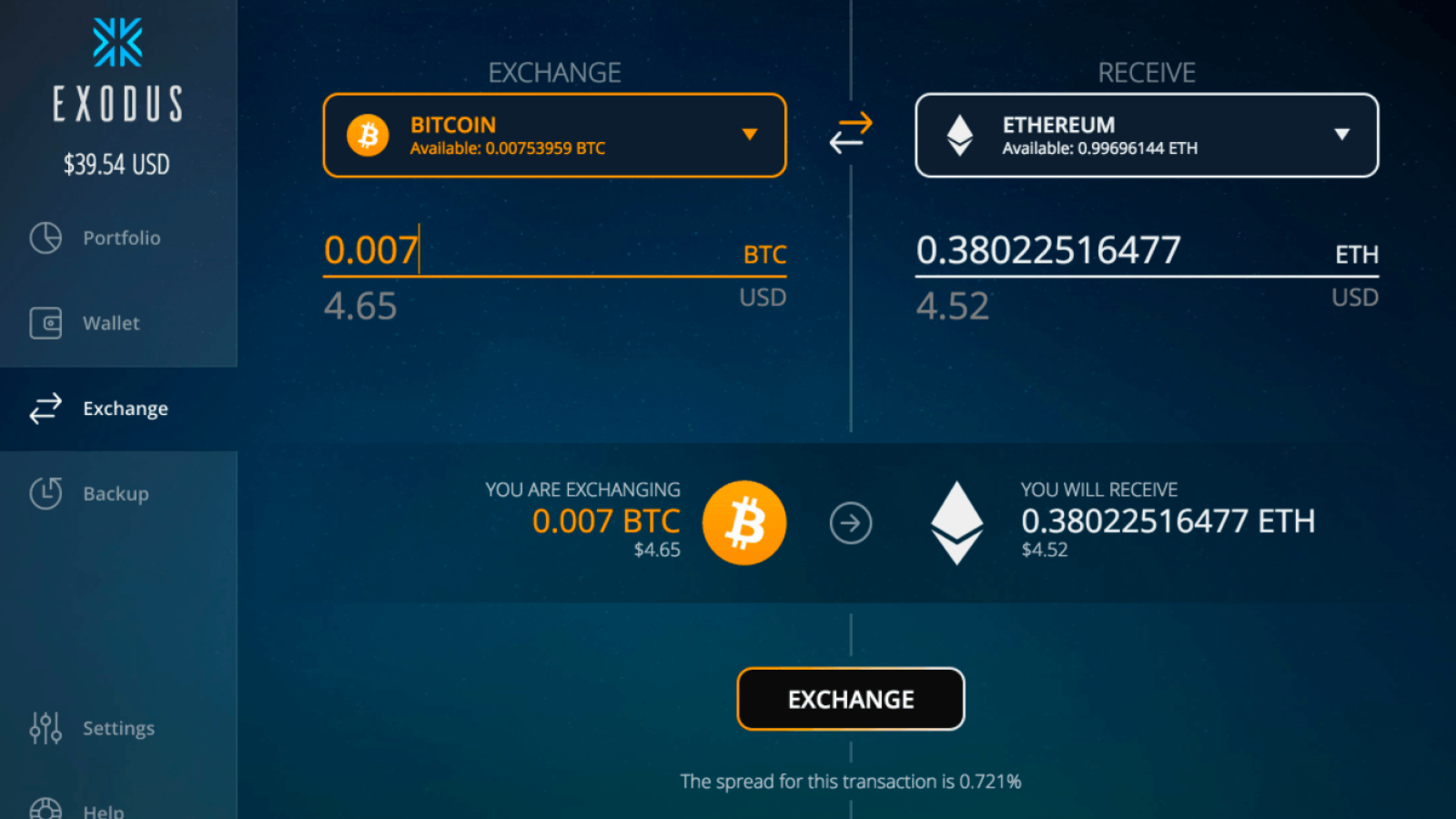 No account setup is required, so this wallet is perfect for beginners. From a security standpoint, it's also superb: there is private key encryption and many other useful features. Due to its additional tools, Exodus is recommended for people involved in investing and trading. Fees and commissions are paid to the network processing transaction, not to Exodus.
10. Mycelium
Want to manage your crypto assets on the go? Try Mycelium – a mobile suite for iPhone and Android. The software is recommended for tech-savvy users as it's a bit more complicated than other solutions around. But don't be scared – it just takes a little bit more time to understand what is what. No desktop or web interface is provided; Mycelium is made purely for mobile users.
The application is secure enough: the private keys are to be kept on the device, and you may preserve the anonymity. Use your Bitcoins on the go and don't be afraid of hacking – the app leverages all essential security practices. Thanks to BitID open protocol, it's possible to create backups and enjoy the support of hardware BTC depositaries.
11. KeepKey
This is one of the safest multi-currency hardware wallets around. Creators of KeepKey claim that it's bulletproof against hackers and malware. It's protected against physical theft, as well. Aside from storage, it can serve for transactions and the tracking of your BTC history. The gadget integrates with a software wallet suite on your PC and is responsible for the creation and keeping of a private key, as well as transaction signing.
KeepKey's price is similar to its counterparts, but its design and interface make it worth every dollar.
12. Ledger Nano S
Would you like to carry BTC in your pocket like regular money? It's possible thanks to the Ledger Nano S gadget. This device was designed to store various cryptocurrencies on its physical chip. It looks like a regular USB drive and allows for storing an unlimited amount of cryptocurrency. For fund management, a user should simply attach the device to his PC, laptop or mobile using the cable. Once the gadget synchronizes with the system, the user's balance will be renewed automatically.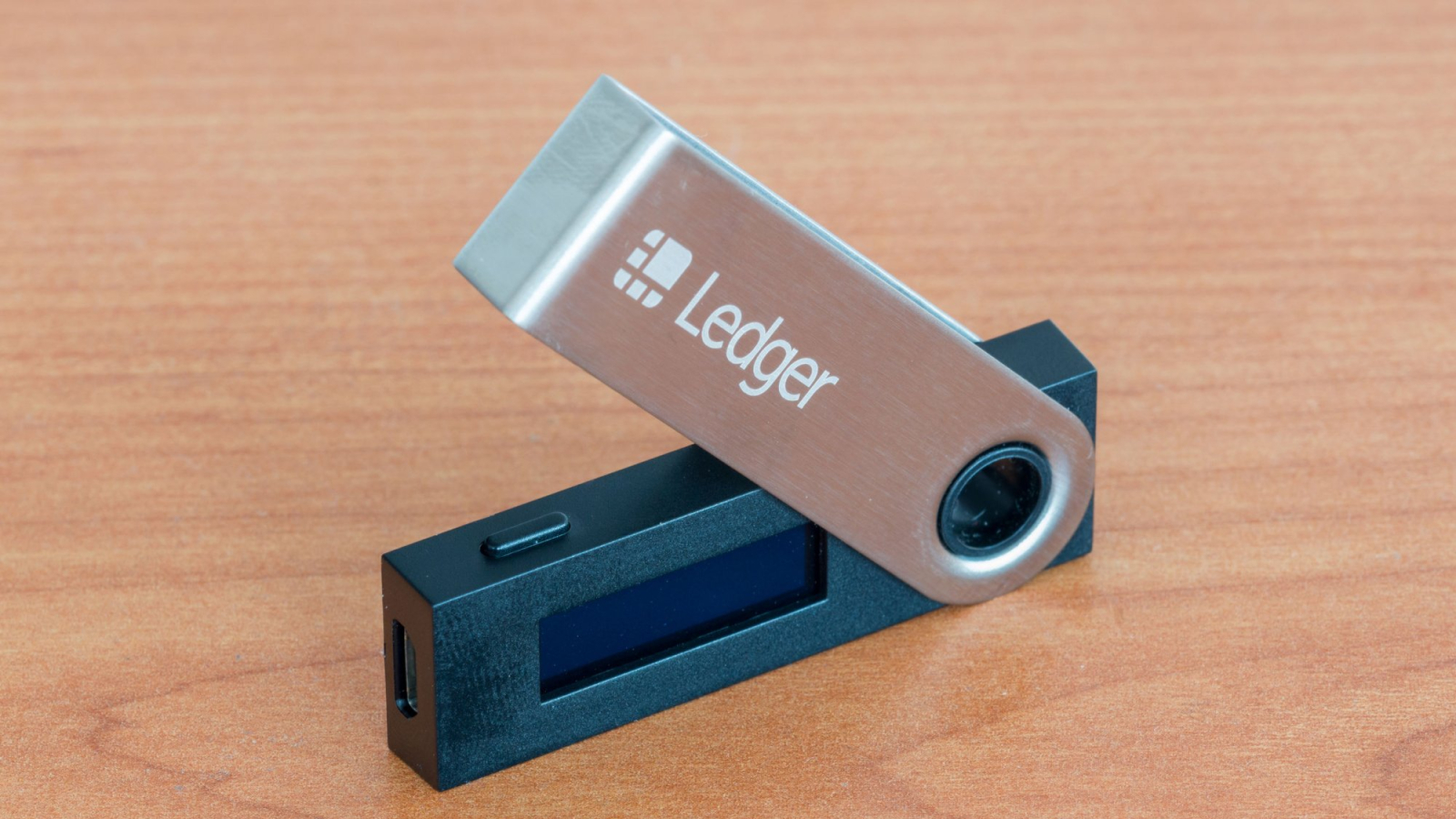 Ledger Nano S provides you with all the necessary tools: you can send and obtain your digital money safely. The private keys are stored right on the device and are never disclosed on the Internet.
Now the bad news. Ledger Nano S is not free: it costs $99, though you can buy it for as low as $59 with the discount provided by some sellers. Is it too much for the bulletproof security of your Ripple tokens? We readily pay the banks that keep our deposits safe and secure, so one-time $99 doesn't seem too much, especially if you handle large sums of crypto.
You can buy a safe Ledger wallet by using this referral link.
13. Jaxx
This Bitcoin wallet supports a few top tokens and is designed for maximum mobility. Initially, it was designed to serve as a mobile suite for Android and iOS, but the Jaxx team plans to release a desktop version, too.
So, why chose Jaxx? First, its creators did their best to make an intuitive, simple interface. It's a no-brainer, even for beginners. All you need is to download and install Jaxx on your mobile phone, log in, and make a wallet. Managing funds is as easy as 1-2-3. Secondly, Jaxx keeps users' private codes on the device: keys never leak onto the Internet, and no third parties can access them.
Last but not least is a 2-step authorization. Once you enable it, your account won't be accessed without confirmation from SMS.
14. Guarda
This is a lightweight wallet that supports several cryptocurrencies and can be used on computers and smartphones, which makes it a great choice for traders who want to manage their BTC funds on the go. Compatibility and reliability make it one of the best solutions so far.
Guarda puts clients' privacy on a pedestal: it doesn't keep the user's data, private keys or transaction details. Keys are left on the user's device and are deleted from the program once you log out. No KYC process is required, so you don't have to waste your time on verification.
15. Electrum
Electrum was designed to be a BTC software wallet for the Bitcoin community only. This is a simple platform for the safe storage of BTC and transaction signing. Electrum leverages the Simple Payment Verification (SPV) method that serves for verifying an operation within 5 seconds. The best thing about it is that you don't have to download the entire blockchain – that simplifies the task enormously.
To protect users, Electrum leverages 2-level encryption: your private keys are not likely to be hacked this way. Aside from it, the wallet boasts easy navigation and a user-friendly interface. This solution is available for all common OS, and you have the option of keeping your private keys on the device together with Electrum. This way, you'll benefit from multisig technology and extended functionality – you can set permissions so that Bitcoins are spent and stored in different wallets.
Compare BTC wallets
Let's check out how the most popular Bitcoin wallets differ:
| | | | |
| --- | --- | --- | --- |
| Wallet | Type | Multisig | Are fees adjustable? |
| Ledger Nano S | Hardware | - | Yes + segwit |
| Trezor | Hardware | - | Yes + segwit |
| KeepKey | Hardware | - | Pre-set |
| Copay | Mobile, desktop | Yes | Pre-set |
| Mycelium | Mobile | No | Adjustable |
| Exodus | Desktop | No | Pre-set |
| Jaxx | Mobile, desktop | No | Pre-set |
Practices for safe usage of a Bitcoin wallet
Put trust in your Bitcoin wallet, but keep doing the right thing to protect your finances from hacking and loss. There are several steps that should be taken for your financial privacy and security:
Keep your private keys under your strict control. It's better not to rely on third parties and keep the private keys only to yourself. Store the code on your devices or print it out and keep it in a safe place. Note that services like Coinbase and Circle do store and control users' keys, so choose an alternative wallet to preserve total privacy.
Another step in the direction of privacy is the use of a safe connection when you handle your BTC. What do we mean? Every time you process blockchain data from your wallet, the server detects your IP address and connects it to a corresponding address. If you want to keep your privacy, use such wallets as Bitcoin Core or Armory – they download the whole blockchain and store it on your device. Such wallets hide your IP address and protect your identity. However, a desktop wallet like this requires at least 200 Gb of space on your PC, and the amount of required space constantly grows.
For every transaction, Bitcoin wallets generate a new address. Since all BTC operations are public, the reuse of one and the same address makes your wallet more vulnerable since transactions are connected with one identity.
Use Bitcoin wallets according to the sums handled. Ideally, you should have different BTC addresses for different sums of money. Say, hardware or a paper wallet can keep your savings, while mobile and online wallets should rather be used for trading or spending.
Don't forget about backups. Create reserve copies of your wallet and keep them in several locations. This way, you'll be able to restore your funds in any case. For better protection of paper wallets, you can laminate them.
Bottom Line
The market offers an enormous amount of Bitcoin wallets – online, desktop, and hardware ones. What to use? It all boils down to your requirements and needs. There's no champion on this list because every solution has its pros and cons. However, you should always prefer tried and tested solutions. Don't trust your precious Bitcoins to some unknown websites and applications, even if they try to lure you with zero or low transaction fees.