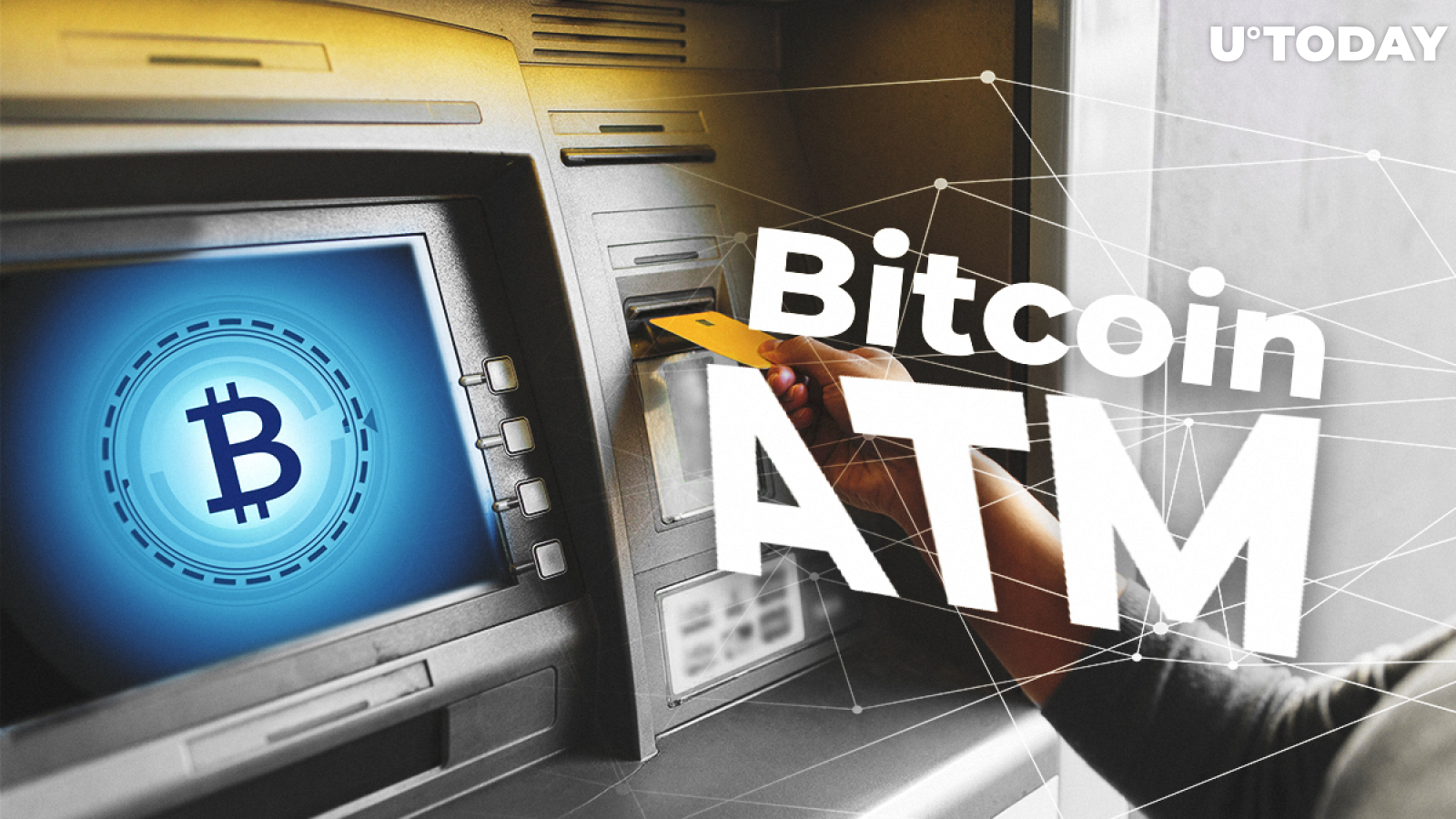 Cover image via 123rf.com
After the bears lost their grip, billions of dollars have poured into the cryptocurrency market. In the lingering bullish trend of recent months, Bitcoin and other cryptocurrencies have begun to attract more and more attention from ordinary people. Not everyone knows about the existence of Bitcoin ATMs, and they use crypto exchanges to buy or sell Bitcoin instead. Many are accustomed to carrying out financial transactions using ATMs. But why not use the same to buy and sell Bitcoin?
Regardless of countries and continents, the number of Bitcoin ATMs is growing every day. According to specialists, by 2023 the world ATM market will reach $145 million. Such machines to sell and buy cryptocurrency will become commonplace – why not start using them today?
What are Bitcoin ATMs?
A Bitcoin ATM is a machine for exchanging cryptocurrency for fiat money or vice versa. It can't be called a classic cash machine, because they don't connect to the user's personal account, but directly exchange one asset for another. Bitcoins and other cryptocurrencies are sent either to the user's wallet or issued in paper form. It should be said that most ATM work in one-way mode, that is, you can buy Bitcoin, and not sell. Although, about 30% are two-way and allow you to make a full-fledged sell, in exchange for cash.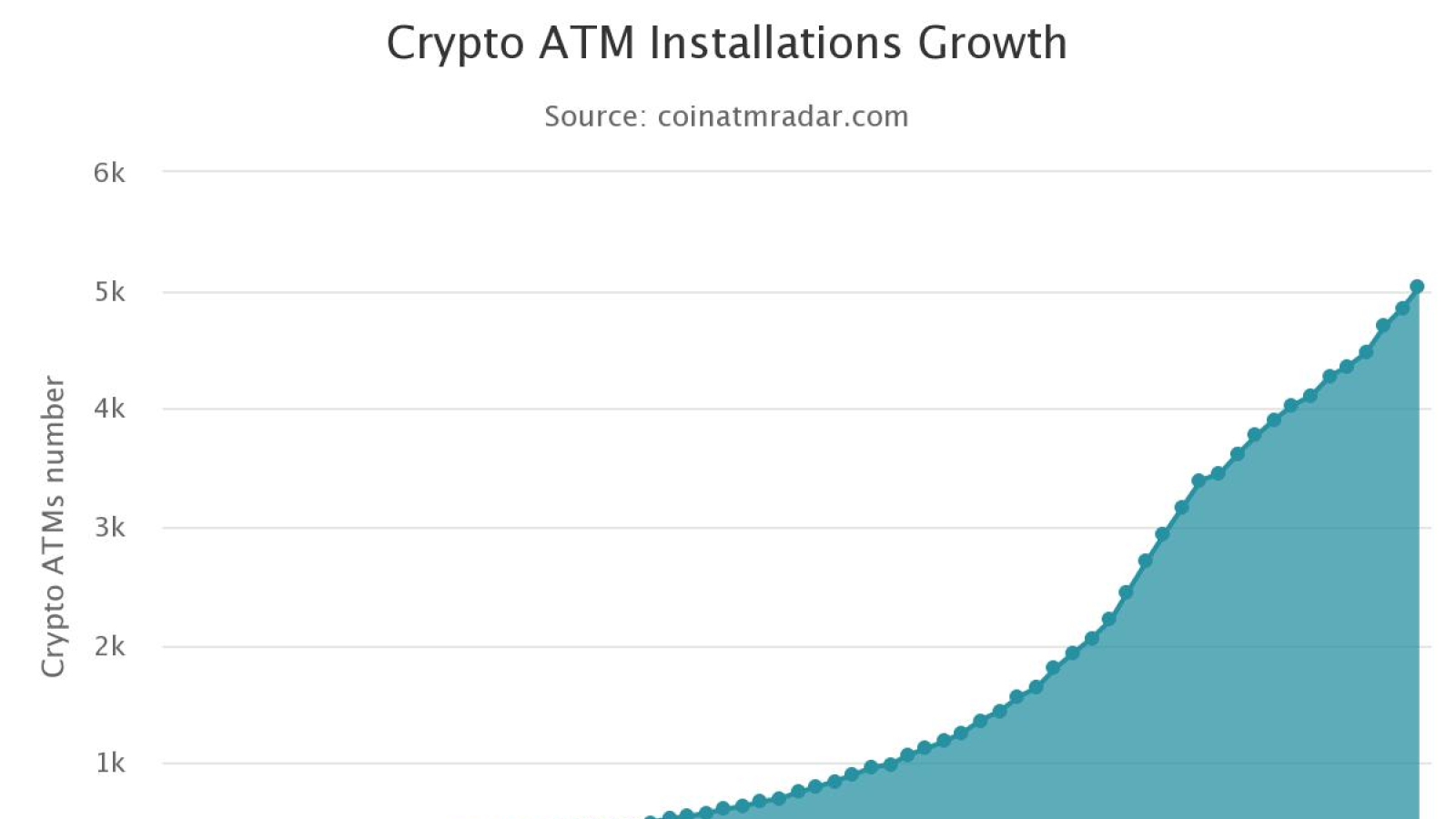 Bitcoin ATMs appeared at the end of 2013, and today there are 5,026 available terminals in 76 countries around the world. The number of machines is growing daily, so according to information for 2017, 4 new Bitcoin machines appear per day.
Why do we need Bitcoin ATMs?
The main task of Bitcoin terminals is to exchange crypto for fiat, or fiat for cryptocurrency. This is convenient because you don't need to delve into exchanges, make personal accounts and even have a bank account. Moreover, sometimes it's necessary to quickly cash in crypto, just for such an emergency, when there is no access to a PC, and terminals are needed.
The other side of the coin is people who value their anonymity because not everyone wants to provide comprehensive information about their income to banks. Therefore, Bitcoin ATMs are used to preserve anonymity. To be precious, it's more about pseudonymity as Bitcoin ATMs are usually equipped with hidden cameras. Hence the negative side of them: precisely because of this particular feature, many self-respecting companies refuse to cooperate with the developers of automatic machines.
Why it's better to buy and sell on ATMs than on exchanges
Of course, we recommend to figure out how to use the exchanges, but for many people, Bitcoin ATMs are the ideal choice – especially if you follow the "Buy and Hold" strategy. However, the machines have obvious disadvantages, which we will discuss below.
How to find the nearest Bitcoin ATMs
Finding Bitcoin terminals today isn't difficult. Residents of the United States are especially lucky in this regard. Only it's worth clarifying that most of the ATMs are one-way (more than 60%). This is due to the fact that selling cryptocurrency doesn't take up more than 10% of all transactions. There are almost 3,200 Bitcoin machines in the United States. Most ATMs are located in New York, but in other countries, Bitcoin terminals aren't uncommon:
Canada has 687 locations.

In Europe, the record belongs to Austria - 267 locations.

In the UK, there are 249 ATMs.

Spain — 89 Bitcoin cash machines.

Czech Republic — 67 locations.

Russia and Switzerland — 58 machines.
In other countries, there are less than 50 Bitcoin ATMs, but this number is gradually increasing.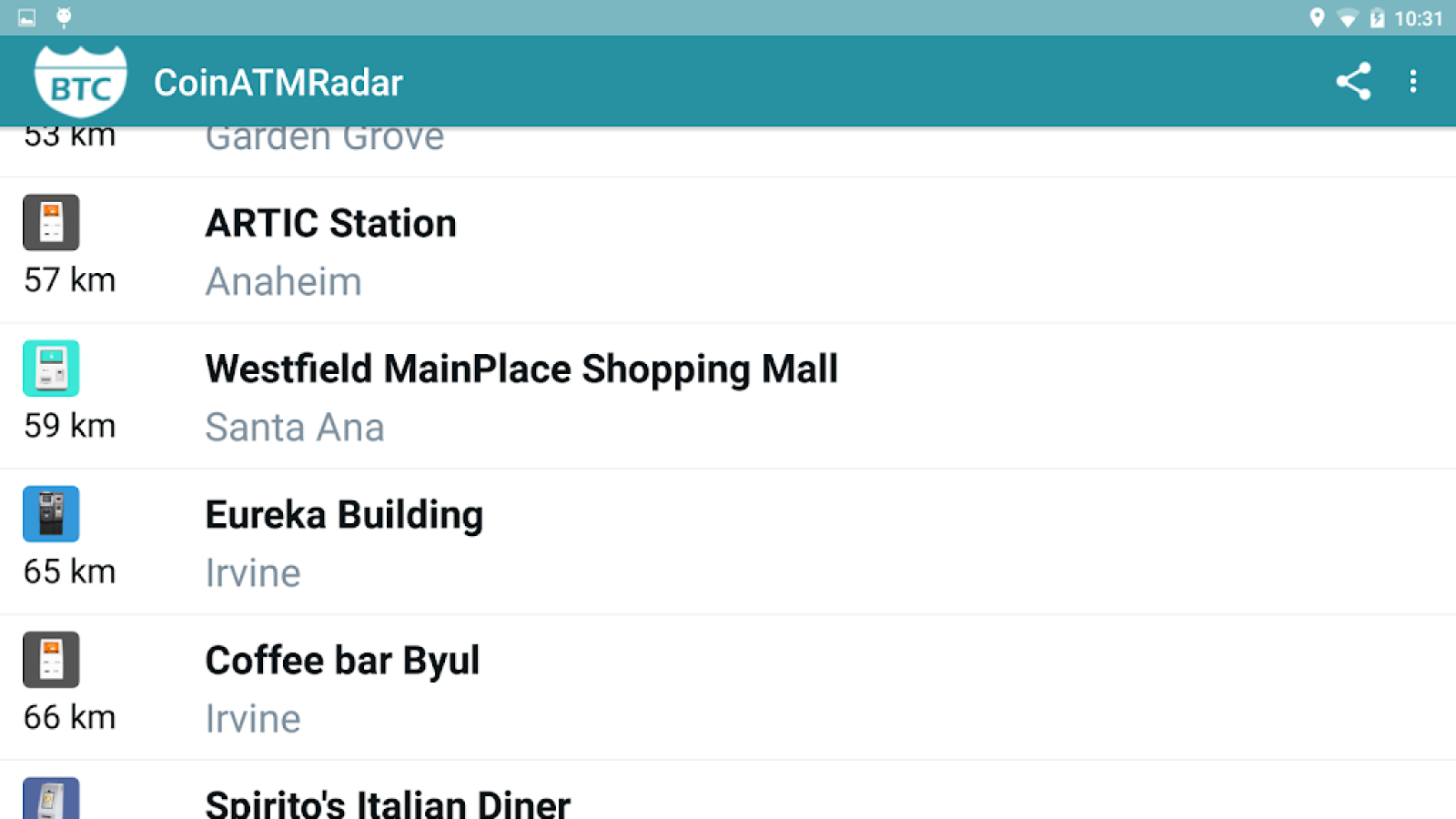 A great way to find Bitcoin terminals is the Bitcoin ATM Map application from CoinATMRadar. It's absolutely free, constantly updated and available on Android and iOS. With it you can:
Look at a Bitcoin ATM map.

Find Bitcoin machines closest to you.

Check all ATM details (fees and limits).

Get directions from your current location to the Bitcoin terminal.
Also, we should mention that the site CoinATMRadar itself is completely dedicated to Bitcoin terminals. You can find the nearest ATMs through it. In addition, the site is constantly updating information and statistics.
How to buy Bitcoin and other cryptocurrencies
First of all, we recommend creating your own Bitcoin wallet. Some ATMs are able to create new wallets, thereby simplifying the buying process, but it's still better to have your own. There are different options for wallets, we list the main ones:
Accounts on crypto exchanges (Coinbase, Kraken).

Online wallets on services (Blockchain.com).

Offline wallets on the PC (Electrum).

Physical device (Ledger, Trezor).

Mobile wallets (Copay).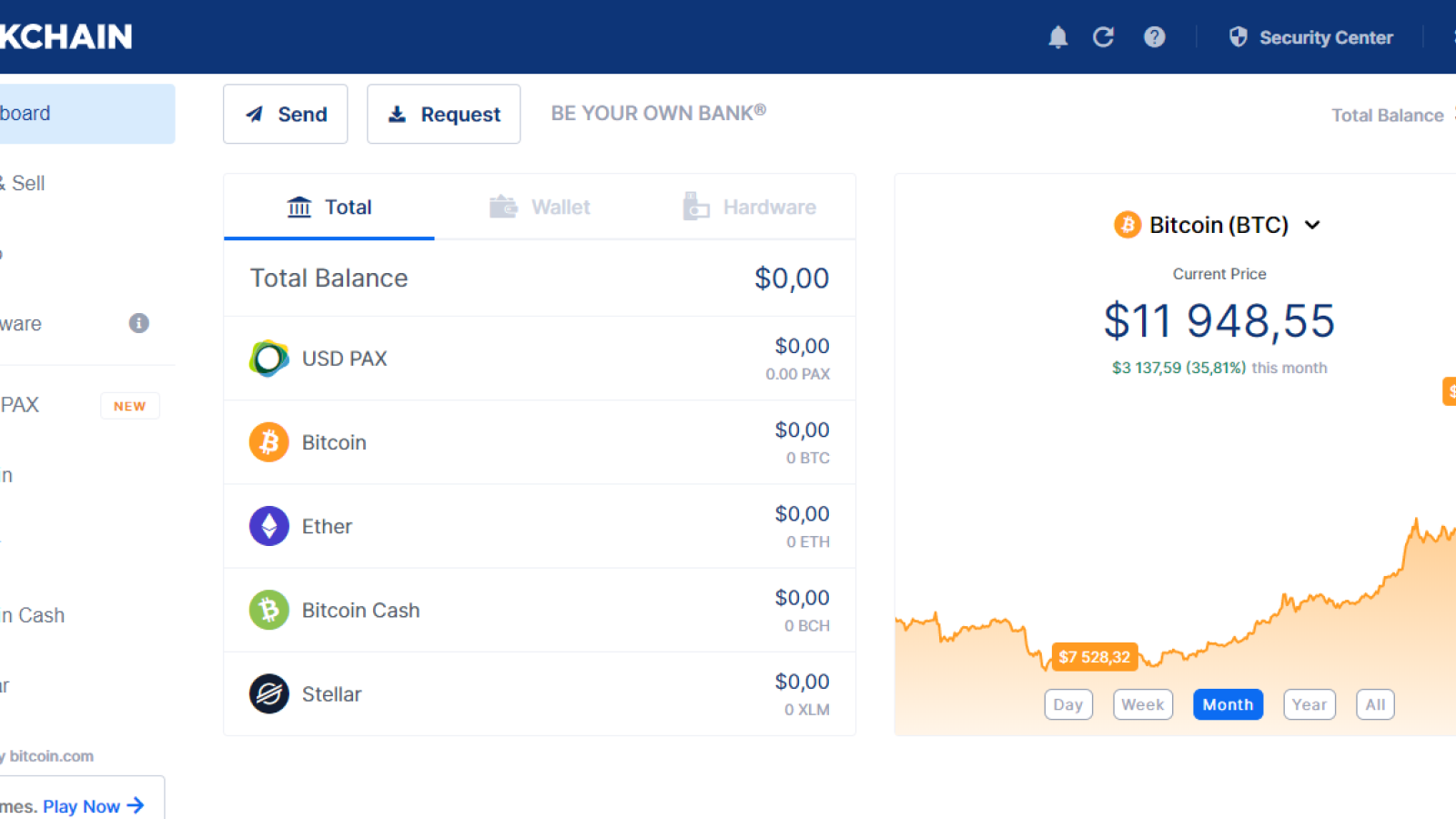 All of them differ from each other in functionality and degree of protection, each option has its pros and cons. We advise newbie investors to start storing crypto with mobile and web wallets, as this is the easiest option. Also, it's better to use a wallet that provides you with your account private and public keys.
When the wallet is already there, the Bitcoin ATM is found and the goal is clear, you can buy crypto. The interface of all ATMs will be different, they may differ in a set of cryptocurrencies, but the sequence will be approximately the same:
Choose to buy Bitcoin.

Complete the verification process (it can be code in SMS, fingerprint, selfie or any other method).

Add your wallet number using a QR-code.

Deposit cash.

Get Bitcoin (in most cases, you can print a receipt).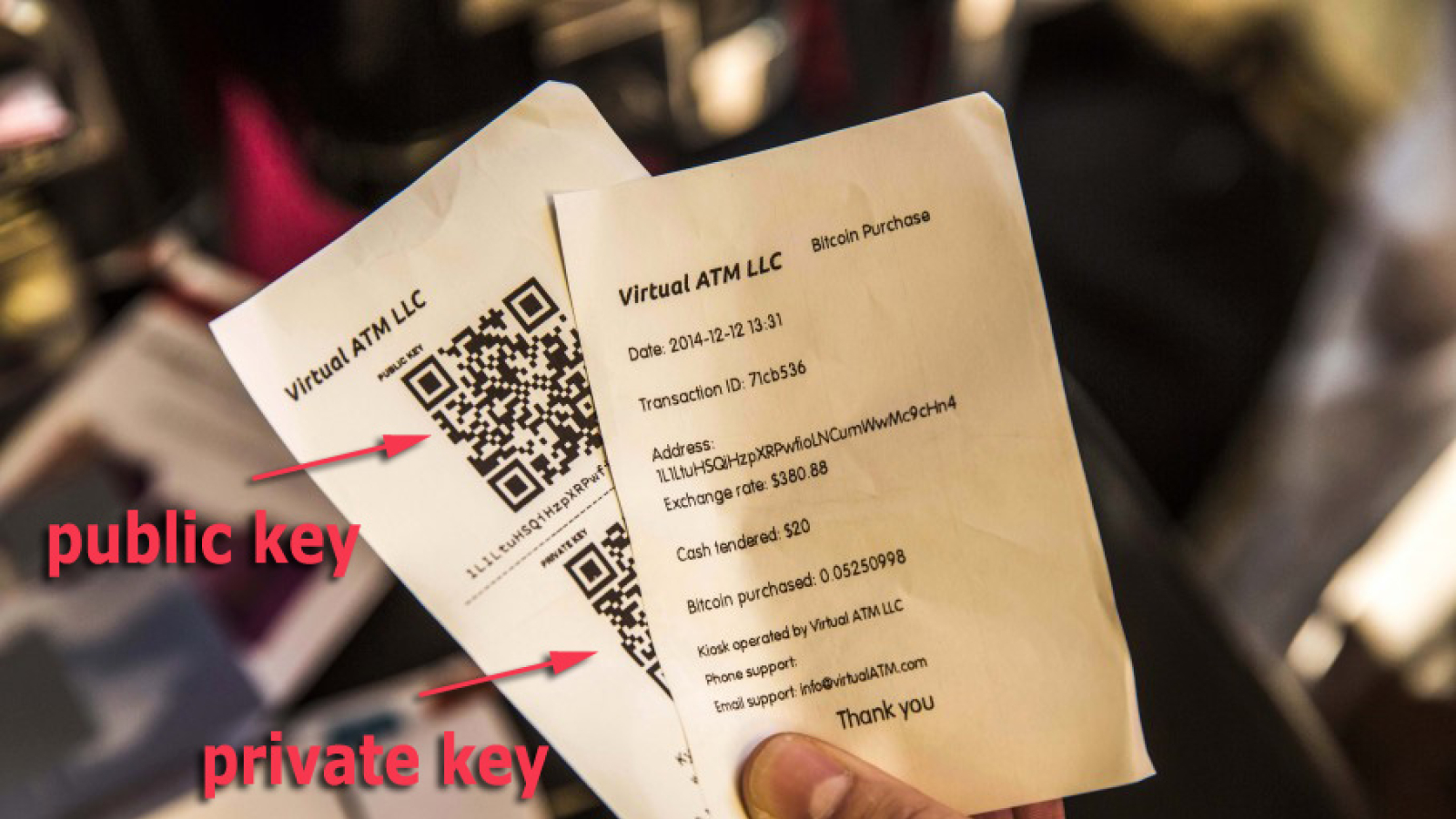 The process of obtaining Bitcoin can be so different for each type of ATM, that even the verification of user can differ in the same model. It all depends on the preferences of the operator. But in principle, the process is intuitive and uncomplicated and as a result, you will receive your Bitcoins.
How to sell Bitcoin through ATMs
In the case of selling Bitcoin through ATMs, you will have to wait a bit. The process is similar to the process of buying, only it all starts with a click on the Sell button. The difference is that the ATM will give the wallet number in the form of a QR-code to which you need to send the selected amount of cash in Bitcoin. After confirming the transaction, you must scan the code on the issued receipt. If the transaction is completed successfully, the ATM will issue cash.
The selling process also differs from one ATM to another. As you know, confirmation of a transaction can take from several minutes to several hours, so you will have to wait a bit.
Disadvantages of Bitcoin ATMs
The main problem with crypto ATMs is the high commission. If you think that by the word high we mean 2%, it's not! The amount of commission can reach 9-10% when buying, and 6-7% when selling – this is significant! Perhaps this is the main disadvantage of Bitcoin ATMs. Typically, users are charged with the highest fees in the areas where Bitcoin ATMs are not common.
Others include the time of the operation, after all, waiting for 15 minutes to verify the identity, and then also confirming the transaction within an hour isn't so fun. Well, the last con is a limited number of supported cryptocurrencies, except for Bitcoin. More on this later.
Popular Bitcoin ATM manufacturers
As in all areas, Bitcoin ATMs have their own company leaders, two of which own more than 60% of the market. There are Bitcoin machines from more than 40 manufacturers on the market, but most of them don't even have 100 cash machines. Therefore, we will talk about the most popular.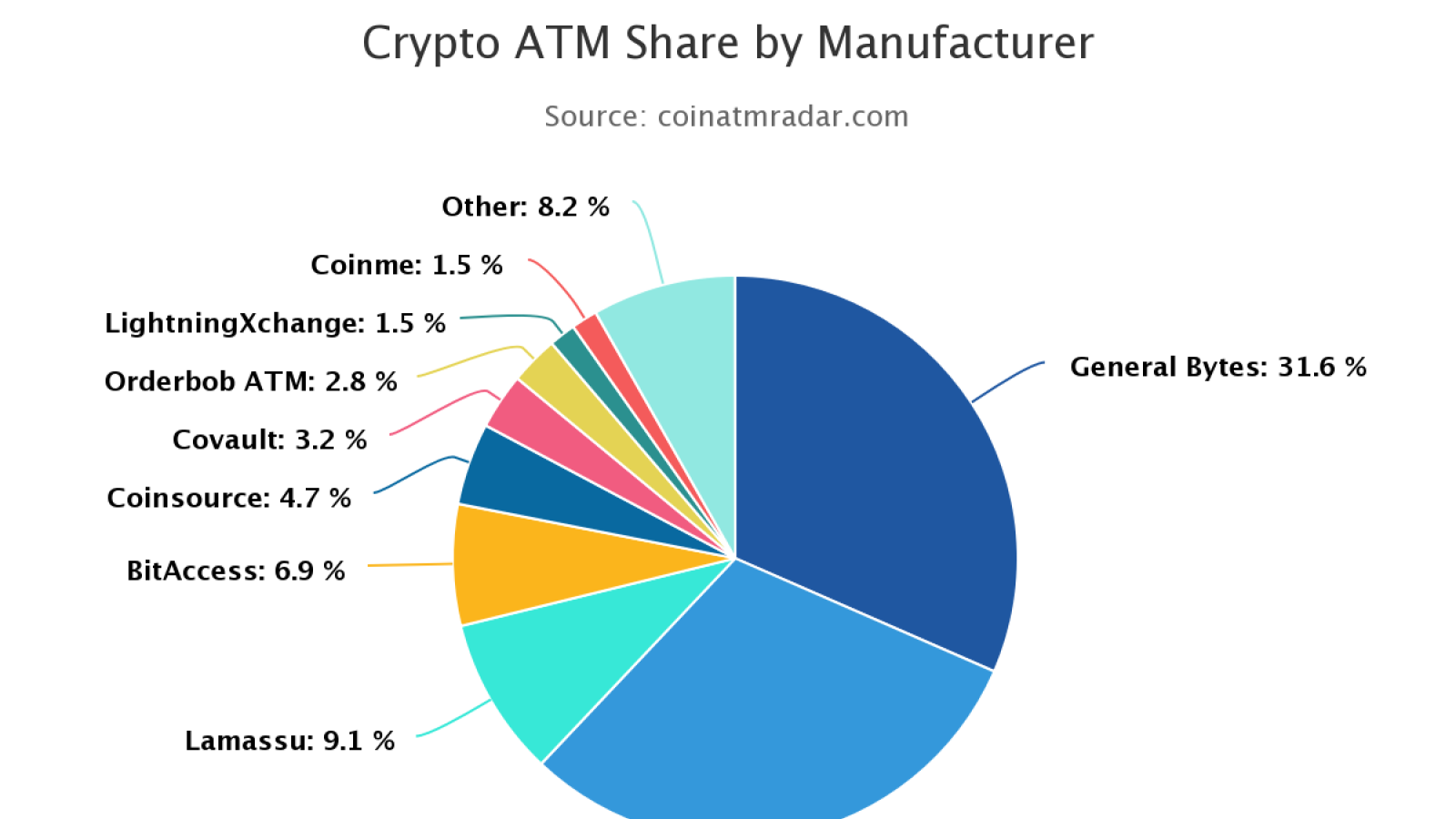 General Bytes
The company ranks first, it owns 31.5% of the market. This Czech company owns 1586 Bitcoin ATMs, most of which are located in the United States. Their ATMs work on the Android, and it takes an average of 15 minutes to verify the user. Bitcoin and 7 altcoins are available for selling and buying.
Genesis Coin
This American company produces two-way Bitcoin ATMs. It owns 1,533 ATMs or 30.5% of the market. Through machines, you can buy and sell Bitcoin, Litecoin and Dogecoin.
Lamassu
The company is one of the first to produce crypto ATMs, and today ranks third among all manufacturers, having 9.1% of the market, or 457 ATMs. Lamassu machines support a large number of cryptocurrencies:
Bitcoin

Zcash

Ethereum

Bitcoin Cash

Litecoin

Dash
The list of cryptocurrencies supported by ATMs is pretty small – except for Bitcoin and altcoins accepted by Lamassu, other developers allow to carry out operations even with Monero, for a total of only 8 cryptos. Perhaps in the future, this number will change.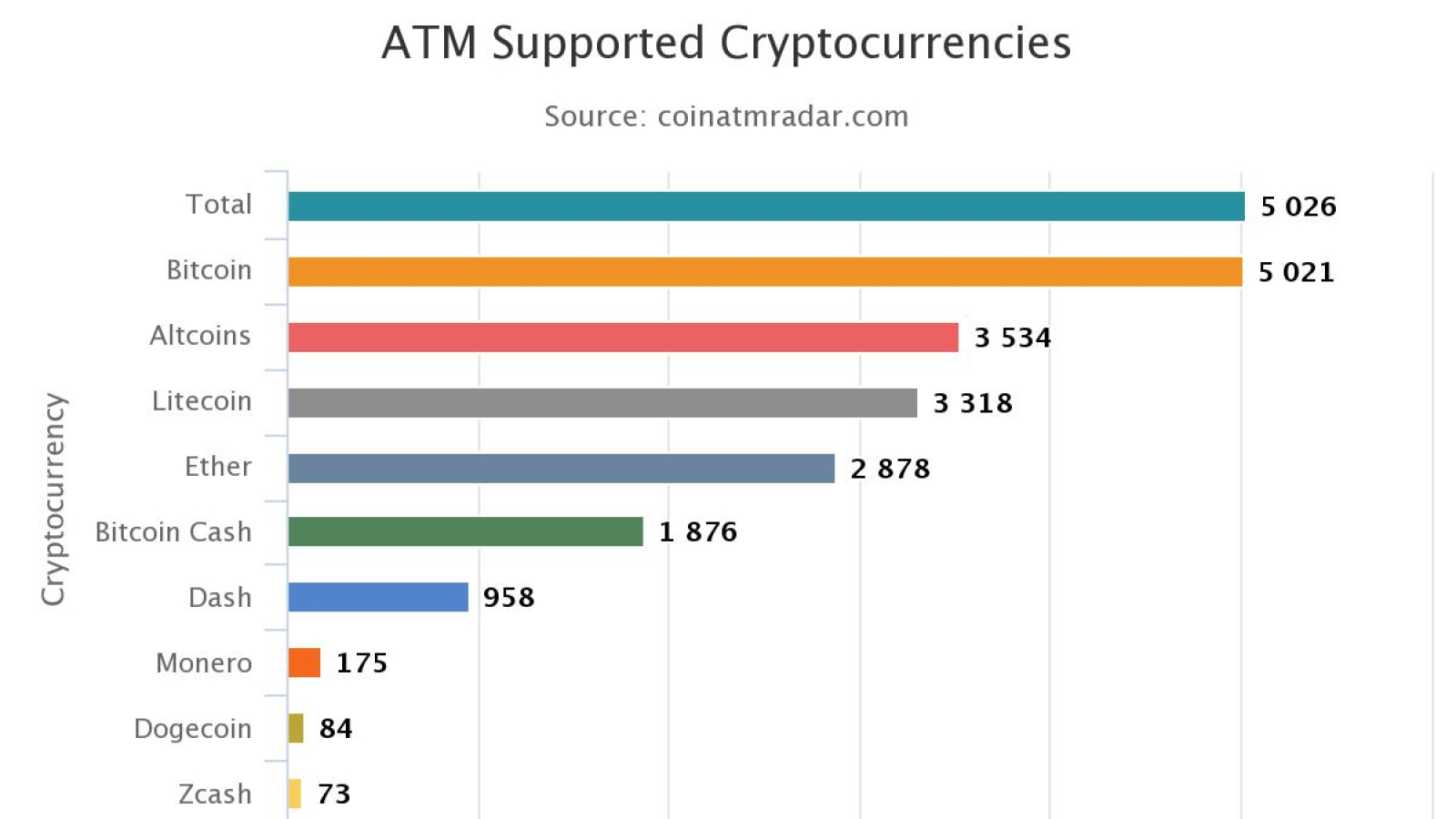 Conclusion
The world of crypto is actively developing, and perhaps in a few years, we will not be going about our lives without the daily use of Bitcoin. Сash machines approach this moment now. Over the past few years, the number of Bitcoin ATM has increased significantly and continues to grow. Soon they will be located everywhere and become part of everyday life. Furthermore, one day they may become much more popular than traditional ATMs.
We talked about Bitcoin ATMs, their varieties, the selling and buying of Bitcoin, as well as the disadvantages of using this method. We hope this information has been helpful.