Litecoin has been a leading cryptocurrency since its foundation. It is probably the most successful and certainly the most popular fork of Bitcoin. In the last few years, it has become an independent project with its own technologies and philosophy.
Often, talking about Litecoin, crypto-journalists mention that it provides four times faster transactions than Bitcoin. Obviously, this is true because creating a new block in Litecoin network takes 2.5 minutes, while in Bitcoin it is at least 10 minutes. You might think this is an evident advantage, but things are quite more complicated in Blockchain-networks.
What makes Litecoin Different?
Unlike Bitcoin, Litecoin makes technical improvements really often, sometimes not paying enough attention to potential risks. Developers try to provide as fast transactions as possible, improving many sides of Blockchain-technology: for instance, different hashing protocol or SegWit in 2017. Such a risky policy obviously affects the stability of the network, but Litecoin still has been doing great. It worked relatively well, even in difficult times, when the network was overwhelmed, so the team of developers got their credit of trust.
Despite a different hashing algorithm, Bitcoin and Litecoin have a lot in common, and both support mining. It is meaningless to try to mine Litecoin with your computer now because ASICs for Scrypt algorithm have already been producing. There are much more acceptable coins for CPU/GPU mining in 2018.
How to mine Litecoin
If you want to mine Litecoin, it will require investments in hardware, facility and many related things. Only that way you have a chance to get good revenue. In addition, it is important to pay attention to mining pools.
Today you are going to need a pool for mining anyway. About 2-3 years ago, there were some coins mineable without pools. Unfortunately, after a big rising in the industry in 2017, such an approach became a waste of money.
You do not have many pools to choose from if you decided to mine Litecoin. Many popular services turned into a scam in 2018. If you prepared hardware, found a facility and are ready to make the last step for mining Litecoin, here are 5 best Litecoin mining pools that still deserve attention.
Multipool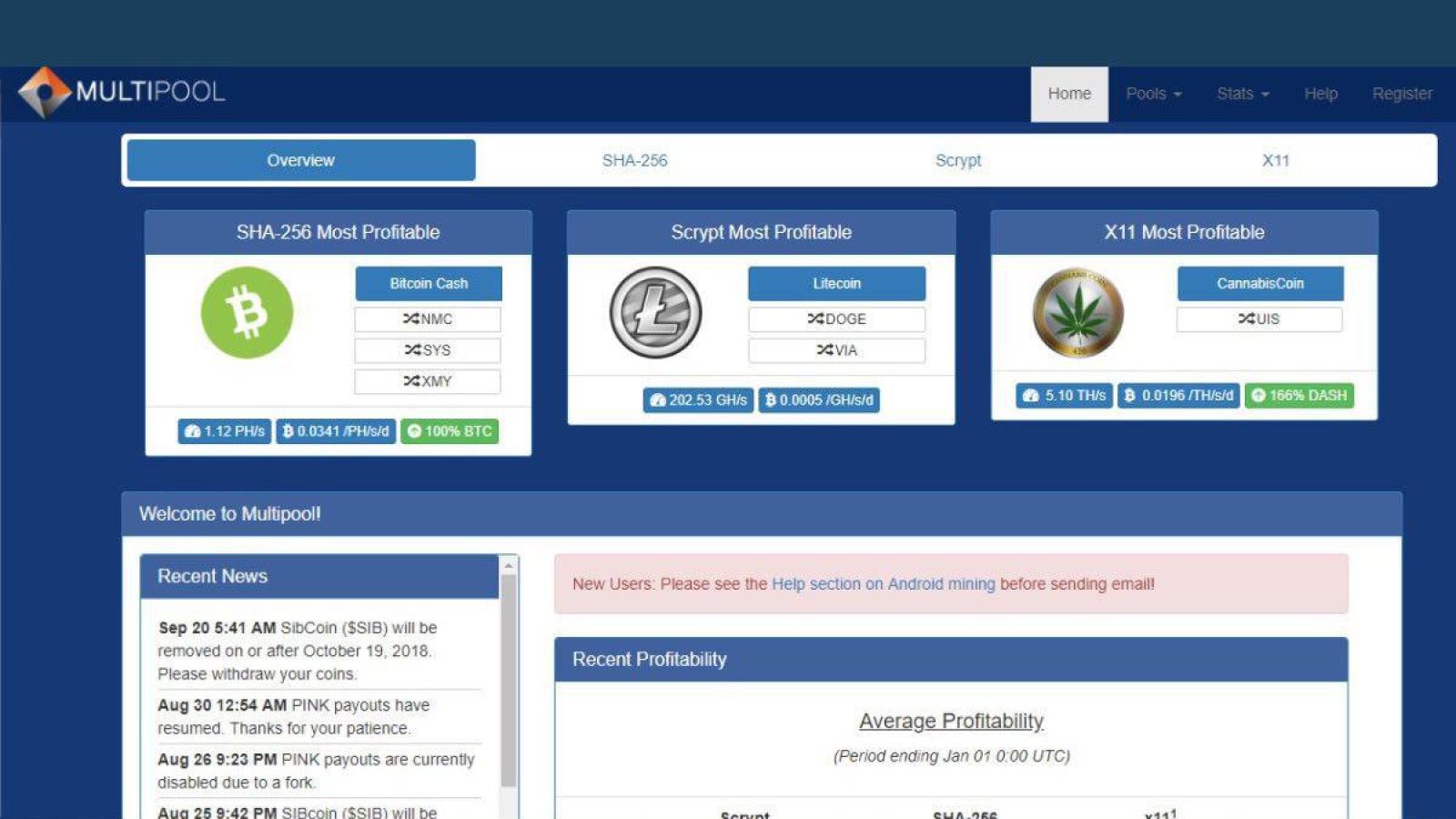 The pool was launched in 2013. That was a perspective but quite risky business because nobody knew if Litecoin was going to be a stable project or it would crash next year. That time pools just started to become a popular way of mining, and Multipool was one of the first successful projects.
Today the pool has servers not only in the USA but also in the EU. The fees are 1.5%. This is a relatively good rate because most of the other pools take 2%-3%. The pool provides different reward systems depending on a cryptocurrency you mine. In the case with Litecoin, it is PPLNS. Unfortunately, Multipool does not have a proper support service. It will be a problem, especially for beginners.
ViaBTC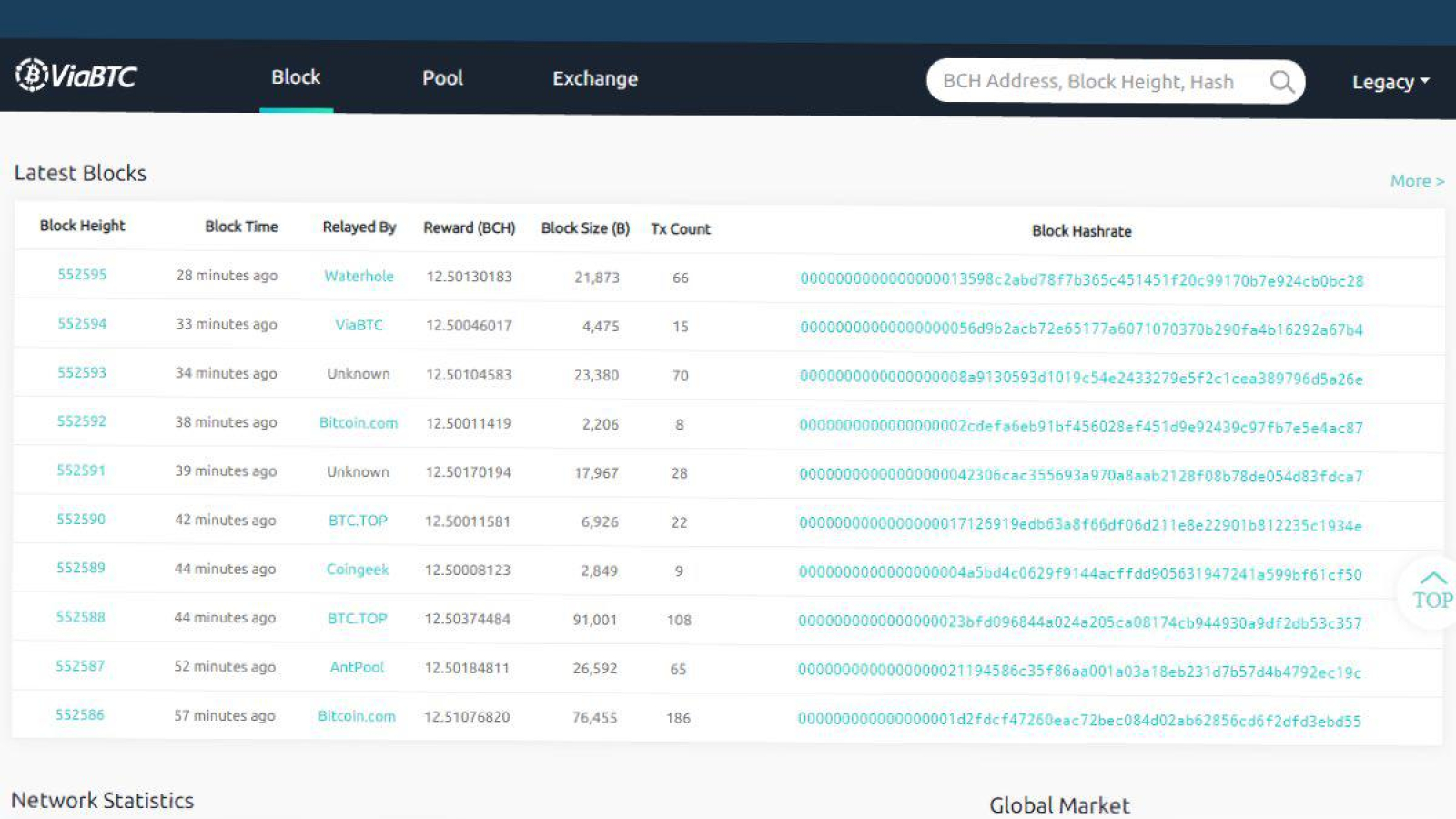 ViaBTC is the second largest Litecoin pool now. There are many cryptocurrencies, in addition to Litecoin, available for mining here. With ViaBTC, you can mine:
Bitcoin

Bitcoin cash

Ethereum

Ethereum Classic

Dash

Zcash
Actually, it was originally a Bitcoin mining pool. Other coins were added later. Litecoin became available for mining on ViaBTC in 2017.
There are no fees for transactions in that pool, but miners need to pay a 4% fee for withdrawing. The reward system is PPS. If you have your own hardware, you just need to create an account and start mining. You can also try cloud mining, but it is quite less profitable.
Nicehash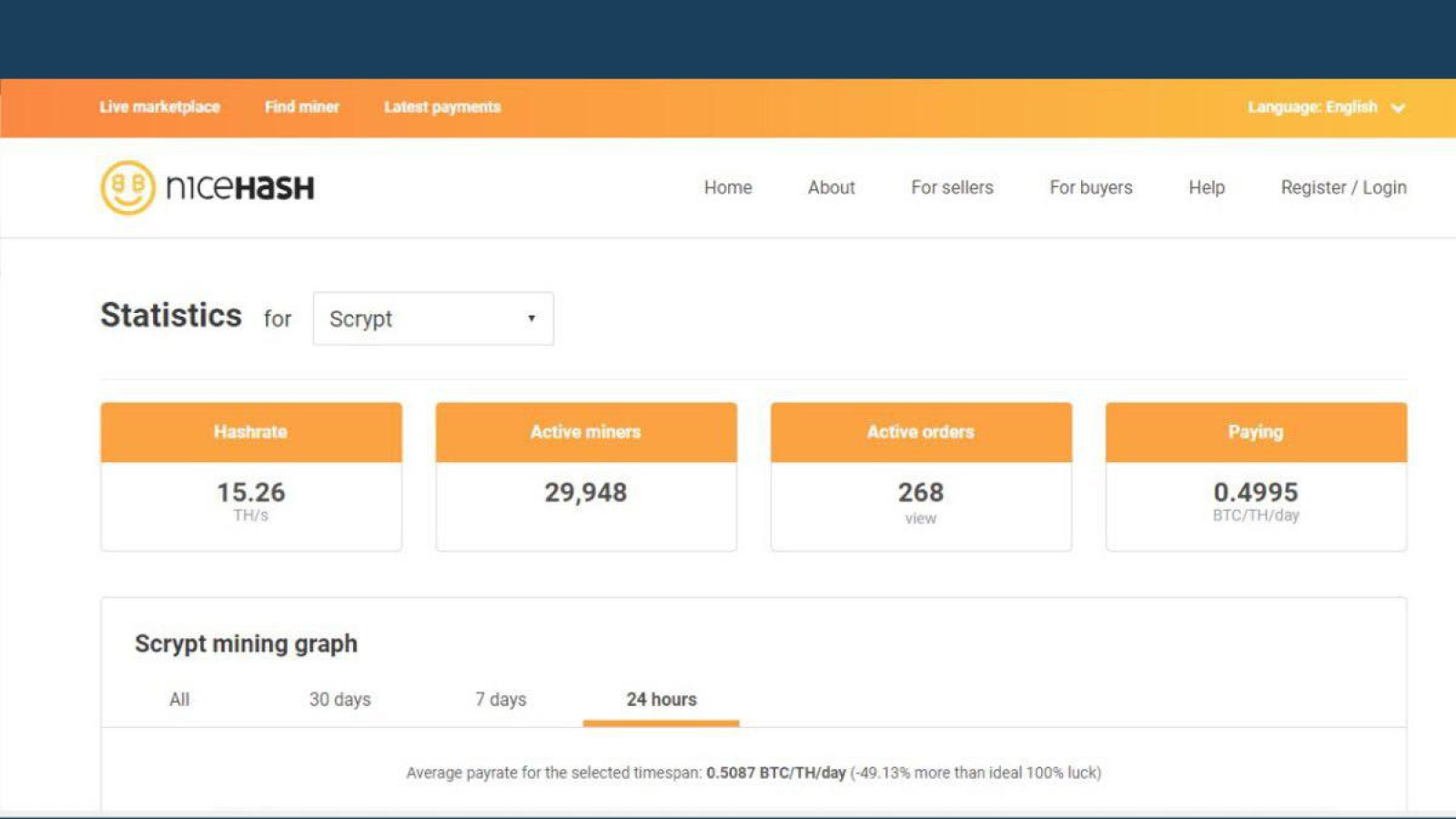 If you are not familiar with Nicehash, you probably found out what mining is just yesterday. This is one of the most popular services for miners and crypto-traders. Nicehash is a multi-platform that supports almost all of the top algorithms, including Scrypt.
The main sense of Nicehash is that users can buy and sell computing power. Actually, this is not about Litecoin mining. You are getting paid in BTC. I decided to put Nicehash in this list because the Scrypt algorithm is available there. Hence, it does not matter what cryptocurrency is used to pay a reward. Anyway, it is always possible to exchange BTC for LTC in the Nicehash system.
Nicehash does not require registration for miners. However, it is important to point out that some of older versions of ASICs firmware are not compatible with Nicehash. Before connecting to a server, make sure that you have the latest version of firmware. Full instruction is available on the official Nicehash website.
Payout level is 0.001 BTC. Fees depend on a balance and a wallet type. Full information about fees is provided in the table below:
Table 1 Nicehash fees
| | | |
| --- | --- | --- |
| Wallet type | Balance | Fees |
| Eternal | Less than 0.1 BTC | 5% |
| Eternal | More than 0.1 BTC | 3% |
| Nicehash wallet | More than 0.001 BTC | 2% |
Coinotron
Coinotron is one of the oldest and stable mining pools. It was founded in 2011 and now provides nine cryptocurrencies to mine. A remarkable thing is that Bitcoin is not included in this list.
In order to start mining, you need to create an account on the Coinotron website and follow the instructions. The site, by the way, provides statistics of the most powerful miners and the latest confirmed blocks for every available to mine cryptocurrency.
The pool uses PPLNS, RBPPS and PPS reward systems. So, the fees are various from 1% to 3%. The minimum payout level is different for every coin. For Litecoin it is 0.02 LTC.
The main disadvantage of the pool is that it also does not really have an actual support service. If you have any questions, you can only search for an answer on a help-page.
Litecoinpool.org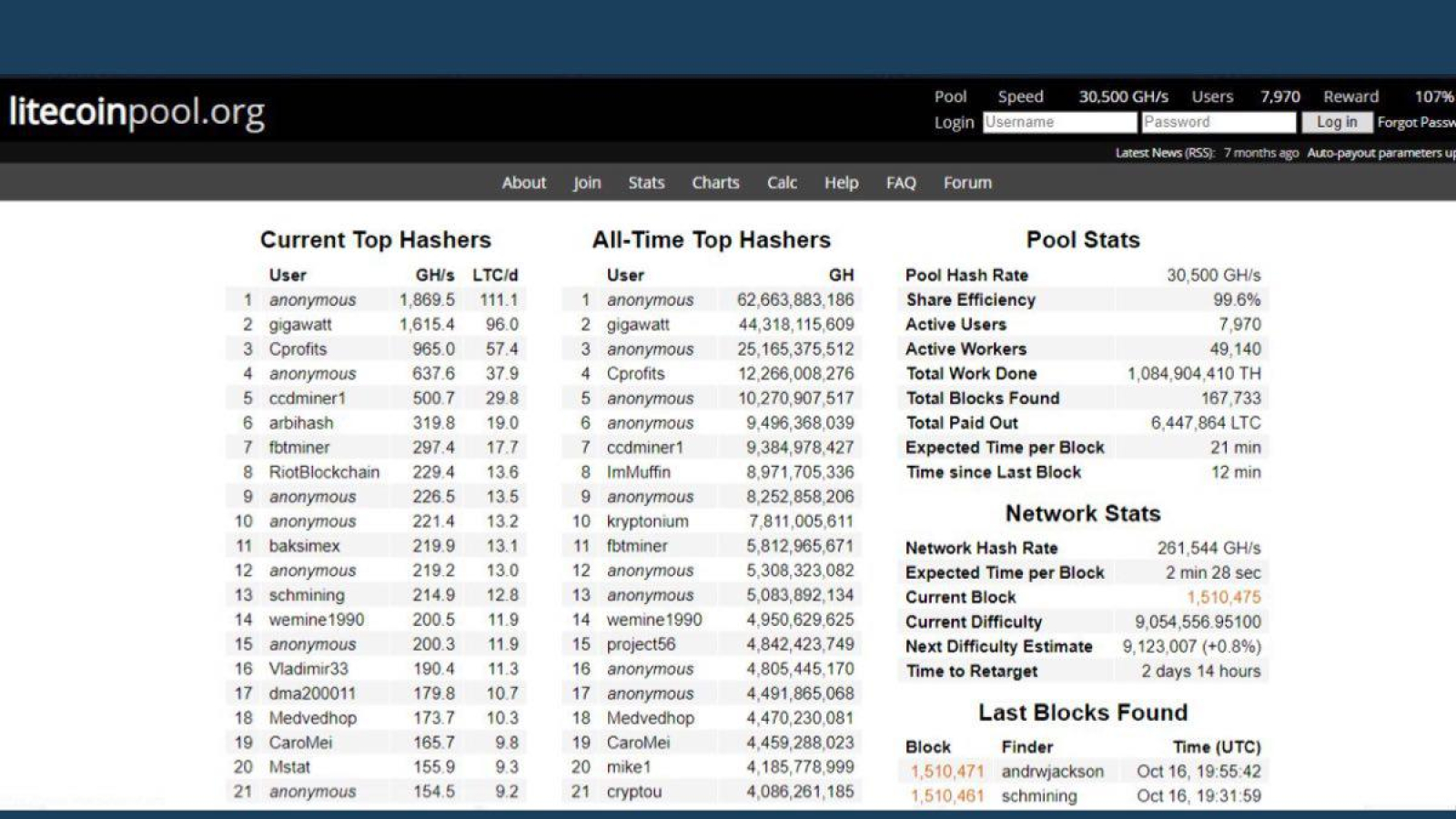 Finally, litecoinpool.org. It is definitely the best Litecoin mining pool in 2018. Previous services are mostly multiple and support many cryptocurrencies. litecoinpool.org is incomparably better for Litecoin miners.
The pool has a pure PPS reward system. You are getting paid for every valid share you submit. Actually, the pool provides merged mining, which means that you can mine several altcoins, based on Scrypt algorithm, but get a reward in LTC. In addition, there are no fees for transactions.
litecoinpool.org is one of the largest pools, so it has servers all over the world. It is very convenient because it is always better to connect to the nearest server.
One time litecoinpool.org had to close registration because it accumulated too much computing power. The pool users controlled 40% of the network, and it could cause distrust of the other part of the Litecoin community. Now the registration is open again.