Cryptocurrencies price predictions and forecasts about any financial instrument are too risky and uncertain as market conditions may change suddenly. As of early morning today April 2, 2019, Bitcoin jumped above the 4,900 level to a 4-month high, a move that lead many other cryptocurrencies spike higher within an hour.
This happened to Ethereum (ETH) moving from the price level of $140.91 to the high price level of about $156 during only two hours, from 04:00 AM GMT to 05:00 AM GMT time. In this case our last article on Ethereum Price Prediction for March 2019 proved to be wrong. It happens as mentioned before.
What is our Ethereum price prediction for April 2019? First a few important statistic.
Ethereum Key Statistics
As of April 3, 2019, some key statistics for Ethereum are the following ones:
· Market Cap 15.90 B
· Circulating Supply 105.49 M
· 52 Week Low-52 Week High: $82.4270 - $832.9040
· Current price is $173.2876
· Year-to-date performance is +7.69%
· Rank number 2 on CoinMarketCap and Top 100 Cryptocurrencies by Market Capitalization
Some Ethereum price forecast mentions by other sources
As always, any price forecast or prediction should not be taken as an investment recommendation but rather as an idea for further analysis.
Some interesting Ethereum forecasts for the month of April 2019 are the following ones:
PrevisioniBitcoin has the following Ethereum forecast for April 2019:
"On April 2019 Ethereum may heavily boost its price. We assume as high predictable a mass adoption of this cryptocurrency next months. We expect on April 2019 an Ethereum rise with a strong capitalization and consequently a concrete value per coin increase." It mentions a minimum price of $142.73.
CoinPredictor mentions the following about Ethereum price prediction for April 2019. "The latest worth of ETH is $141.85. At this point in time the Ethereum price prediction algorithm is estimating that in 24 hours ETH price will be -2% moving towards $139.01, in 7 days -2.3% on the move to $138.59, in one month +7.1% approaching $151.92 and in 3 months -33.6% targeting $94.19. The Long-term forecast is displaying that Ethereum will be descending in dollar value." The 4 weeks predicted price is $151.92. Due to today's sudden spike this price was reached today.
LongForecast Ethereum price prediction for April 2019 is for an open price of $142, a low-high range or $129-$161 and a close price of $148, resulting in a monthly gain of about 4.2%.
WalletInvestor has a target price for Ethereum for the first 8 days of April 2019 between $140 and $142.5. Its forecast trend line is rising being above the price line, indicating some optimism about the future price of Ethereum. But overall the 1-year target for Ethereum is $26.308.
30Rates appears to be optimistic about the Ethereum price during April 2019. Its Ethereum price prediction is that by the end of April 2019 may have a minimum price of $138, and a maximum price of $158.
CoinFan appears very optimistic about Ethereum in April 2019. It has a minimum price of $583.11 and a maximum price of $788.91.
Monthly Ethereum price prediction based on technical analysis
As mentioned at the beginning or our article a sudden spike in Bitcoin had as a result many other cryptocurrencies to follow the very short-term rally as well for about 2 hours. What does our technical analysis based on the daily and monthly Ethereum charts tell us to make an Ethereum price prediction by the end of April 2019?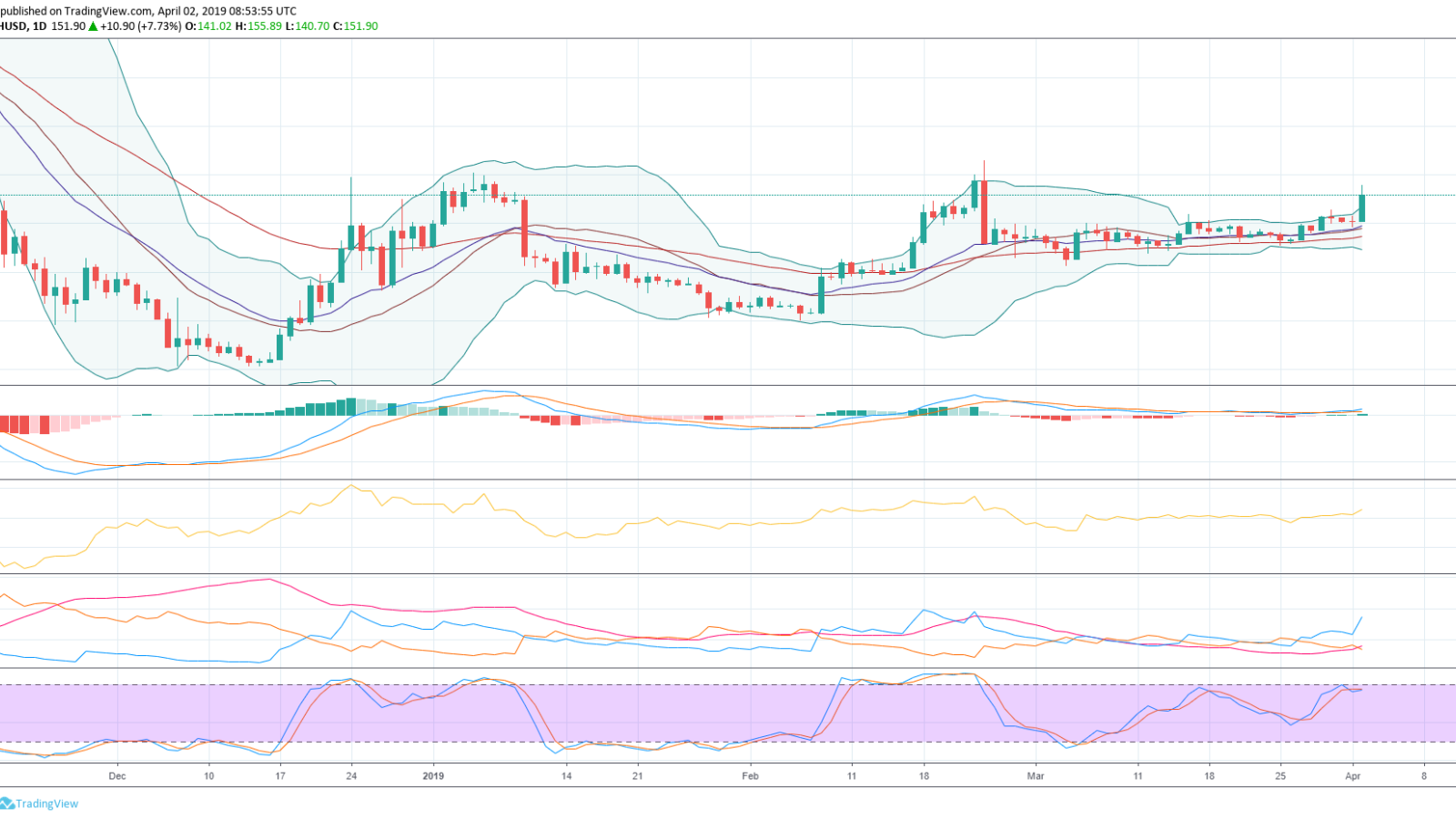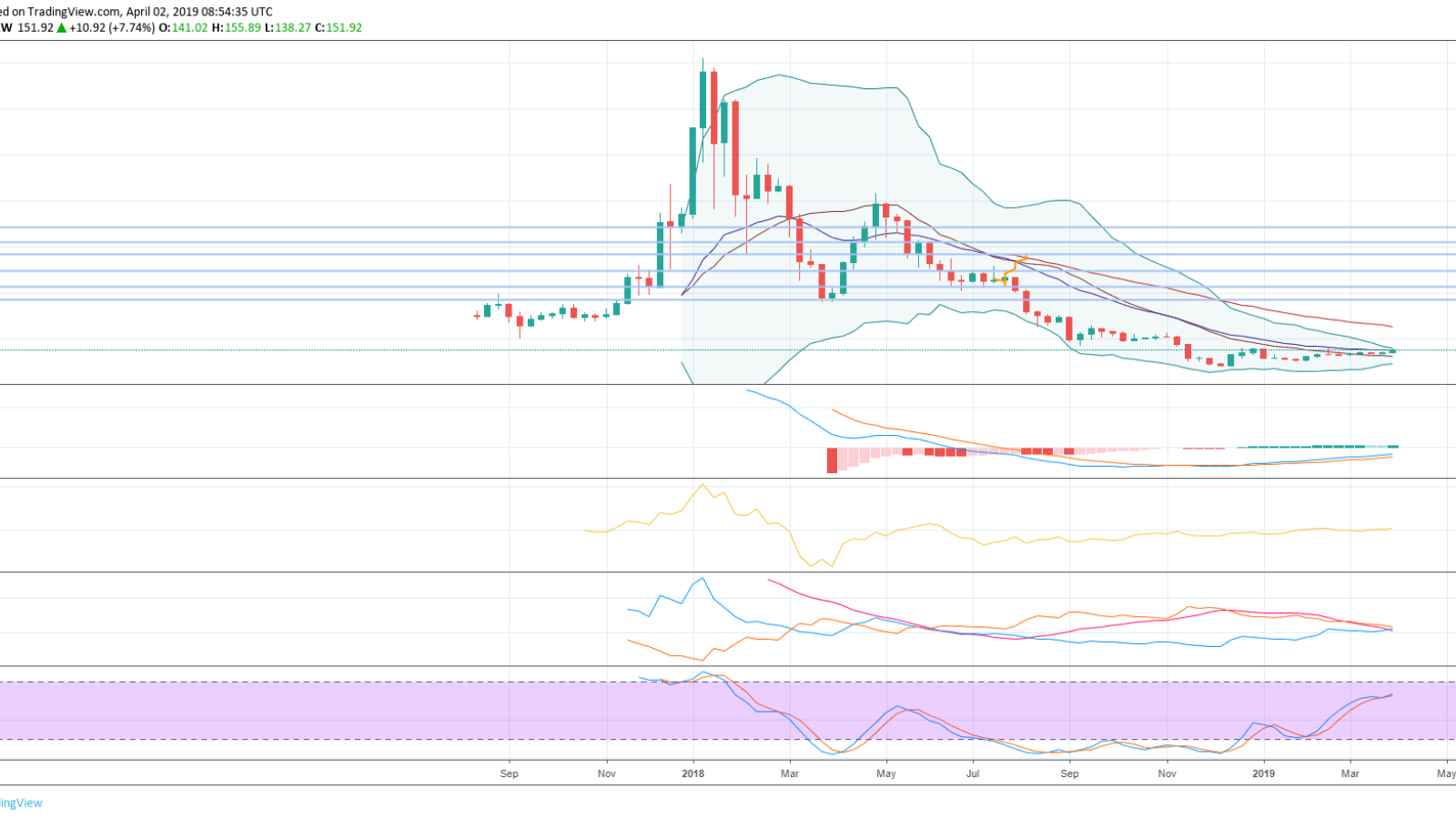 We will have two scenarios, one optimistic and one pessimistic about the Ethereum and its price forecast for March 2019.
Ethereum price bullish monthly scenario
What caused this breakout today? We simply do not know. The key indicator to monitor is momentum. We could see profit taking but the resistance level at $142.55-$148 has now been broken to the upside. The current price of about $152.18 is above the 50-day exponential moving average and the 20-day exponential moving average. The strength of the trend is still weak, but the dominant trend is now the uptrend as +DI line is above the -DI line looking at the ADX/DMI indicator.
There is strong support at the price level of $142, 148. We see strong resistance at the price level of $156, $160 and $166. Our Ethereum price prediction for an upside scenario is the range of $160-$165. Any price decline to the support zone of $148- 142 should find support for a bounce to our higher level. MACD indicator and momentum indicator are both rising, which is also positive for Ethereum.
Ethereum price bearish monthly scenario
What if there is some profit taking and this rally is not sustainable? If this rally does not hold then a retracement back to the support zones of $138-$134 is possible. Due to the sudden spike today, it is hard to ignore it and find some bearish characteristics. Even though, there is strong resistance at the price levels of $152-$156.
As a conclusion our Ethereum price forecast for April 2019 is to wait and see. Do not rush into quick conclusions. If the spike is real and has momentum, then price could move higher in April. If it was an event with no specific reason, then a wait and see mode is safe for now.