Our article on Ethereum Price Prediction for February 2019 focused on the question whether Ethereum market capitalization could surpass the market capitalization of Ripple. It happened and as of March 3, 2019 Ethereum moved up one position from third to second position in terms of market capitalization on top 100 cryptocurrencies on CoinMarketCap.com. What is our Ethereum price prediction for March 2019?
Can the rally in February continue? Our prediction for February proved to be incorrect as we favored the resume of downtrend. A huge rally moved the price of Ethereum from the low price of about $100.70 to the high price of about $166.40 in the last month, proving the fact that any Ethereum price predictions are very hard to be accurate.
Ethereum Key Statistics
As of March 3, 2019, some key statistics for Ethereum are the following ones:
• Market Cap: 14.12 B
• Circulating Supply: 105.10 M
• 52 Week Low-52 Week High: 82.4270 - 877.857
• Current price is $134.40
• Year-to-date performance is +3.26%.
Some Ethereum price prediction mentions by other sources
Some interesting Ethereum forecasts for the month of March 2019 are the following ones:
CoinPredictor mentions the following about Ethereum price prediction March 2019. "Our detailed event-based Ethereum prediction prognosis is estimating that ETH dollar value is going to move up and will be +0.7% reaching towards $134.75 by 03-15-2019.". This forecast is based on an event-based algorithm. What is interesting though is their forecast about the price of Ethereum at the end of March 2019. A decline to the price level of $81.24 is expected, a rather pessimistic or bearish Ethereum price prediction. It is almost a 40% decline compared to the current price of $133.
LongForecast Ethereum price prediction for March 2019 is for an open price of $137, a low-high range or $107-$163 and a close price of $150, resulting in a monthly gain of about 9.5%.
WalletInvestor has a target price for Ethereum for the following 14-days as follows. $169.278 is the upside and $133.051 is the downside. Its forecast trend line is rising being above the price line, indicating some optimism about the future price of Ethereum.
30Rates appears to be optimistic about the Ethereum price during March 2019. Its Ethereum price prediction is that by the end of March 2019 may have a minimum price of $142, a maximum price of $164 and at the end of the day on Apr. 1, 2019 a price of $153.
An interesting note to focus on is that the price level of $150 has been mentioned by two of the above sources.
Monthly Ethereum price prediction based on technical analysis
What does our technical analysis based on the daily and monthly Ethereum charts tell us to make an Ethereum price prediction by the end of March 2019? As per our previous technical analysis we will examine two different time periods, the daily and weekly charts.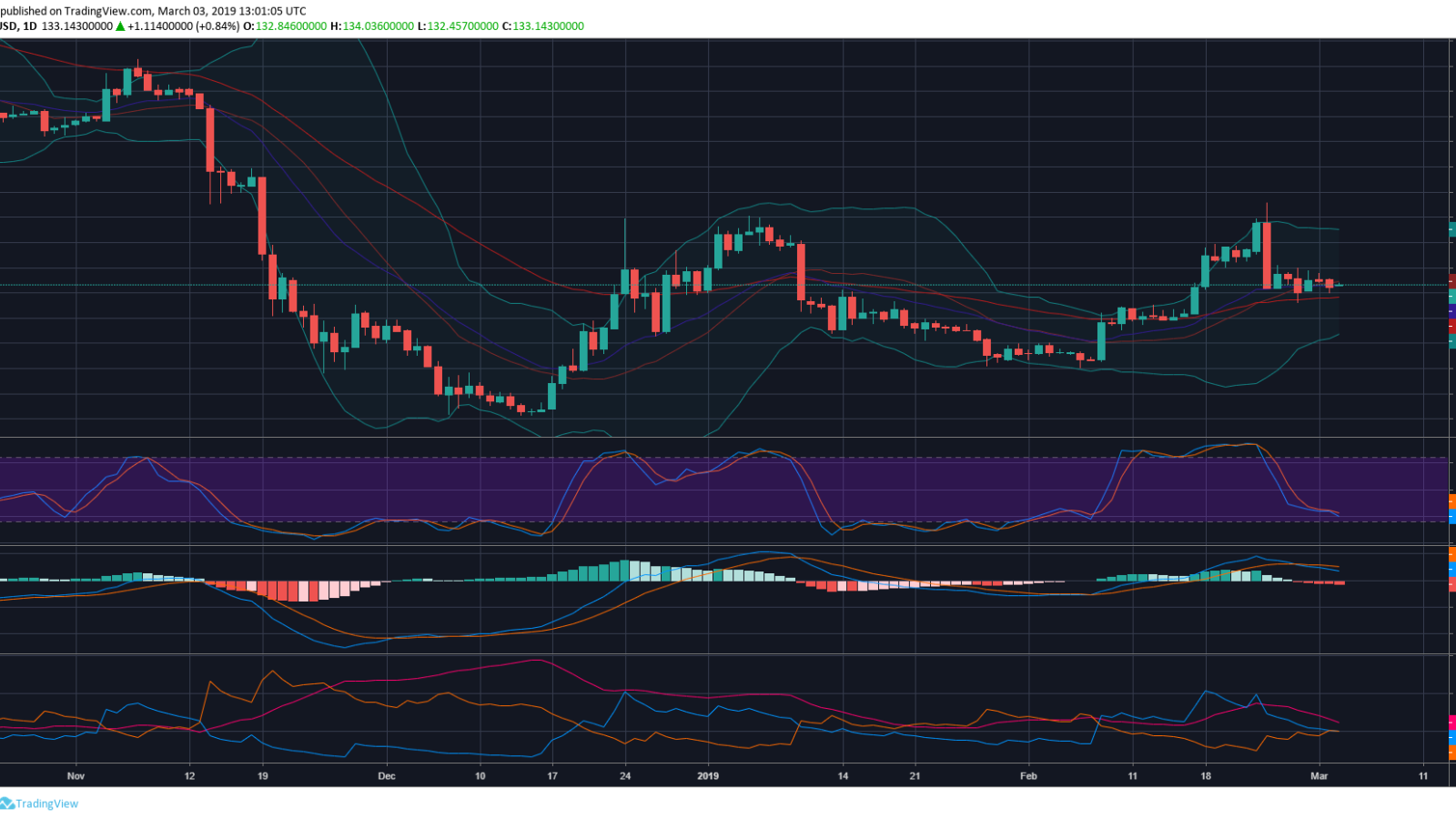 ETH/USD chart from TradingView
We will have two scenarios, one optimistic and one pessimistic about the Ethereum and its price forecast for March 2019.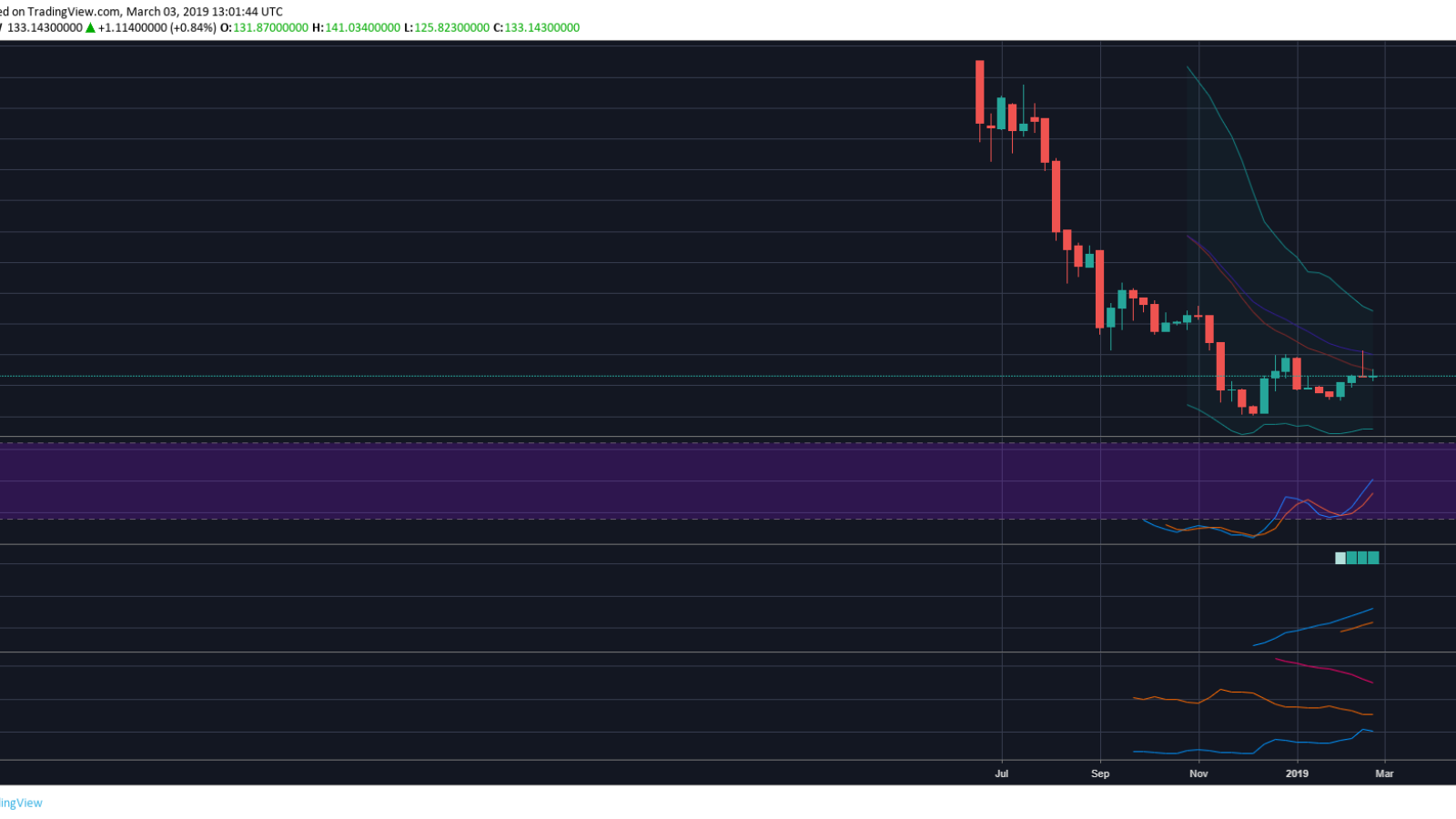 ETH/USD chart from TradingView
Ethereum price bullish monthly scenario
The recent rally in February 2019 may continue in March 2019. This latest rally for now has lost its momentum. The current price of about $135 is above the 50-day exponential moving average, proving a strong support and is slightly below the 20-day exponential moving average. The price is now in a consolidation phase. The strength of the trend has weakened and is shown by the rather small trading daily range.
There is strong support at the price level of $125, $116 and $103. We see strong resistance at the price level of $140, $147 and $166. Our Ethereum price prediction for an upside scenario is the range of $150-$155. Any price decline to the support zone of $120 should find support for a bounce to our higher level.
Ethereum price bearish monthly scenario
On Feb. 24, 2019 there was a very large price decline for Ethereum. A very large red candle which showed excessive selling pressure. This should not be a surprise as price reached the former resistance level of $166-$170. The weekly chart shows that an attempt to have a price reversal from downtrend to uptrend is yet to be confirmed.
The recent consolidation phase could drive price lower towards the price levels of $112-$113 and $100-$102. The MACD indicator has recently made a bearish crossover and the Stochastics Indicator (14,3,3) shows no signs of a bullish crossover yet.
As a conclusion our Ethereum price forecast for March 2019 supports mostly the bearish monthly scenario. The key reason is that the price rally has lost its momentum and the longer time frame, the weekly chart shows that still an uptrend has not been confirmed.