The cryptocurrency market has stabilized in the last few months, with more institutional investors stepping in and more regulators trying to comprise the new industry into their legal frameworks. Ethereum is no exception — the second largest cryptocurrency by market cap has moved in a sideways trend during the last month.
If we watch the larger time frame to assess the longer-term trends, we'll see that ETH has lost over 72% since its local peak from May 5, 2018. One might think that Ethereum simply followed the trend of the cryptocurrency market as a whole, which is closely watching every movement of Bitcoin. However, the largest crypto-coin by market cap has lost only 36% for the same period, which suggests that Ethereum decided to climb down on its own.
Why is Ethereum losing pace?
The blockchain platform co-founded by Vitalik Buterin is still the most widely used distributed ledger network which can host dApps, smart contracts, and other tokens. Nonetheless, Ethereum is going through significant pressure because the activities of initial coin offerings (ICOs) have dramatically slowed down. In mid-October 2018, a study carried out by Autonomous Research found that ICO activity has declined by 90% since the beginning of this year. What's worrying is that the trend seems to point down for the coming months as well. Because of this, Ethereum is losing some demand, as the overwhelming majority of ICO projects are relying on it to create ERC20-based tokens.
According to the research firm, less than $300 million were raised last September through ICOs, a long distance from January's $2.4 billion.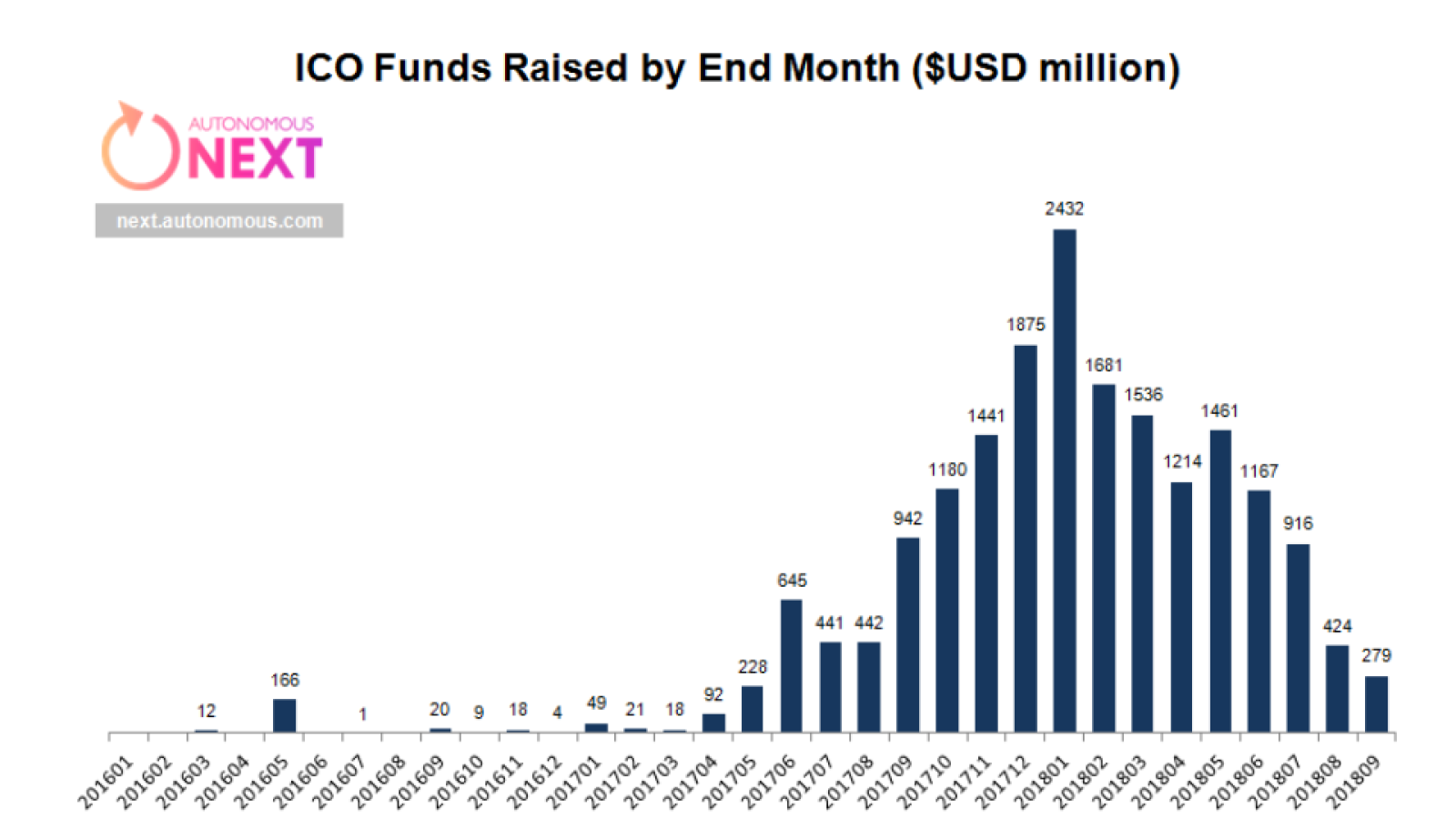 The ICO space is fading because it was bombarded by scams, which slowly drove away investors from utility tokens. Regulators are also keeping an eye on this form of crowdfunding, with some countries even banning this form of activity.
And it's not only about ICOs — Ethereum is surrounded by bearish sentiment because of the uncertainty about its future plans. There have been very few updates in the fast-growing market, which is why things like congestions in the network might happen. This results in a disproportionate increase in the price of commissions for every transaction, which often delay and fail.
Ethereum miners are also moving away because there has been no visible growth in the hashrate in the past few months, which means lower rewards for them.
What should we expect next?
While there are several significant problems for Ethereum, it still might regain its dominance if relevant updates are made and the project is redirected to the right path.
It's true that ICOs are slowly fading, but there is another emerging market that promises to become a megatrend: the security token space. Unlike ICO-based utility tokens, security tokens are regarded as much safer because they're backed by real-world assets, such as real estate, company stock or commodities, among others. Token holders can have ownership rights, dividends, and voting rights, while the tokens themselves can easily incorporate compliance. Thus, more and more small companies are choosing to hold a security token offering (STO) rather an initial public offering (IPO). Also, due to the fact that ICOs are often associated with scams, many entities are turning to STOs. This makes Ethereum a winner again, as it can host security tokens with the same success.
The hope was also brought by Vitalik Buterin, who said during a recent conference in Prague that there was an enterprise version of Ethereum that is entirely based on a Proof of Stake (PoS) algorithm. This Ethereum 2.0 version, which he calls Serenity, will address the scalability issues and will be adopted by major banks, corporations, and companies around the globe.
On Nov. 6, former Google CEO Eric Schmidt said during a podcast with economist Tyler Cowen that Ethereum was a great invention, supporting the project's positive image.
"I think the most interesting stuff that's going on are the beginning of execution on top of blockchain, the most obvious example being the capability of Ethereum: If Ethereum can manage to figure out a way to do global synchronization of that activity, that's a pretty powerful platform. That's a really new invention," he said.
While this might be a difficult period for Ethereum, the network might regain its dominant status in the medium-term future.