Newly launched memetic cryptocurrency El Hippo (HIPP) presents itself as the latest big project in the "meme coins" segment. Here's how it attempts to gain popularity among the enthusiasts of this overhyped scene.
El Hippo (HIPP) introduces new meme coin with various utilities
Launched in mid-August 2023, El Hippo (HIPP) meme coin merges the "just-for-fun" ethos of meme cryptocurrencies with deflationary tokenomics, active community development and specific non-fungible tokens (NFTs) collections.
Big news for the meme coin universe! El Hippo token ($HIPP) is making waves as its market cap hits 1M! Join us on X, Telegram, and Coinmarketcap. #ElHippo #Memecoin #HIPP pic.twitter.com/ur1xVFBKm8

— El Hippo (@elhippomeme) August 21, 2023
HIPP's catchy name and appealing mascot are designed to be symbols of the platform's strong tokenomics design, transparent decentralization, experienced marketing team and passionate community.
In total, there are 777 trillion HIPP tokens. A total of 92.1% of this massive sum is stored within the liquidity pool. This allocation is designed to protect the stability and decentralization of the entire HIPP token system. Six-point-nine (6.9%) of the HIPP supply will be stored in another wallet for future interactions with centralized exchanges, cross-blockchain bridges and external liquidity pools.
Per the official statement of the El Hippo (HIPP) team, its supply can be tracked through the elhippo.eth, hippnft.eth and hippcex.eth wallets. The new token is issued on top of Ethereum (ETH).
Verifiable scarcity is among the most impressive features of HIPP's tokenomic design. The token has a built-in burning module so that it is deflationary by default. The 1,000 earliest holders represent the first cohort of HIPP enthusiasts able to test its tokenomics.
Besides being a fancy and attractive memetic token, HIPP is equipped with various layers of utility in the El Hippo (HIPP) ecosystem. For instance, it is of paramount importance for motivating centralized exchange listings, fostering influencer relationships and financing long-term marketing activities for new and existing enthusiasts of the El Hippo (HIPP) project.
Active community management and ecosystem development in focus
As HIPP is an Ethereum-based ERC-20 token, it can be purchased in a noncustodial way through the main EVM decentralized wallets, including MetaMask and TrustWallet. As of today, HIPP can be purchased by investors from all over the globe with Ethereum (ETH) and U.S. Dollar Tether (USDT) in its ERC-20 version.
Also, the El Hippo (HIPP) team is laser-focused on building a large and passionate community of meme coin enthusiasts interested in the further success of the platform and its token.
As of August 2023, El Hippo's (HIPP) social channels list includes Twitter, Discord, Telegram and CoinMarketCap. Community activists can express themselves in lively interactions and collaborate with each other in the Web3 journey.
A cCommunity-centric approach is what makes El Hippo (HIPP) a true meme coin and creates the perfect foundation for its further development and promotion.
El Hippo (HIPP) indicates next phases of roadmap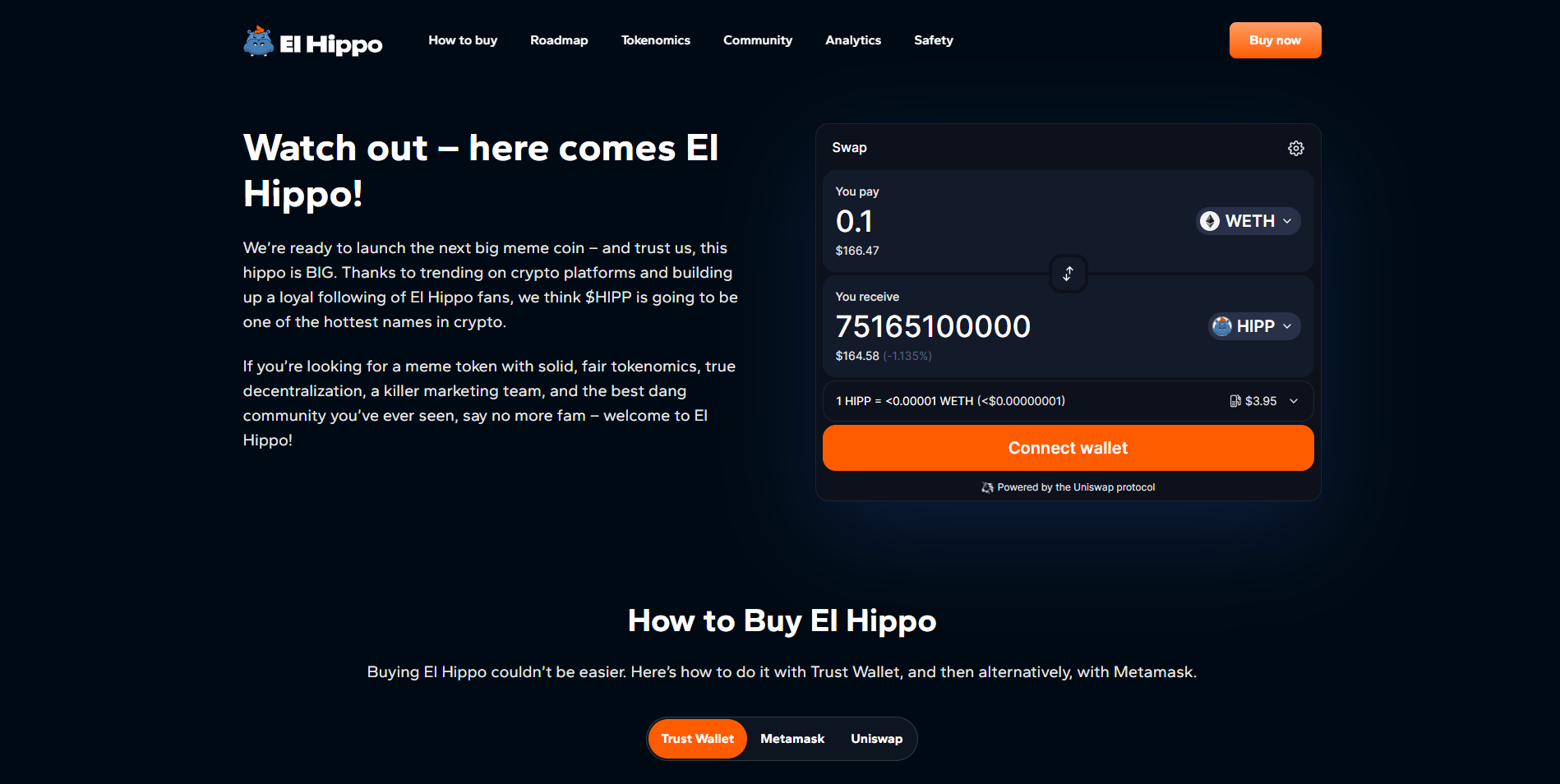 El Hippo (HIPP) champions a long-term vision and strategy to use the token to fuel its strategic growth and reward loyal community members.
Its roadmap for 2023-2024 highlights some promising milestones. First, the team will be seeking opportunities to start a campaign for DEX listings, attracting over 1,000 holders, and forming the El Hippo Oasis community on Discord.
Phase 2 of the roadmap includes top-tier CEX listings, a 10,000+ holder count, a series of strategic partnerships and community reward initiatives.
Phase 3 introduces the El Hippo Post newsletter, an academy, 100,000+ holders and El Hippo merch. Last but not least, Phase 4 is set to introduce the El Hippo NFT collection, Tier 1 exchange listings, 1,000,000+ holders and more.