According to data provided by the Shibburn platform, which tracks down SHIB burn transactions from Etherscan, the Shiba Inu community has made a significant effort to burn more SHIB.
Within the last 24 hours, they have managed to destroy more than 112.9 million SHIB. The majority of this SHIB stash was burnt thanks to a whale that had remained dormant for 2.2 years.
In the meantime, Shibburn has published the list of the 10 largest burn transfers for SHIB.
113 million SHIB burned thanks to this whale
Shibburn announced that since yesterday morning, a total of 112,901,883 SHIB have been sent to dead-end wallets. These burns have pushed the burn rate up 392.27%.
The largest chunk of Shiba Inu meme coins within the aforementioned amount was transferred to an unspendable wallet by an anonymous whale — 77,524,940 SHIB eight hours ago. According to Etherscan, this wallet has made only three transactions, and the very first one was made 813 days 20 hrs ago — around 2.2 years ago.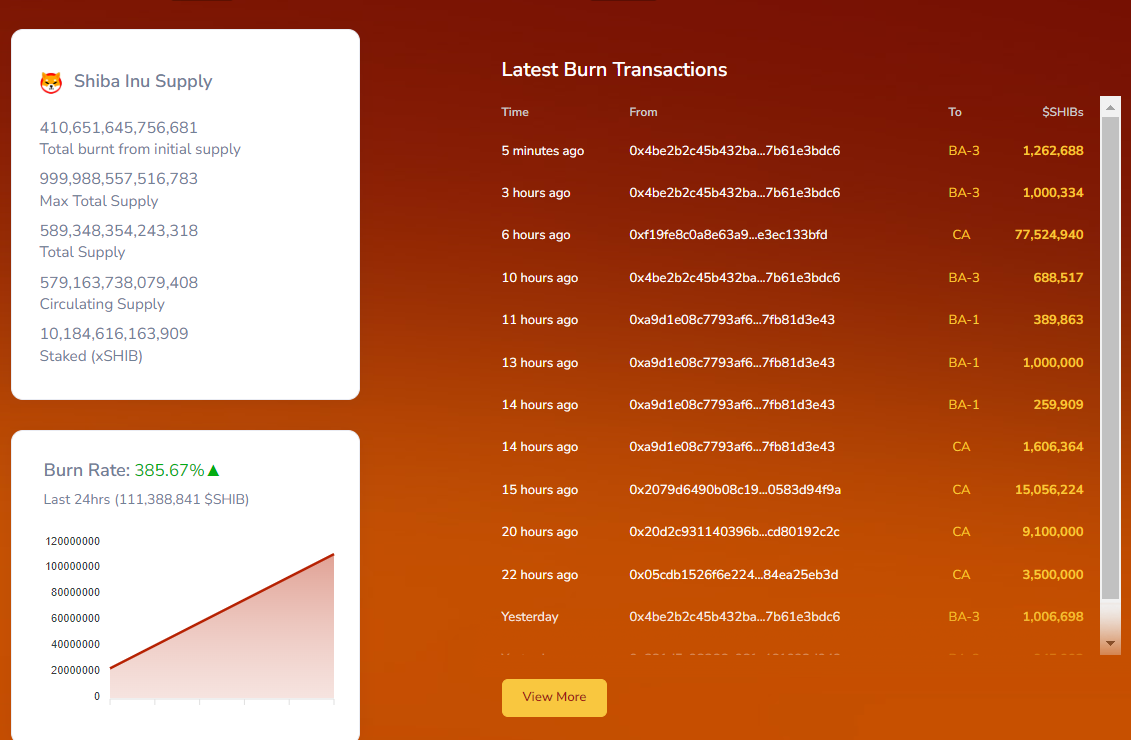 According to another source of SHIB burn data, CryptEye, over the past month, the SHIB army has gotten rid of 1,969,636,885.18 meme coins. It destroyed 26,457,627,807.82 SHIB within the last half a year.
Large Shiba Inu burns are expected once Shytoshi Nakamoto and his developer team finally roll out the Shibarium mainnet. This is expected to happen after Aug. 16, when the Blockchain Futurist Conference in Toronto is over. SHIB will be one of the official sponsors of it, and Kusama stated he would make a speech distantly via AI.
BONE will be the gas token for transactions on Shibarium. Part of the fees in BONE will be converted into SHIB and then sent to dead wallets. Trillions of Shiba Inu are expected to be burned weekly by the Shiba Inu community.
Top 10 SHIB burn transfers
The aforementioned burn tracker has also shared the 10 largest SHIB transfers made to dead-end addresses. Even though they were all made in 2021 and 2022, the sizes of these individual transactions cannot but impress.
Each of them, except number 10, burned at least 10 billion SHIB tokens.
Transfer number 10: 6,757,888,485 $SHIB (Sept. 10, 2021).
Transfer number 9: 10,000,000,000 SHIB (May 18, 2022).
Transfer number 8: 12,000,000,000 SHIB (July 6, 2021).
Transfer number 7: 15,678,987,386 SHIB (Feb. 3, 2021).
Transfer number 6: 17,000,000,000 SHIB (May 18, 2021).
Transfer number 5: 17,797,465,961 SHIB (Aug. 27, 2021).
Transfer number 4: 19,940,129,816 SHIB (April 5, 2021).
Transfer number 3: 26,981,871,357 SHIB (Sept. 26, 2020).
Transfer number 2: 60,258,639,169 SHIB (April 7, 2021).
Transfer number 1: 410,241,996,771,871 SHIB (May 16, 2021).
Top 10 Single Burn Transactions For $SHIB

1.🔥🔥🔥🔥🔥 410,241,996,771,871 $SHIB
Value on day of transfer: $7,354,272,830
Current value: $3,154,760,955
Date: May-16-2021
From: 0xAb5801a7D398351b8bE11C439e05C5B3259aeC9B
TX:…

— Shibburn (@shibburn) July 18, 2023